Because of the current challenging economic circumstances budding entrepreneurs have to look for ways to cut the costs involved in setting up a new business. Frequently, this involves not buying or renting business premises and building an online presence instead. In some cases, an entrepreneur will focus entirely on starting a new business run via the internet.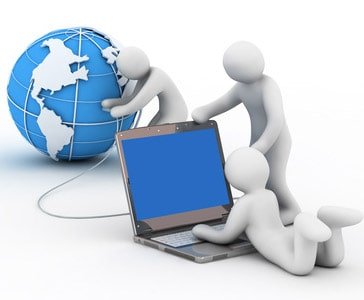 The type of business
Much advice to individuals working on creating an internet company is similar to that for entrepreneurs in more traditional offline businesses; however, there are additional aspects to consider, and new angles to old questions.
There is no one-size-fits-all answer to internet business questions, and one thing that will shape the rest is the nature of the business in terms of operations. For example, an internet business may be set up simply to sell goods, or it may provide services online; advertise and sell traditional services, provide information, or combine two or more of these things. In each case, it is good to clarify the business type, the business goals, and the financial forecast in a business plan, as would be done for any other business.
This website gives information on how small companies and contractors can find support when setting up and running a limited company online.
Getting the website and hosting right
One thing that an internet company needs for success is a solid web presence, which is the equivalent of owning a high street shop with a large footfall. The company website is the shopfront, and it is used for advertising and drawing in new customers, as well as for handling transactions.
A domain name and hosting service can be cheap and easy to set up. Several hosting companies offer lowcost or even free web hosting, and many also provide additional help with acquiring a domain name. This kind of service will only be useful in the very early days, and eventually as the site grows and becomes more sophisticated, attracting high volumes of traffic, a paid service will have to be used.
Creating and maintaining the content of the website can be as simple or as complex as the owner desires. If the site is to be used for e-commerce then professional help will almost certainly be required. Some hosting companies offer templates to assist with website design and content writing can be performed by a third party if necessary.
How to market an online business
Once the website is up and running, it must attract visitors to read the content and buy the offered goods and services. For this to be achieved the website needs to build a presence on the web. The search engines and the use of social media are what will lead to success or failure in this regard. Mailing potential customers will also help to drive traffic to the site.
As far as search engines are concerned, the use of keywords and phrases for SEO (search engine optimisation) in the website content can help to increase the visibility of the site. This is not a quick and easy method and it might take several months to get a site ranking high enough in Google to be found by casual searchers. Paid advertising, such as Google's Adwords, may well be needed to generate traffic to a new site.
If the site is to be ranked highly by the search engines the written content is now more important than ever. High-quality content that is of real use to site visitors is what is required, in large volumes if possible. To be effective in social media, the business may require separate profile pages on popular sites such as Facebook or LinkedIn. Advertising space on these can be bought, but catchy and effective messages posted through social media may be spread through friends and contacts, and may go viral to the extent that they are shared in the update streams of future customers.