The world of human-to-human interaction has resulted in a rapid change over the last two decades. In the 1990s, it was unheard of to be able to make video calls or indulge in online chats. This changed with a major messaging app and only strengthened through the years.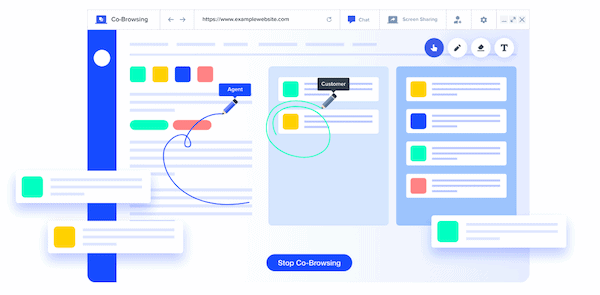 In the early 2000s, a major video calling app made way for person-to-person interaction. Since then, human interaction via the web has never looked back. This article will cover one of the most popular all-in-one communications apps used by some of the world's topmost brands, like Acquire.
What is Acquire?
Acquire, as opposed to other messaging apps, is different. It attracts a corporate audience. Other apps are more casual-oriented, i.e. usually used for family and friend-chat purposes. It is more detail-oriented in terms of official business usage.
The AI-based sales bot can derive action to customer queries instantaneously. It's something that will aid in customer-enquiry and make your business more responsive. Chatbots are an aspect of this modern-day app which ensures that when agents are not available 24/7 to solve customer queries,  an auto-bot is. The chatbot can be designed to answer basic queries.
Training the bot is relatively-easy and any sales expert can create basic Q&A's, usually addressed by sales. Bots are available 24/7. It's an extension of your company. You can make a sales pitch, regardless of the time of night.  Chatbots resolve the hindrance of working hours restrictions.
Co-Browsing
Co-browsing is a state-of-the-art feature from Acquire. Whenever you're handling a customer's field questions, there may arrive a time when the customer has something on his screen that he's unable to explain.
In such times, there's the option of cobrowse – meaning that you're able to see your customer's screen and help him decode the problem. It's something you don't find in other messaging apps because they're not oriented for business purposes.  Acquire's problem-solving does just that. It's problem-solving of this extent that makes Acquire Cobrowse stand out in terms of its easy-to-use navigation and helpful list of features for any business.
Campaigning
Campaigning is a truly important aspect of 21st-century business. Today's times are not about hoardings that attract customers but rather, require a personal touch. You need people to open their mobiles and emails to see your sales pitch.
Campaigning on Acquire can be tailor-made for your business. You can deliver relevant content to potential customers, thereby enabling the extension of your business via Acquire.
If you're unable to read customer behaviour, then you cannot cater campaigns that convert. With Acquire, you can segment customer-based behaviour and thereof create campaigns that will look most relevant to the customer you're targeting and thus will have greater chances of converting.
Analytics
The most important aspect of any sales-oriented company is the result of their daily practices. Analytics to Acquire the help you understand whether your sales campaigns are working or not; moreover, you can also keep track of whether your Autobot is able to satisfy potential customers with automated messages prepared in advance. If certain questions pop up frequently, their answers can be added to the chatbot, thereby making it a much stronger platform to gain customers.
Customer Engagement – Problems and Delivery
Acquire Live Chat is an option that enables you to deal with customer queries when they themselves don't know how to approach you. The biggest problem in online business is that unlike physical shops, the customer often hesitates to approach you. However, with options like Live Chat  – you can reach out to the customer rather than the other way around.
Multiple employees can be enabled to deal with one single customer. This is something that is totally unique to Acquire. Often businesses are unable to deal with more than one customer query when the customer has questions pertaining to different departments. However, with Acquire – multiple team members can help solve customer enquiries.
It provides a timeline for helping to seek team notes and customer interaction – laid out in detail to get a sense of how engaging your business is with clients.
It makes work easier because it doesn't require you to engage data analytics from an outside source but rather does that for you. Customer engagement and effectiveness data is custom-prepared by Acquire – which helps you study how satisfied your customers are and what are your go-to problem areas.
Keeping track of your agents is also plausible since they're truly the heart and soul of your business- what they communicate returns back into whether the customer is retained happy or decides to move on. Live monitoring on agent's reverts to customer queries is made possible via Acquire – allowing you to be in the front seat and know about every possible error on part of the agent in customer engagement. Once you know the problem areas, it's easier to work upon them and sort it out since you have a laid-out analytical study of how your business is doing on Acquire.
Conclusion – Is Acquire right for your business?
It is the perfect go-to application to enhance the customer's engagement with your business. It's not merely a helpful app that helps rather efficiently enables you to keep a track on customer's behaviour, reach out to them at the right time, study customer satisfaction stats through attractive graphs and improve your basic business sales.
The unique abilities like co-browsing and campaigns are just icing on the cake – always putting yourself a step ahead in tapping potential customers to your business. Acquire is not merely an application to engage with customers, but it has a science which allows your business to improve by leaps and bounds.
The problem-solving part of applications like Acquire or, in the same domain, is not remotely close to what Acquire has been able to provide and consistently improve upon. Thus, it has become the no.1 choice for some of the world's most renowned and trusted brands. It is without doubt the most efficient multichannel communications platform currently available for your business.
Check out: Acquire.io