Google Adsense has announced some new useful features that empower the publishers by providing more tools. The new features announced by Google Adsense are Site management and site-level blocking, by using these features you can block the advertisement of a particular website or sub domain owned by you. So now along with global blocking rules you can apply filters for each of your website or blogs seamlessly. First of all we will have a look at what exactly is site management and then how to block advertisement categories for your website?
Also read:
Site Management

Site management feature of AdSense allows you to add your own websites or subdomains so that you can apply filtering rules to each website, blog or forum. It is avid to add proper URL over here, you should not use www prefix while adding your domain to site management.
How to Open Site Management and Add Your Websites?
Click on Allow and Block ads from the navigation
click on "manage" link located beside "Content" option
Now specify your website and click on "Add" button.. That's it
How to Claim Your Site if not listed in "Owned list"?
Click on "Account settings" from the home page
Scroll to "Access and authorization" section and click on edit link for the "Site management" option
Now click on "Claim" button beside your website under the unclaimed tab. This action will move your website to "Owned" list.
Site Level Blocking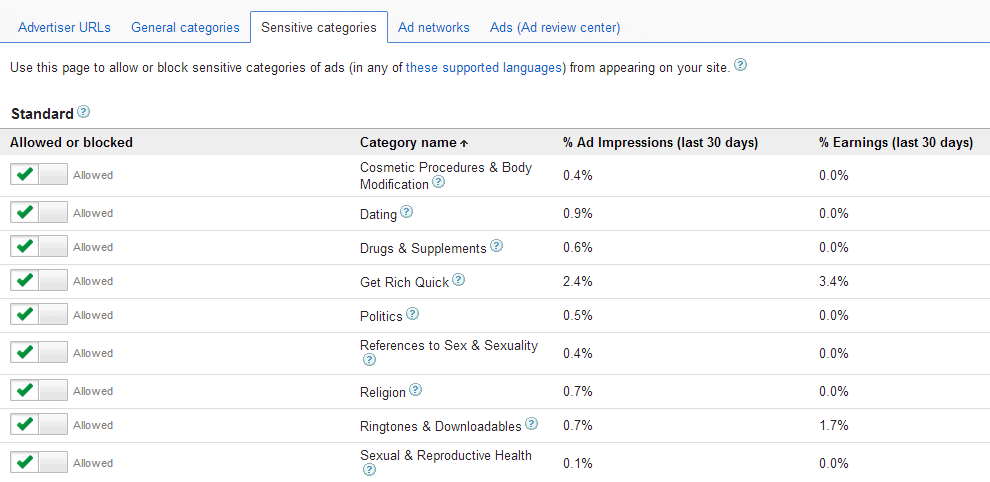 Site level blocking allows you to apply filters to show or block specific ad categories, advertiser URL or by the Ad networks for the websites you add in "My sites" using adsense site management feature.
How to block Adsense Advertisement of Specific Categories?
Click on the "Allow & block ads tab"
Now go to "General" or "Sensitive" category
Switch off the ad categories that you don't want to display
How to Earn More with Site Level Blocking?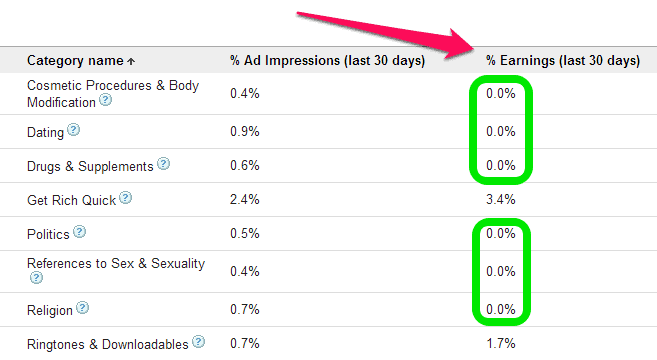 On the blocking category page, you can see which category is getting more revenue in "% Earnings (last 30 days)" column, just block the categories which bring less or 0% revenue. This trick makes adsense to display only those ad categories from which you are getting higher revenue and as the result you can earn more with selected ad categories.