It's never been easier to work remotely, or even operate a completely mobile, multi-staff business. If your work is in front of a computer, maybe it's time you considered ditching the office.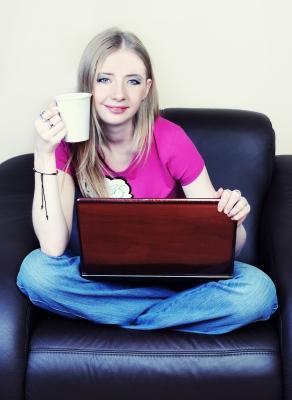 Going mobile means less commute time, less stress, and a more flexible schedule. An increasing number of businesses are also encouraging their employees to telecommute and work from home or other locations to reduce office-related expenses like equipment costs and office size. Governments are also keen to get people out of the office to help decrease traffic congestion during rush hour. In fact, a recent survey of business leaders at the 2014 Global Leadership Summit in London suggests that half of employees could be working remotely by 2020.
Don't feel you need to be confined to your home, either. Thanks to a proliferation of free WiFi, there are all sorts of other options for the mobile worker, from your local coffee shop to working from an exotic location. I spent several days, for example, working from an AirBnB apartment in Budapest. It was a working vacation, for sure, but the novelty of being walking distance from cafes, pubs, and restaurants in a foreign locale sure beat a long commute home and a late dinner. There may even be some advantages to working in a noisy cafe. A recent study in Journal of Consumer Research suggests that "a moderate level of noise not only enhances creativity but also leads to greater adoption of innovative products."
Easy access to Wifi, cloud computing to access office files and the ability to work from smartphones and tablets means the mobile worker can take advantage of a number of tips and tools like never before. Here are a few of my favorites, that I hope will help you to make the break from the office.
Virtual phone number: Want to have a New York phone number? How about LA?  With a virtual phone number you can work from anywhere, while maintaining the appearance of an office somewhere else. I like the new netTALK smartphone app. Once installed, netTALK is also giving away free US and Canadian phone numbers with unlimited free incoming calls from friends and family. You can also make free App-to-App calls only using an email address. The netTALK App for Android and iOS also enables highly discounted calls to mobiles and landlines: 30% – 40% less on International Calling to mobiles and landlines worldwide. If you're dealing with international customers, that can be a huge money-saver.
Try a virtual office assistant app: If you're a one-person business, chances are you will still need help from time to time. 24me is a multi-purpose app built around the idea of being an 'all-in-one' personal assistant. The app comes with a full suite of productivity tools that integrates with your calendars, service providers, financial institutions, and social networks.  It not only automatically adds events to your calendar and reminds you about upcoming bills, meetings, or other tasks but can even take actions such as paying bills and sending gifts.
Handle your own travel arrangements: Try using a travel app like Quicket. I don't want to put personal assistants out of work, but smartphones and apps make it possible to run an office from your pocket. Travel apps mean being able to book your own flights, hotels, and rental cars in minutes. Plus, all of the confirmations, boarding passes, and tourist info are always close at hand.
Virtual office: Sometimes you actually need an office. But, there's no reason to spend thousands of dollars on a space that's empty most of the time. For a fraction of that, you can have access to a space in a desirable zip code likeManhattan. Virtual offices generally provide a mailing address, a call center service, and have a space that can be used as needed to meet with clients at a fraction of the cost of renting or buying such an address.
Digital signatures: If you're dealing with contracts, you've undoubtedly faced the 'I need you to email, print, sign, scan, and email this contract back to me' impasse. Working from a mobile office complicates matters even more. It's unlikely you're carrying around a printer, scanner, and fax.SignNow has a solution. The service lets users sign digital documents with the swipe of a finger using iPads and mobile devices. Adding a signature is easy. You can use a mouse, trackpad, or touchscreen input or upload an image file of your signature.