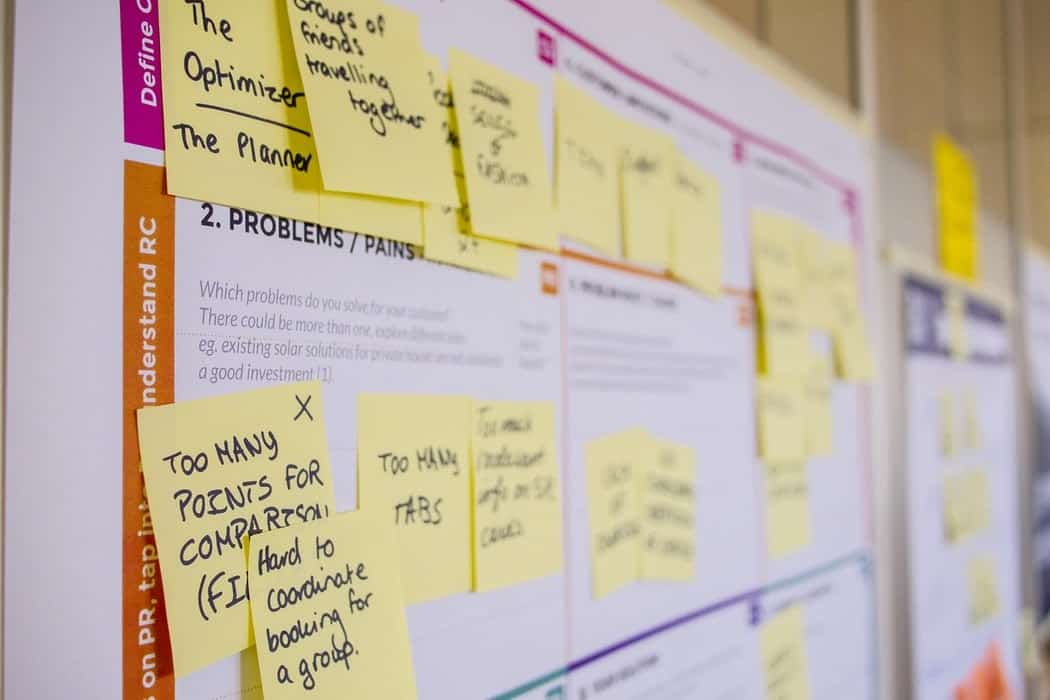 Businesses are developing ambitious plans for their businesses each year, they are implementing an excellent strategy for making their business process much smoother. They have started leveraging advantages from new innovation and technology at their workplace.

Small businesses and even business giants are trying to make their workplace more intertwined, they clearly know that by doing so, they can easily keep their business up to date with the growing trend and can satisfy the need and requirements of their business and customers in a more accurate way.
Explore to Know Which 5 Trends Will Dominate the Startup in 2020
Gartner's Hype Cycle highlights the dominating trends which will benefit the business. It was found that Emerging Technologies will have a hyper impact on the overall activities of the business. It will completely change the way business run their business, and it will also affect the way of interaction of the businesses with other customers and even within their business environment. (Source)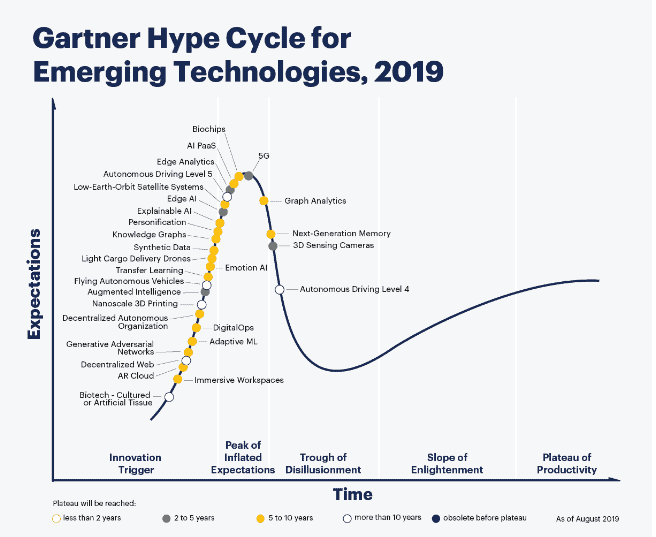 Image: (Source)

Deciding which emerging technology to keep your business up to date is not an easy task business entrepreneur has to consider various aspects before making the final decision, they have to find the answer for all the questions such as,

Whether particular technology which they are going to implement is the perfect choice for their business?
How much do they need to invest in implementing particular technology at their workplace?
Will their employees need the training to get familiar with any of the technology they adopt?
Is technology poses enough capabilities to meet all the requirements of their business or not?
These questions can help them to make the right decision about which technology to implement at their workplace. Once they finalize their decision they can invest in the latest technology to leverage various competitive advantages in their business field. Technology has a great impact on all businesses sector, some sectors are adopting transformation very quickly while others adopt it slowly.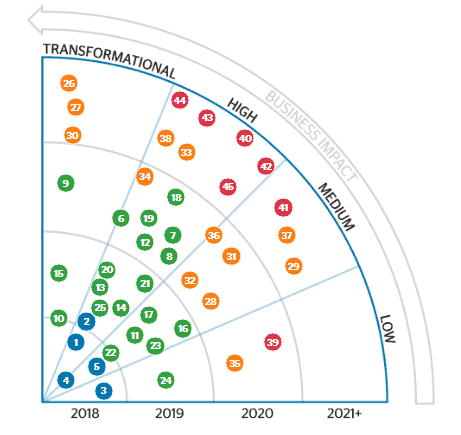 Image: (Source)

Each emerging technologies is advancing startups at different rates. Thus businesses need to find the one that can benefit them and can help them to transform fast and make their business updated with the going trend. But businesses need to know that there are numerous generic use cases within each technology, which has to be considered when they adopt any of the particular technology for their business. Technology experts need to identify whether the technology is capable enough to deploy in a specific use case or not. 
Emerging Technologies That Can Change Your Business Forever
If businesses find that particular technology is not capable enough to satisfy the need of the company, then businesses need to find the one which satisfies all their, as well as their customers, need. If an entrepreneur has a specific use case that aligns with a generic use case of the for the technology then its sure that they have found the right technology, and it is worth investing in it. Listed here are the top five emerging technologies that dominated startups in 2020. 
1. Artificial Intelligence and Machine Learning
Artificial Intelligence (AI) and machine learning (ML) have created a huge buzz business industry these days. Many businesses have realized the importance of implementing this emerging technology to their business, they are taking the support of iOS or android app development company to develop effective software or app for their businesses which ease the overall process and help them to stay ahead from all the competitors in this competitive business market.

By implementing these advanced technologies, businesses can leverage various benefits like increase customer engagement, drive more sales, digital transformation, boost productivity, and many others. According to Gartner's Artificial Intelligence and Machine Learning  Development Strategies survey, more than 59% of businesses responded they have stepped ahead to deployed AI, while on an average 4 or more AI and ML projects are carried out by each of the individual businesses these days, and this number is expected to grow high in nearby future.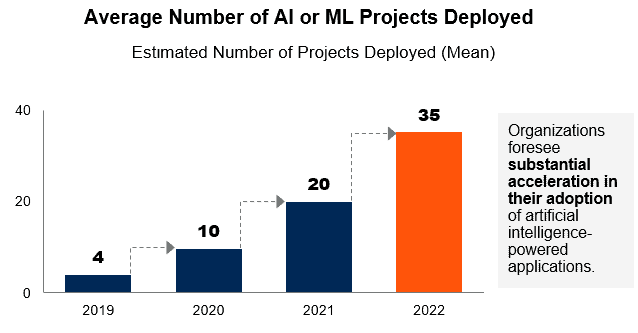 Image: (Source)

2. Edge Computing
Starting from smart traffic lights to smartphones, smart technologies such as edge computing has proven itself as an emerging technology. It allows businesses to access and operate data in the best possible manner, as it lowers network reliance businesses can consider it for their business and can make their business process faster than ever before. It also cuts processing times because while considering edge competing for their business, entrepreneurs need not have to submit their data to could each time and wait for receiving the output they desire.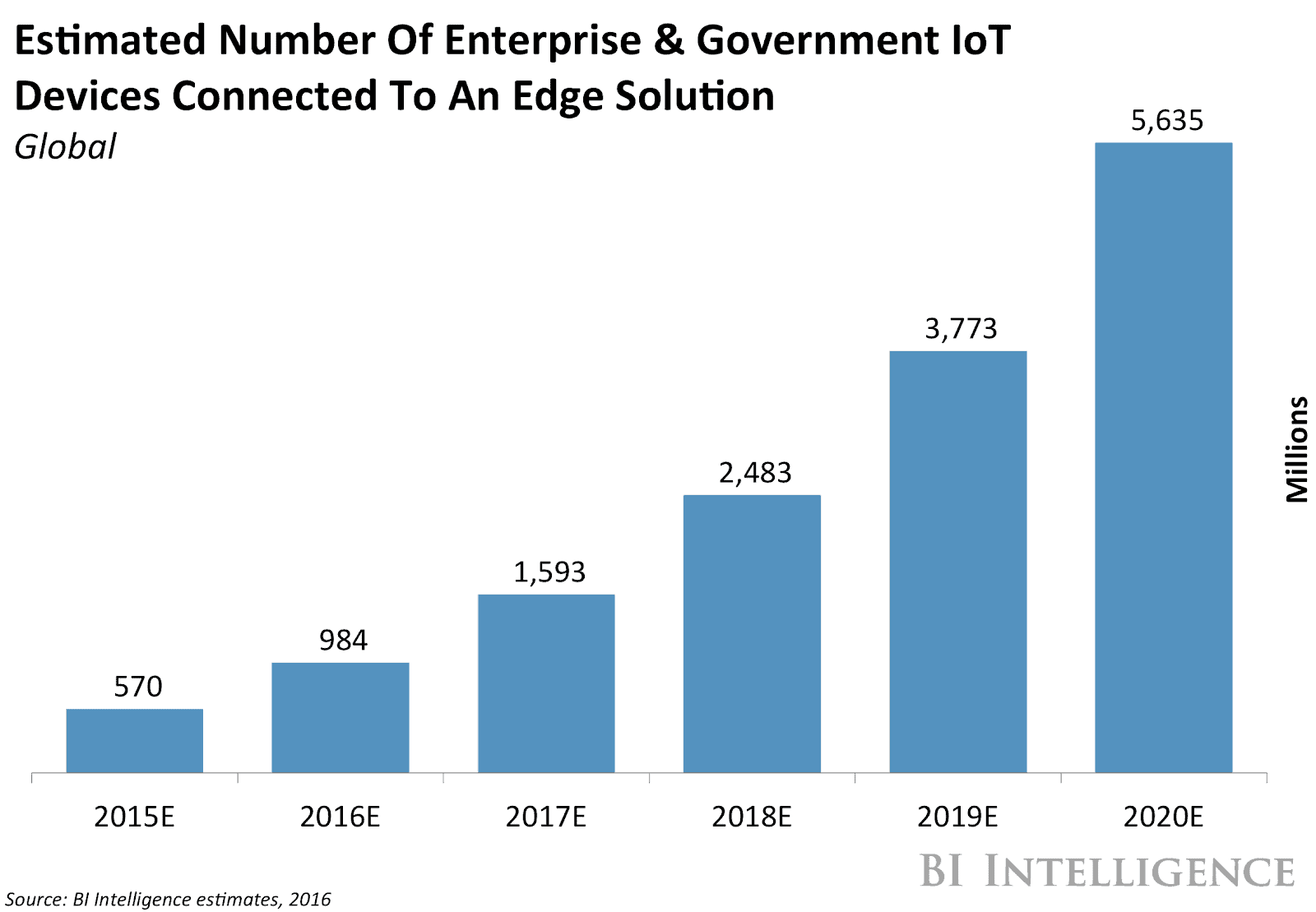 Image: (Source)

One of the Gartner reports predicts that almost 75% of businesses will generate data that also without using cloud technology by 2022. While another report by IDC forecasts that more than 45% of data that will be generated by IoT will be processed, stored, and utilized with the help of edge computing. Businesses are more likely to use technologies like edge computing as it helps them to address all the privacy issues which they are facing in their field.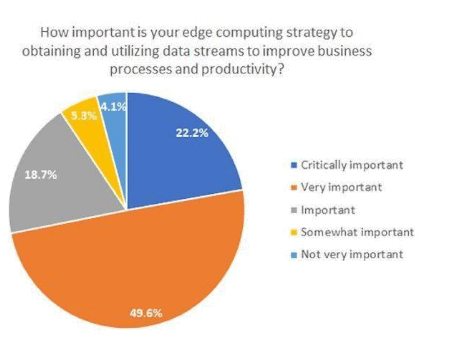 Image: (Source)

Now businesses need not have to leave their raw data to get processed by the device. They can use artificial intelligence (AI), systems to handle complex data, it can also help them to make the perfect decisions in real-time that also without any latency. This hybrid approach involves WiFi networks and 5G technology, thus businesses have to make sure that they invest in these emerging technologies to succeed in their business. 
3. Cryptocurrencies
We have experienced great use of blockchain technology in recent years, we might be aware of the term cryptocurrency as it has created a huge buzz in the business world these days. It is a digital form of currency that is secured and managed by cryptography, cryptocurrency is secured and managed by computer networks. Today more than 2,000 different cryptocurrencies are existing in the market for the use of the customers.

Business startups get the chance to access developing and totally new markets when they consider cryptocurrency. It can avail them with many commerce opportunities that are unavailable previously. They can easily deal with customers who don't own a bank account and even with those customers who live in the countries where cash is only the option for them. This technologies also offers them the chance to build transactional loyalty for their business.
4. Internet of Things
The Internet of Things can be considered as one of the biggest innovations when it comes to home technology. During recent years, IoT has carved a niche in the business sector as the adoption of this technology has increased to a great extent. Most of the businesses are using advanced IoT enabled systems like Google's Home, Amazon's Alexa, and others for various purposes. They are even using many IoT powered devices to ease their working process and for getting more production from their business.

The IoT connected device's total installed base is expected to reach 75.44 billion worldwide by 2025. Thus if the businesses want to stay updated, then they need to adopt these modern technologies at their workplace. It can help them to meet all the demands of the customers and operate their business in a more effective manner than before ever. (Source)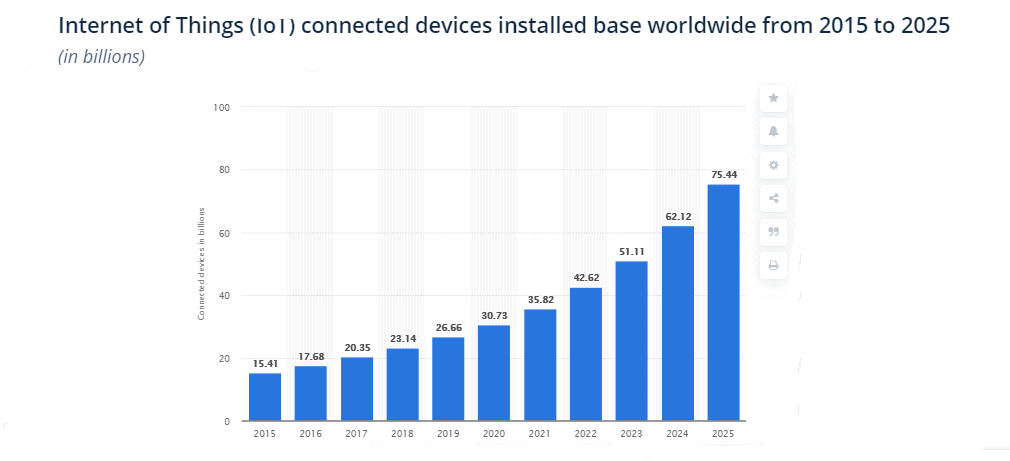 Image: (Source)
5. Automation
Nowadays, a huge scale of innovation in automation is not limited to the production only, this technology has much to offer to the businesses and also to customers. Automation technology is evolving continuously, this has proved to be more beneficial for businesses as they can automate most of their business process. By automating most of the processes at the workplace, they can easily save a huge amount of money, time, and even the resources of their business, which will ultimately affect their business profit and growth.

According to the recent report by Statista, global spending on artificial intelligence and automation has increased to a huge extent in recent years. In 2018 around 7.5 billion U.S. dollars were spent on intelligent process automation, this number is expected to jump high by 2023. They can use artificial intelligence technology or any other technologies to automate their business process. It can help them enhance their decision making and productivity, which ultimately will result in their business success.  
Ending Note
Transformative technologies have opened various opportunities for businesses. It not only helps them to ease all their business processes but also help in satisfying the rising demand for customers and provide them with augmented experiences. Without adopting new innovation and change in their business, entrepreneurs cannot think of surviving in this competitive business world. They need to try to keep up their business with the constantly changing technology as it can help them to leverage various competitive advantages for their business.

Businesses can enhance their decision-makers and can maintain their focus on fulfilling all the needs of the customers through advanced technologies. Thus businesses that are aiming to achieve massive success in 2020 need to consider involving and implementing one or other technology in their business process. 


About the guest author
Manoj Rupareliya is the Online Marketing Expert and Blogger. He is an experienced writer with expertise in the field of technologies like blockchain, crypto, AI, Digital Marketing and SEO. All the blogs he writes are aimed at providing credible help and insights for readers who want to stay updated all the time.