In this modern technology, promotion for any business is the ideal solution for its success. Promotion can be done both online and offline. When compared with offline, the online method drives fast and quick responses, as it best suits the current tech guys.
If your business does not have a website or looks like built in the 1980s, you are losing money. Many business owners don't realize it at first and just ignore it.
In this technology era, one should implement their business strategy very effectively so as to expand their business goals and earn more revenue. For any business definitely, there will be many pitfalls, one should choose the best alternative and affordable method.
If you are a real estate agent and need to build a real estate website. Then no need to worry. Because irrespective of your coding knowledge anyone can build a real estate website with the help of the real estate WordPress themes.
In general there are plenty of real estate themes that help to boost your business productivity to a large scale.
5 Best Real Estate WordPress Themes:
Today I am going to share the most comprehensive list of real estate WordPress themes for your rental or real estate websites. All the themes are updated regularly and provide free lifetime service upon once subscription. Those themes are scattered with multiple features and functionalities so as to fit the user's demand.
They provide a user-friendly interface and responsive designs so as to attract the customer's attention.
Now let's have a look at the best real estate WordPress themes for your business.
1.Real Homes: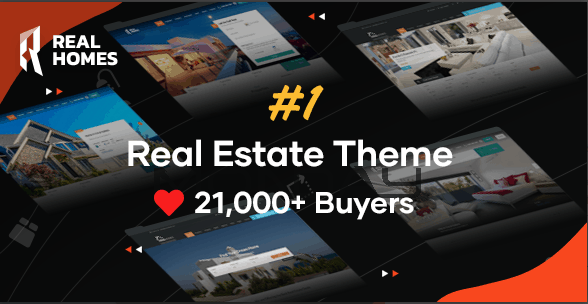 RealHomes is the #1 WordPress theme for your real estate businesses. It is well-known for it's modern and classic design with multiple features that real estate business demands.
RealHomes serves as the most customizable and reliable WordPress theme in 2020.
Real Homes themes delightfully present property information to its visitors and facilities real estate business owners by making property management easier and simpler.
This theme comes up with all the features a real estate website could need. The team supporting the theme continuously provides updates, new features, and improvements based on customer feedback.
Real Homes theme is built on the bootstrap offering, an interface that is fully responsive. Irrespective of devices, your content looks amazing and wonderful. It has the ability to adapt to any screen size or resolution.
On purchasing this theme every user can customize their site with the plugin available. One can experience amazing flexibility with the elementor page builder, where you can have all the widgets at a glance. It comes up with multi-language settings where it helps foreigners to communicate very easily in their preferred language.
Features of Real Homes Theme:
The features of real homes theme include:
Advanced and fully customizable search forms.
Real Home themes come with Google Map Integration support that enables you to display Google maps with properties markers on the search page.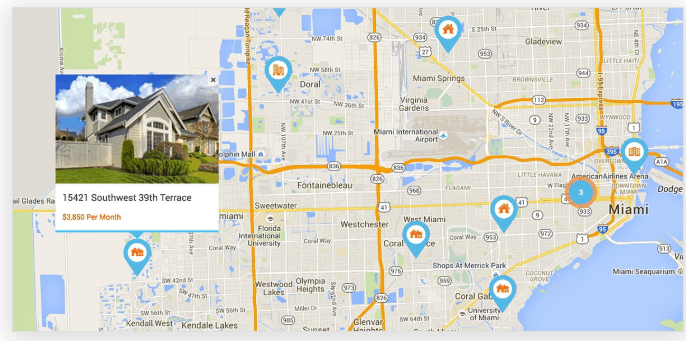 It provides easy to use interface so that you can edit and modify very easily.
There is a facility to add some additional information also.
One can easily add floor plans related to a property such as display sq feet, size number rooms, etc.
This theme is integrated with the Google reCAPTCHA API to prevent SPAM messages.
Real Home Theme comes with front end property submit template and customize settings.
This theme helps the visitors to add his favorite properties for a further visit without any login.
It supports lists, grid layouts, and multiple property templates as well.
Just look at the quality of service and support, responsiveness so as to achieve your business goals.
Grab the handcrafted template for your real estate website just for 59$ by clicking here
2.Reales WP Real Estate WordPress Theme:

Reales WP WordPress theme is professionally designed for all the real estate websites. It is the premium WordPress theme with easy to use interface, intuitive and fully responsive design that looks perfect for any screen size and resolution.
It is very easy for anyone to go with because of the beautifully crafted demos. All the pages give the user a seamless experience as they are designed beautifully in several components and layouts.
With the unlimited color support, you can personalize and customize the look and feel of your website. This theme is the ideal solution for business owners who want to create an eye-catching website so as to attract customers attention. It is compatible with all types of devices and supports all screen sizes.
One can easily register with the front end authentication system which was implemented by the Reales.
Features of Reales WP Theme:
Reale's WP theme is packed with many interesting features. They are :
Advanced Auto Search Function.
Front end property submission and editing, advanced editing filters.
Reales WP has incorporated Google places in order to provide a user-friendly interface and a streamlined search experience.
With the Google Maps support site, visitors can benefit from the detailed maps and geolocation features.
Reales WP incorporates an innovative list of properties, services, shortcodes, testimonials, featured agents and columns, etc.
You can make your homepage hero by using the variety of customized header types.
You can easily enhance the property search experience using the layout that meets your vision.
It also supports drag and drop options, payments integration.
Get this simplified real estate WordPress theme for 54$ by clicking here.
3.Realtyspace: Real Estate WordPress Theme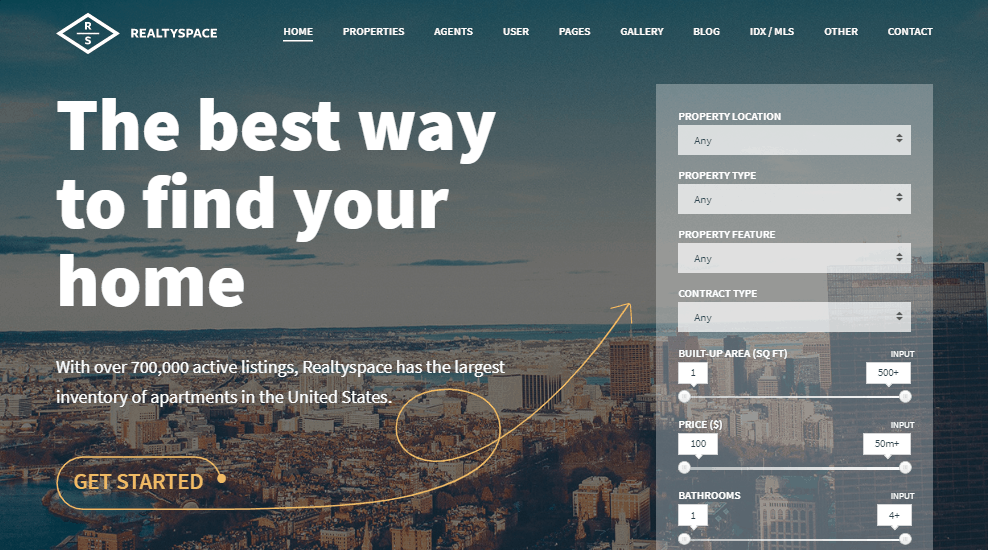 Realtyspace is the easy to use WordPress theme for building professional real estate websites for real estate agents and agencies. It also serves as the all-in-one solution for sorting out the real estate issues a user faces. It is based on the purpose oriented design with tons of useful features.
By using the custom currency, custom area units, and translation text options you can build a website for any country in the world.
It is the professional choice for the real estate businesses With the help of the plugin available you can craft and customize the website according to your home dream without touching a single line code.
With the help of the visual composer backend page builder and drag and drop native customizer, one can create stunning landing pages instantly. This theme also helps in taking care of managing the properties, finding potential clients, accept free and paid submissions, etc.
Features of Realtyspace Theme:
The features of the Realtyspace include:
Realtyspace helps to have a great look on any devices such as smartphones or tablets etc.
It is integrated with Google Maps or street view to provide a fast and better user experience.
It supports advanced filtering.
With Realtyspace you can create and customize unique coloring schemes or predefined sets.
One can enjoy the list of shortcodes for hundreds of UI elements such as properties, agents, galleries, testimonials, etc.
You can create several design variations with respect to page builder and custom colors.
Front end property submission and multi-language support Via WPML.
It is based on bootstrap3, seo optimized and performance-focused theme as well.
It supports a one-click install demo and removes the things not required by you.
It provides revolution slider, accepts paypal payments.
It supports the iHomefinder plugin, Realtypress plugin, and IDXpress plugin.
It also supports social login through Facebook, Google, Twitter, etc.
With Realtyspace one can have the real-time interactive user experience to a great extent just for 59$. Click here to grab this high-end theme for your real estate website.
4.Houzez Real Estate WordPress Theme: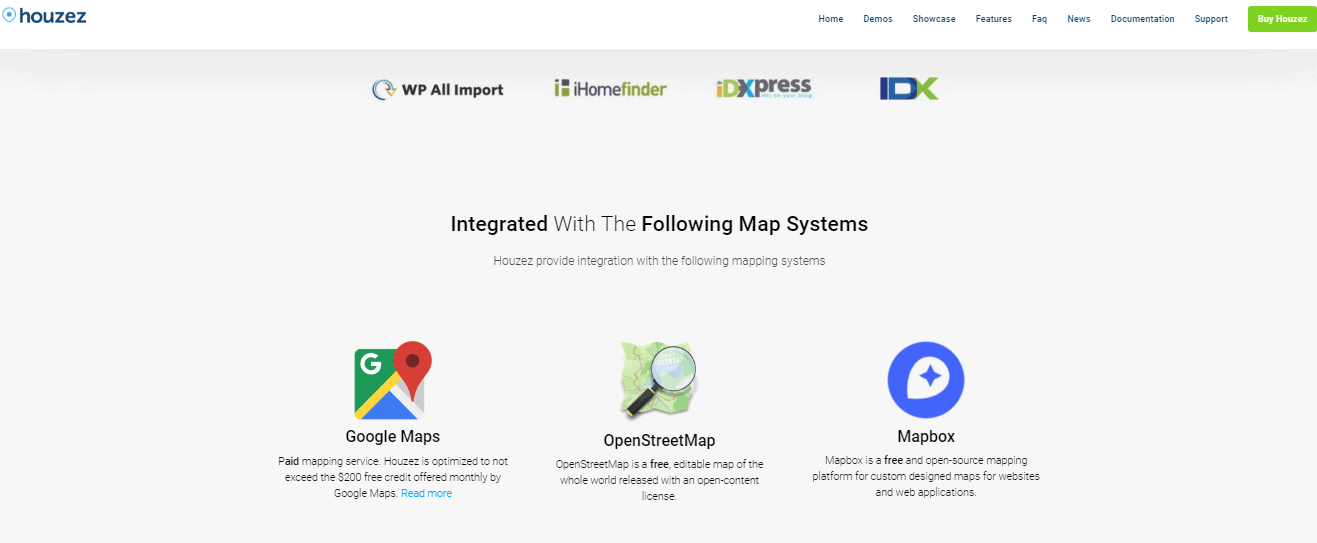 Houzez is a highly customized and professional real estate WordPress theme. It served as a popular and powerful WordPress theme for real estate agents and companies. With this theme, one can easily create excellent website designs. It had many features a real estate owner can enjoy happily to create quality and responsive websites.
One can get the best idea by viewing the demos on the Houzez theme. It's super easy and fast to get established your desired website.
Features of Houzez Real Estate WordPress Theme:
The features of the Houzez real estate WordPress theme are:
The drag and drop custom widgets are designed to deliver the best real estate experience.
Houzez is integrated with many platforms, plugins and payment systems.
It is integrated with Map platforms such as Google Maps, OpenStreetMap and MapBox.
Highly customizable and multi-language support.
Prebuild and one-click import demos available in the Houzez.
Feature-rich theme options at your fingertips to control your website.
Advanced search filters enable visitors to search for the right properties, auto search suggestions, advanced radius search geo-locations, etc.
It supports a property management system where you can easily coordinate your agents and accept submissions at the real estate marketplace.
Integrated live message systems and email alerts.
You can control all your property settings and manage them in all aspects.
Property information, property maps, property images, and property settings are managed and controlled very deliberately by using the Houzez theme.
Try out this fantastic theme just for 59$ by clicking here.
5.MyHome Real Estate WordPress Theme:

MyHome theme is the complete and all-in-one solution for the real estate marketplace. No coding knowledge is required to start the real estate website. By using pre-made demos and importing them into their workplace one can easily quick start their website.
One can enjoy free lifetime updates and support upon subscription. By using the readymade and default templates you can design your homepage according to your business need.
Because of the rich and highlighted feature set, it is preferred as the ideal choice for many of the real estate businesses.
Features of MyHome Theme:
The features of MyHome real estate WordPress theme are:
You can import the demo with just one click and create stunning websites.
Search forms are highly customizable to fit your customer needs.
You can easily create and modify the custom fields, instant results, save searches, etc.
You can easily manage your properties, do social authentication, captcha, email notifications, user moderation, etc.
You can monetize your website by allowing guest posting, offer different payment methods and payment packages etc.
It supports IDX broker integration.
You can save 136$ by integrating premium plugins bundled with MyHome such revolution slider, visual composer, Advanced custom fields PRO, etc.
Build your real estate WordPress website with MyHome theme just for 59$. Try it now by clicking here.
Conclusion:
If you are more excited to establish a profitable online real estate business. Then please grab your attention towards the above listed real estate WordPress themes to create wonders for your business.
All themes are business-oriented and responsive in nature and are designed to achieve targets in 2020 for the real estate business.
Your wise choice of selection determines and establishes a roof for your real estate online business.
About the guest contributor
I am Saritha Reddy having 3+ years of experience in technical content writing. A blogger by passion and interest. I work as a freelancer for many clients and companies, a lover of technology and gloomy concepts. Follow me on LinkedIn, Facebook.