Looking For iTunes alternatives? iTunes has fallen from favour as the most go-to application for music management after a decade or so since it was developed. Also, the user interface seems to keep getting more confusing every year. Now, a large number of users would prefer a simple and more intuitive way to play music from their PCs. Fortunately; there are some great music programs for Windows that you can give a try. You may also find some of these more powerful than iTunes alternative.
Here are few of our all time favourites iTunes alternative:
MusicBee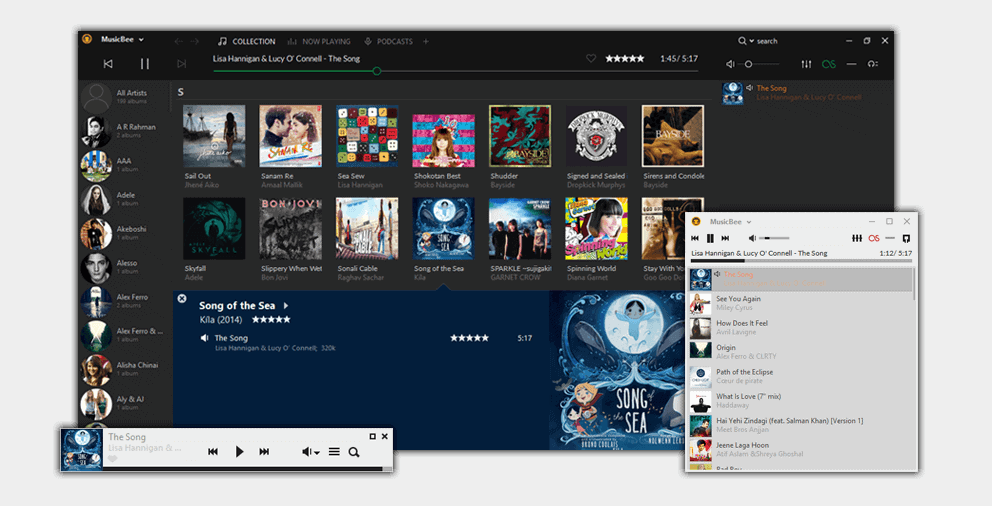 An iTunes substitute which is fully-featured, absolutely slick and stunning to look at, Music Bee comes with all the features that you can possibly imagine. It acts as more of a tool as it lets you organize and manage your music library in a better way. The tool does a lot of things from CD ripping to volume normalization and the best part is that you get it for free. While other music programs do well in specific areas, MusicBee excels in every feature.
MusicBee will scan your computer for the stored tracks and it can import the music library from iTunes directly as well with the flexibility to you can choose exactly where you want to place the files. The default interface is similar to iTunes and it can be a little complicated for some, however, you get a smart Theatre Mode which makes moving things around pretty simple. You will get various customization options in terms of the screen layouts where you can choose different skins. It supports high-end sound cards and 5.1 surround sound.
The tool is compatible with quite a few Winamp plug-ins, so you wouldn't need to compromise on the super-custom features. MusicBee can auto-tag your library, supports last.fm and Groove Music; has a 15-band equalizer, and appease audiophiles if WASAPI support is required. The other features include adding metadata to your music, using the internet connection to find useful information about the music collection automatically, synchronising with other devices and turning your computer into a music jukebox.
The tool is incredibly fast and gets updated frequently. The forums prove out as awesome resources and you will get a lot of support from the developer. The tool is perfect for iTunes converts as long as you are using Windows.
Pros:
Intuitive user interface
Ability to rip files from CDs
Highly customizable
Auto DJ feature
Cons:
Doesn't have an in-built encoder
WinX MediaTrans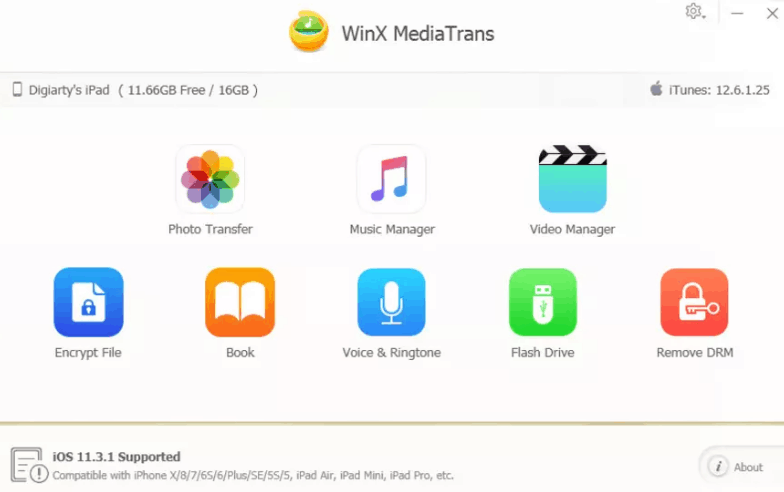 Another amazing iTunes alternative, WinX MediaTrans is primarily designed to transfer photos, music, videos, ringtones, eBooks and podcasts between your PC and iPhone, iPad or iPod. The tool brings an entirely fresh experience in iOS data management. You can use this tool to send voice memos to your computer, remove DRM from iTunes purchases, delete photos in iPhone, make ringtones, create/delete music playlists, encrypt photos and videos of your in your system.
WinX MediaTrans has an extremely friendly, modern and concise user interface with multi-language support. When it comes to the basis features of the tool, it enables you to transfer photos from your iPhones to the PC quite easily. You can also transfer pictures from third-party applications. The tool allows you to transfer music from iPhone to your PC and vice-versa. Additionally, you can edit the meta information of the track including artist and title, and convert any audio format to ACC and MP3 while transferring.
The tool has three in-built features for videos- auto-convert, auto-rotate, and export with encryption. Therefore, you can easily convert videos formats like AVI or MKV which are incompatible with iPhone to MP4 which can be played in the iPhone, rotate vertical videos to horizontal videos, and encrypt videos in your iPhone while transferring them to the computer. However, the most valuable part of the tool is that it finishes any file transfer at a super-fast speed which is considered better than many iPhone file transfer apps available out there.
Pros:
Lightweight and clean interface
Built-in auto-convert and auto-rotate features
Sync music and other files without installing iTunes
Cons:
WALTR 2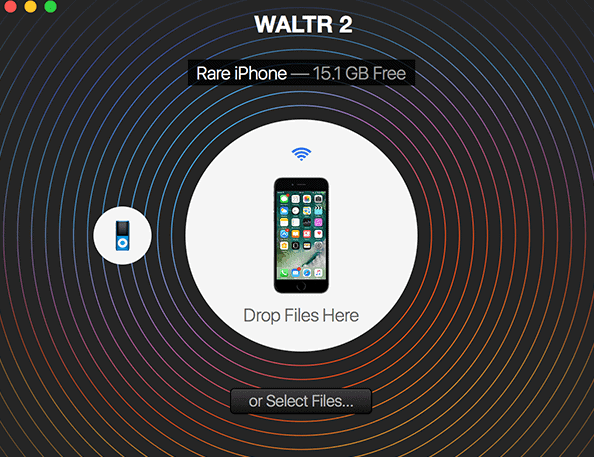 Waltr 2 allows you to manage and back up the files from your iOS device to your Windows PC without the need to go through iTunes.
You just need to plug and connect your phone to the PC to moves all your files back and forth between the device and the computer.
Waltr 2 supports almost every kind of music and video format including Apple Music files and Windows Media files. The application can quickly and seamlessly transfer music, videos, PDFs, ePub files and eBooks. The best part is that all these files go to the right places and you don't have to fret over managing them.
The applications support Wi-Fi in addition to USB, and even if you disconnect the USB cable anytime while transferring the files, the process will not stop if there is an active internet connection.

The app is available for a 15 day free-trial and after that you can buy it for $19.95 to continue using it.
Pros:
USB stick option
Option to add ringtones
Cons:
While connecting the phone to the application initially, each section has to be mounted separately.
MediaMonkey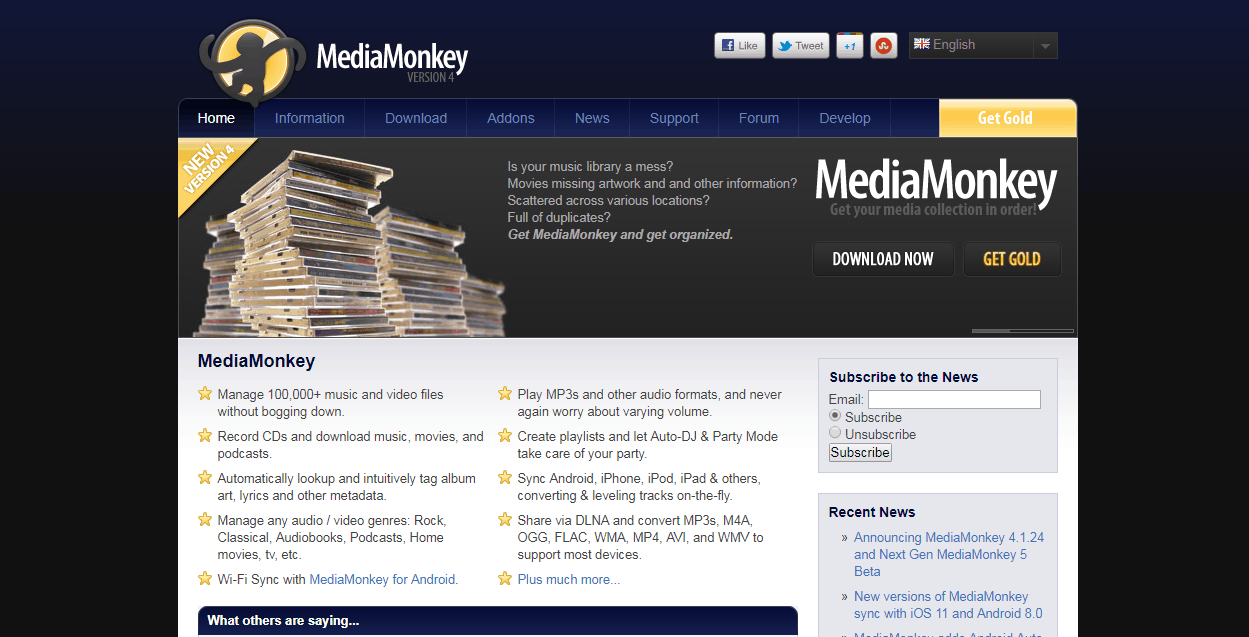 A free media player, MediaMonkey is a true iTunes replacement. This heavyweight tool is designed to handle any file format of hundreds and thousands of audio and video tracks effortlessly. It supports MP3, WMA, OGC, M3U, WMV, MP4, PLS, AVI, and MPC formats.
MediaMonkey can catalog files from any source, whether they are located on hard drive, on a network device or streamed from an online source. It can organize the largest of libraries with ease and allows you to auto-tag music with its robust tag editor. The tool features a CD ripper, podcast manager, UPnP/ DLNA server and sync manager
The user interface looks functional with simple lists of genres, tracks, artists, and albums in the middle, current playlist on the right and media sources on the left. The player adjusts the volume automatically and supports a Party mode which locks the user interface at public events. You can tweak and adjust any setting as per your liking virtually. Additionally, you can download scripts and plug-ins which are available for free on MediaMonkey's add-on repository and customize the tool to meet your needs.
The only downside with MediaMonkey is that the advanced features which include smart playlists, conversions while syncing, etc. are only available if you purchase the licence.
Pros:
Can organize extremely large libraries
Customizable
Cons:
Foobar2000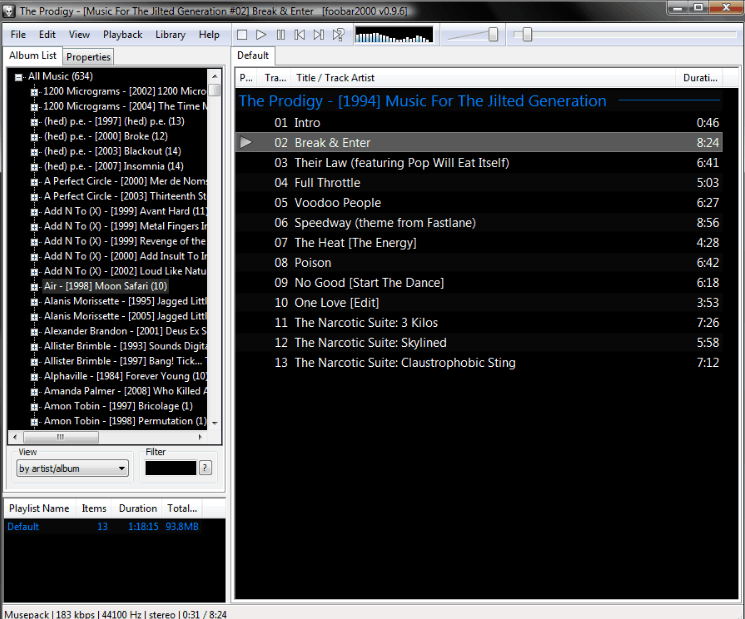 Another powerful and flexible music player, foobar2000 comes with a unique design and loads of customization options. If you want to tweak every single setting of your music player's interface to the maximum capabilities, then foobar2000 is the perfect match for you. It supports multiple formats including MP1, MP2, MP3, Mp4, ACC, WavPack, WAV, AIFF, CDDA, WMA, and more.
Even though in the beginning you may find the user interface quite simple and dated, but the tool excels when you start customizing it. Things will start getting clear once you point the tool in the direction of the music collection and library. The main function of foobar2000 is media management and it can also rip and convert CDs. However, the features aren't just limited to copying tracks from a disc and organizing them; foobar2000 can pretty much do anything that you ask for.
The best part of the tool is that developers can build extensions and plug-ins to expand the features further. There is a learning curve with the program and it is not ideal for beginners. But, as you get a hang of it and spend some time configuring the features, you can leave foobar2000 to work its magic.
Pros:
Native windows appearance
Extremely customizable interface
Cons:
Dated design
Steep learning curve
Wrapping up
This list is definitely not exhaustive; there are more iTunes alternatives that we can include in one post such as Tomahawk, Clementine, PodTrans, etc. However, the music players mentioned here are good to start with and have been given good ratings by the users.