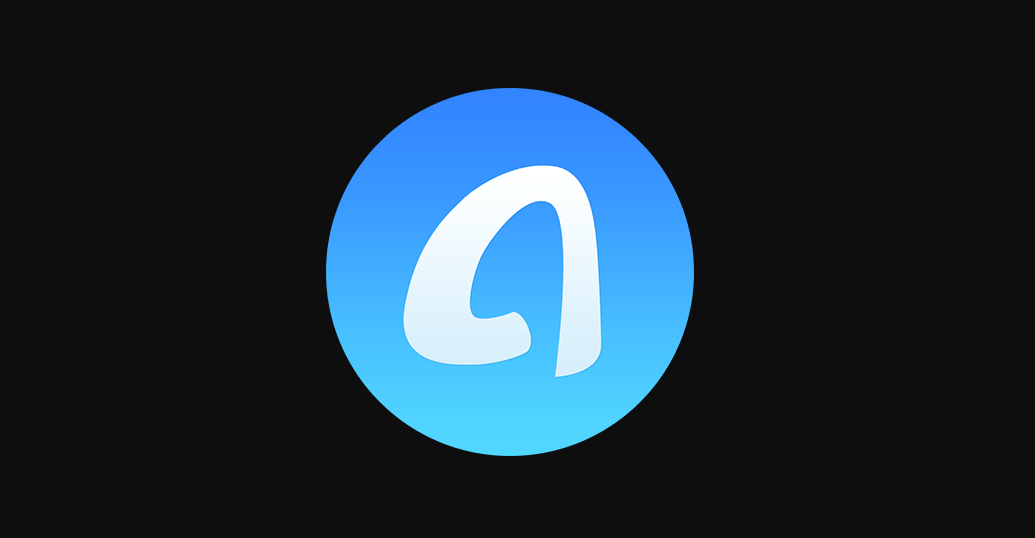 As an excellent alternative to iTunes, AnyTrans from iMobie is designed to bring an entirely new and hassle-free experience in iOS content management. Developed following the principles of precision and versatility, AnyTrans is one of the rare tools that covers all the basics and includes some pretty cool extras as well. Even though the iPhone is an exclusive device in its category out there, but transferring files from one device to another is not an easy task and not a lot of people appreciate that. Here, AnyTrans serves as an ultimate one-stop solution. In fact, to call it an alternative would be an understatement because with so many flawless features, this program has the potential to replace iTunes completely. This tool assembles all your Apple devices and fortifies access to all of your content at a single place.
AnyTrans integrates with your iCloud account and can easily transfer any type of media from your computer to the iOS device and vice-versa. With just a single click, you will be able to clone all your settings from one device to another. Also, it can create and manage backups for your iOS device automatically with a guide set in advance.
The program supports all of the standard iOS files types including audio files, video files, photos, applications, contacts, messages, voice memos, Safari history, eBooks, etc. In short, whatever the content is present in your Apple device, iTunes, iCloud or the computer, AnyTrans will provide an efficient control over all the data.
You can use this program to download videos to your iOS device from numerous popular websites such as Instagram, Dailymotion, YouTube, Vimeo, and more. The best part is that with AnyTrans, you can WhatsApp messages including pictures, videos, and music from one iPhone to another or backup WhatsApp chats and restore them with just one click.
Also Recommended: 5 Ways to Prevent Backup Failures and Improve Performance.
In terms of security as AnyTrans is downloaded from the official iMobie website directly, it is absolutely safe from any kind of virus or malware. Currently, AnyTrans is accessible in seven different languages: English, German, French, Spanish, Chinese, Arabic, and Japanese. Also, the support provided for the program is very comprehensive with various instructions and troubleshooting articles available online and within the program.
iMobie AnyTrans Features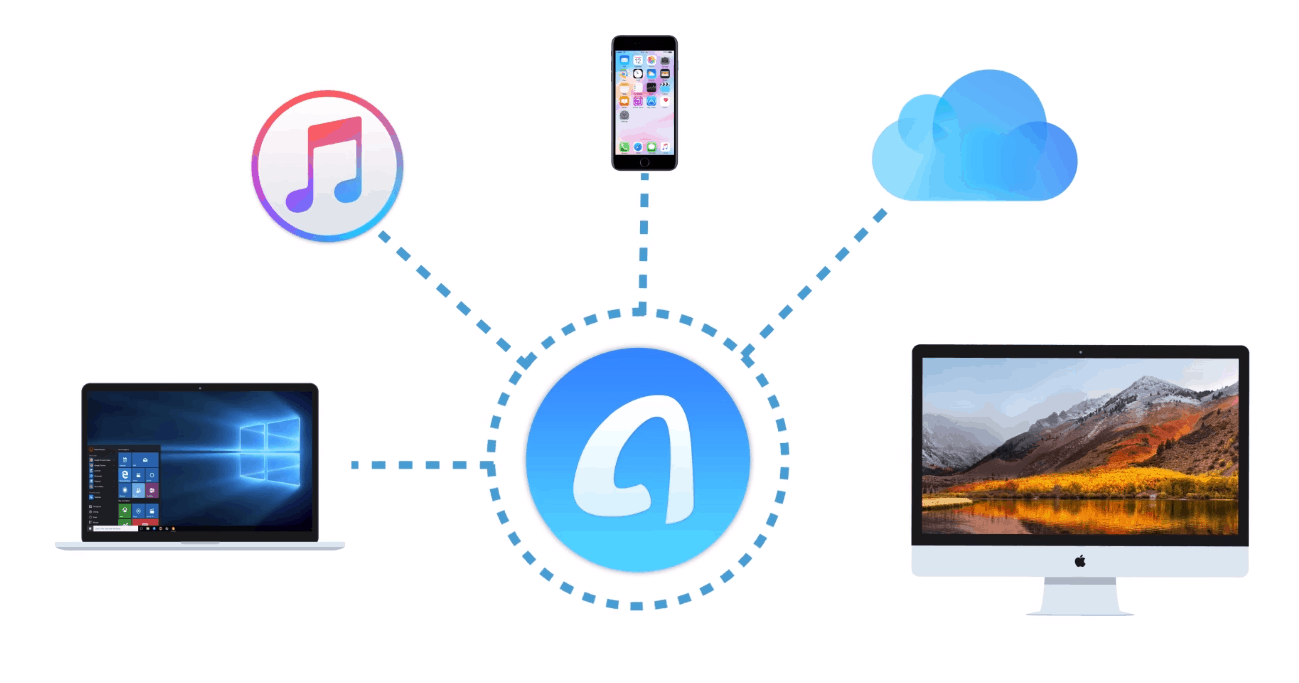 Intuitive User-Interface
Let's have a closer glance at AnyTrans starting with the interface. The plain and friendly user interface is highly impressive with a fast file loading and transferring speed. The program excels in making media management easy, whether it is syncing, transferring, or creating a backup.
AnyTrans works for both Windows and Mac with minor difference in the user interface. Once you have downloaded and installed the program, you will be asked to connect your device. Post connecting your device, you will be taken to a new screen which as some shortcuts such as Add Content, Fast Drive, Connect to Mac, Merge Device, and more.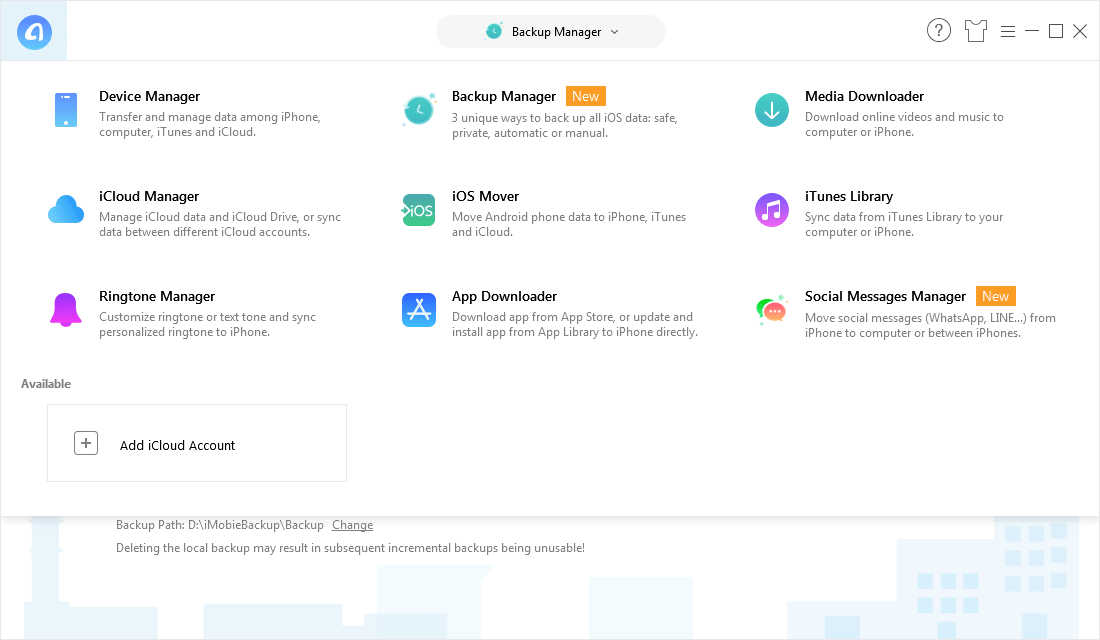 With the "Add Content" option, you will be able to add files from your computer. The "Connect to PC" option allows you to transfer files from different devices to your PC. You can use "Fast Drive" to utilize the free space in your iOS device to store files and clone them to other PCs. The other options such as Merge Device and Clone Device come handy when you are upgrading from an old iOS device to a newer one. The interface is indeed well presented and extremely easy-to-follow.
Merge devices
If you have just bought a new iPhone and wish to transfer all your data from the old iOS to the newer one, then this is the tool for you. With AnyTrans you can clone your new device in a way that you entire data from the old phone is transferred seamlessly and you end up saving a lot of your time.
To transfer the content between two iOS devices without erasing any existing data in the target device, all you need to do is select Merge Device option in the Device Content tab and choose the target device.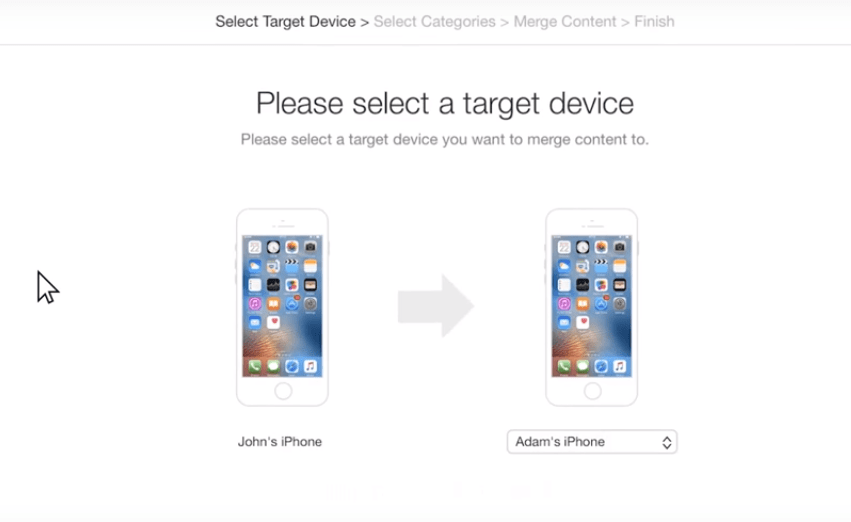 With just a simple click, you can transfer any file from the list of the categories.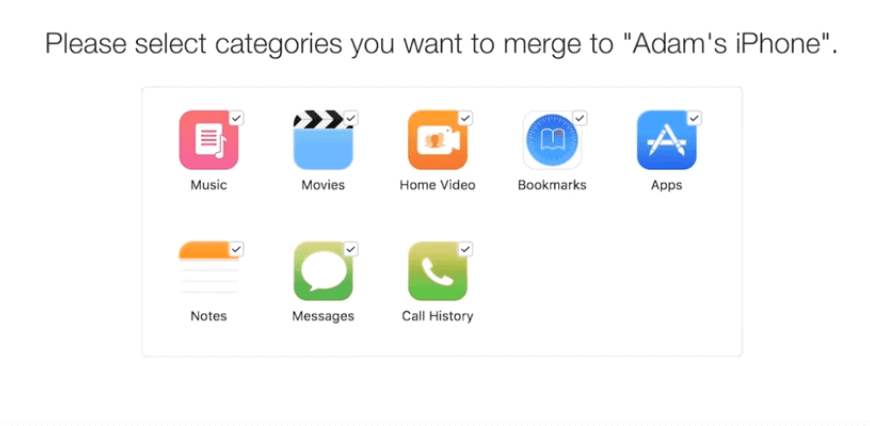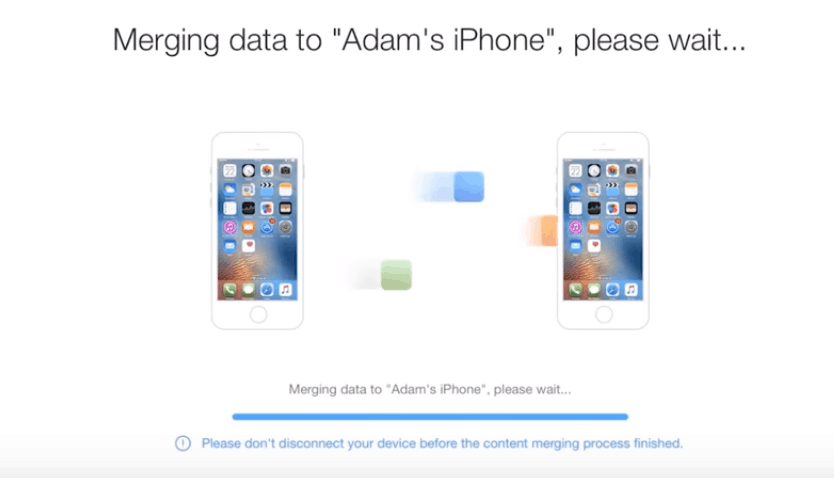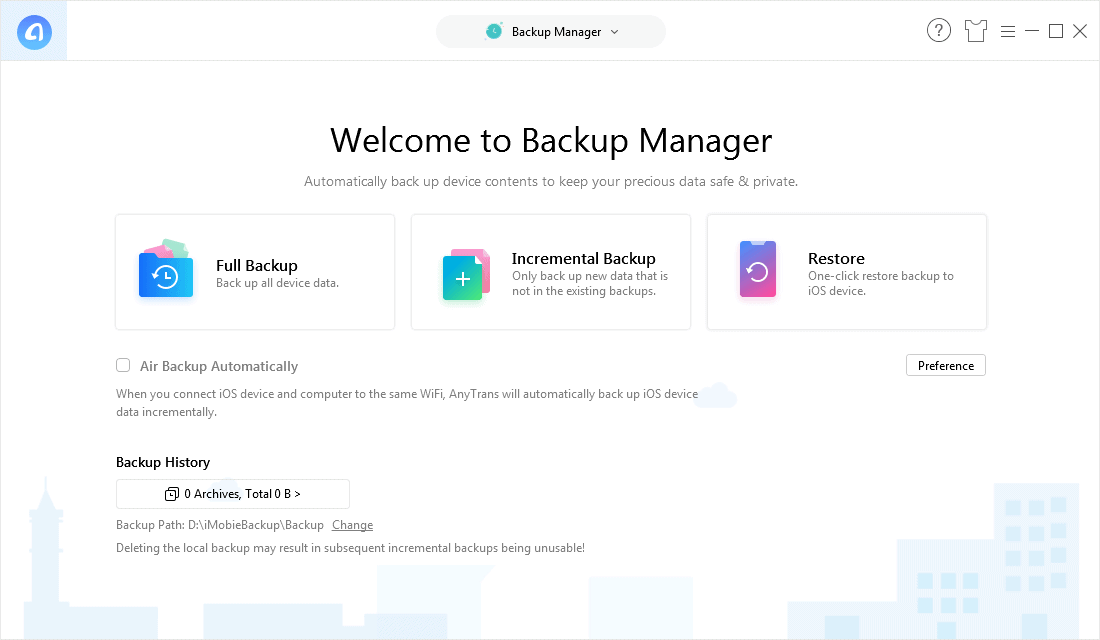 Every iOS user will understand the pain of not being able to know what is stored in their iOS device backup. This is where AnyTrans comes for the rescue. With a robust back and restore system, the program allows you to not only to create and manage backups but also check what is stored in those backups easily.
You can look through the existing backup files and their contents including messages, contacts, and more. This makes it easy for you to have access to any particular file in the backup which is extremely useful if you want a message or a contact that has been deleted long time ago. Additionally, you can also create selective backup for specific applications and certain text messages.
Three backup solutions for different needs:
The program provides you with a flexible backup manager which offers three backup solutions for varied requirements: Full Backup, Incremental Backup, and Restore.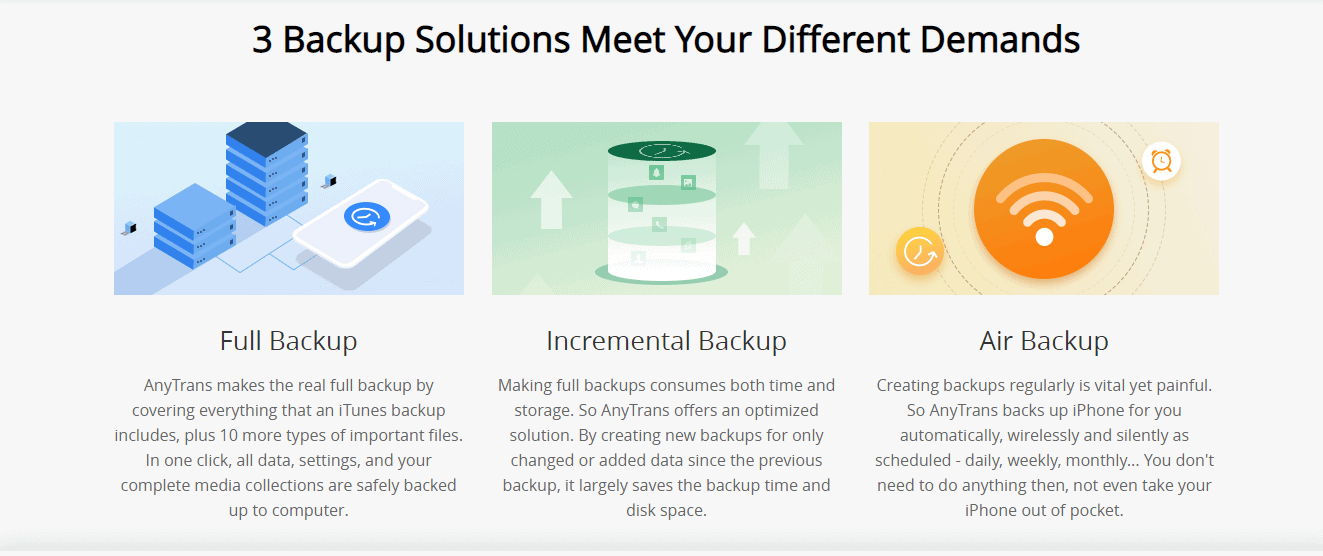 You can visit this post, for a detailed guide on how to transfer your iPhone data to iTunes/iCloud or Mac.
iCloud Explorer
One of the most unique features that AnyTrans provides is the iCloud Explorer. The program makes gives an easy way to access the backup which you have taken with iCloud and extract files from it. You can directly sync specific files on your iPhone to iCloud backup.
Application Management
It is coherent that no one would like to waste time on managing individual apps in their phone and this issue has been taken care of by AnyTrans. The program allows users to install/uninstall and update multiple applications simultaneously.
Your phone can be used as a storage drive where in you can carry files, however, it can be done by connecting the phone to a PC which has AnyTrans installed. You can get the details on the applications which are installed in your iOS device and also browse through the file system.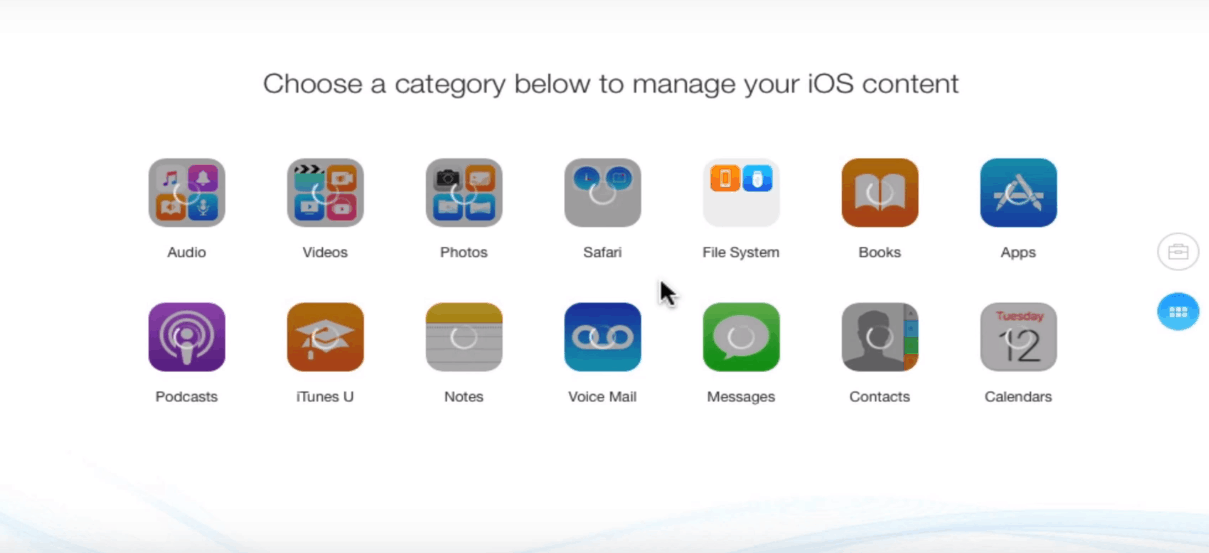 Sync and Transfer
Syncing your data with AnyTrans is pretty much similar to how iTunes works. However, with AnyTrans you get to add and remove files in your iOS device manually. It eradicates the concept of library and the program also prevents continuous re-syncing while transferring the data to the Apple device. These features aren't available even in iTunes and definitely make AnyTrans stand out when compared to other alternatives in the market.
Transferring files including photos and other media between two iOS devices becomes a lot easier that you can expect with AnyTrans.
The Video Downloader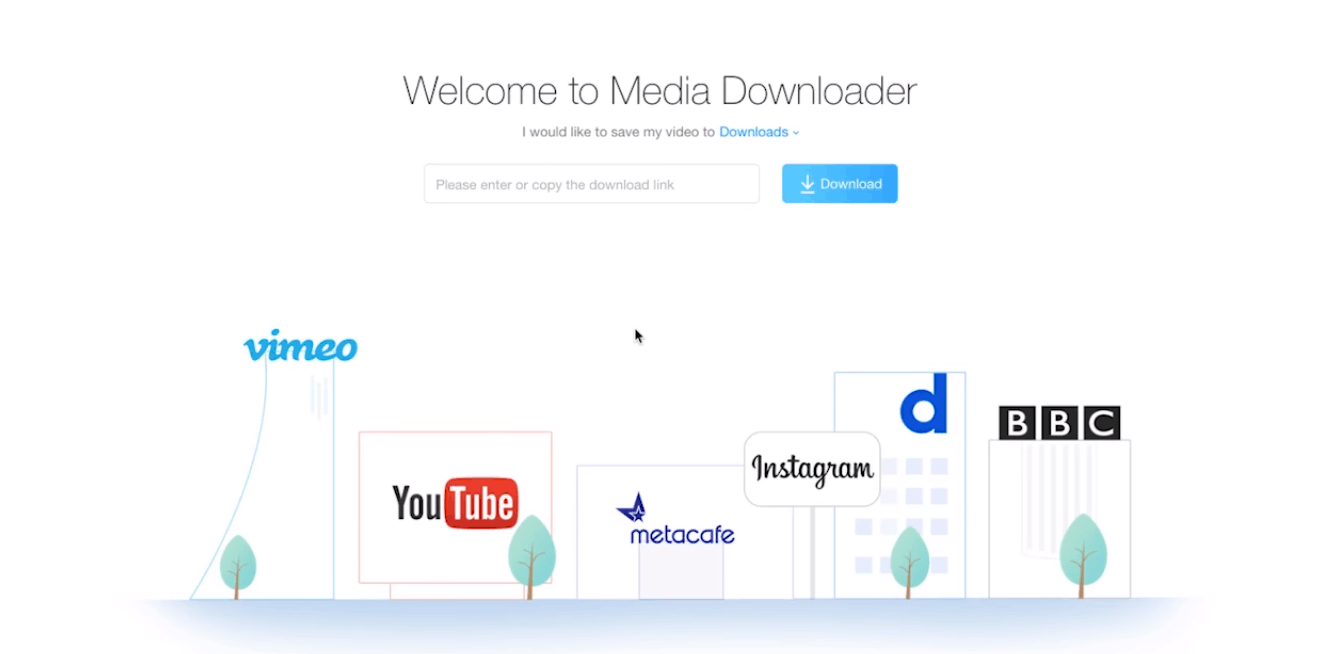 The Video Downloader in AnyTrans allows you to download videos from popular websites and converts them into video files which are watchable offline. It is not required to paste the URL into the program as it keeps monitoring the clipboard for an appropriate URL and fills it in automatically.
iMobie AnyTrans Licenses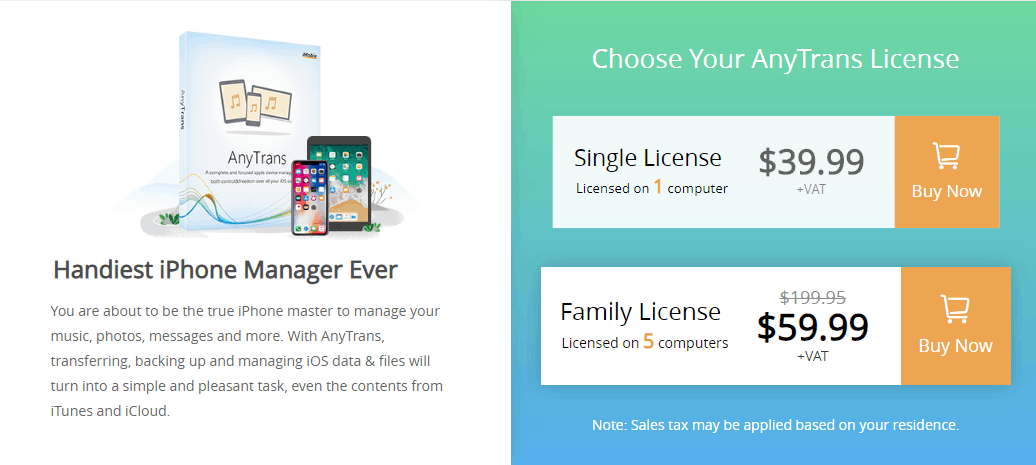 The tool is available for $39.99 for a personal lifetime license which can be used on a single computer and a family lifetime license which can be used by a maximum of 5 computers at once. The family lifetime licence comes with free premium support and can be purchased for $99.99 which is right now on sale for $59.99. With both personal and family licenses you will get lifetime product updates as well.
However, if you want to evaluate the program before purchasing it then you can download a free trial version which lasts for one week. The trial version offers you to transfer a maximum of 50 files per day, post which the transferability is suspended. To download the iMobie AnyTrans tool, you can visit the official website here.
Pros:
User-friendly and clean interface
Impressive file control
Doesn't consume much of the system's resources
Support for seven different languages
Ability to download videos from various sites directly to your device
Cons:
Files cannot be added to the iTunes library
Verdict:
iMobie AnyTrans is probably the most effective iTunes alternative when it comes down to managing the content on your iOS devices. The lightweight interface incorporates both necessary and unique features, so if you are tired of using iTunes for content management, then this is the solution for you. As the program passes through both Microsoft Security Essentials and Malwarebytes Anti-Malware scans, it promises extreme safety.