Photos and videos are a major part of our lives as they're how we store our memories, be it your daughter's first birthday or your son's first day of school- they remind us of good, old days. But imagine all your precious memories getting corrupted and distorted, it could be due to storage issues or a hard drive crash- now that would be really heartbreaking. As Ed Sheeran says, "We keep this love in a photograph, we make these memories for ourselves" and we couldn't agree more. In this article we tell you about a magical software called Stellar Repair for Photo which is the one stop solution to fix your corrupted and distorted images. 
So, what exactly is this Stellar Repair, and how can it be of use to you? Read our Stellar Repair for Photo review to get the answers to the problems above, as well as how it easily restores your photographs.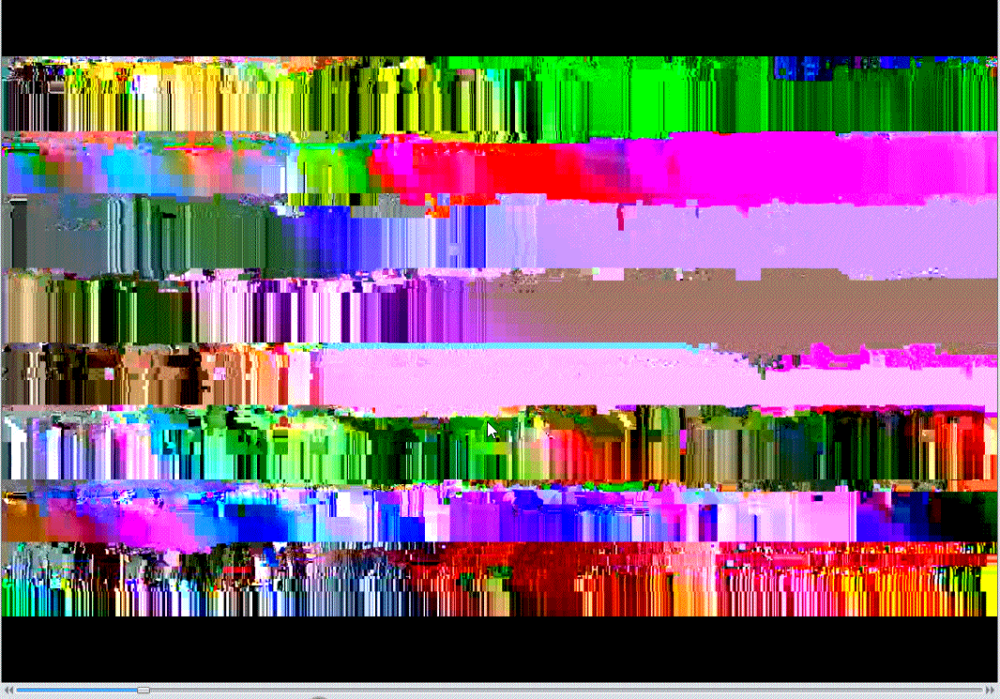 What Is Stellar Repair for Photo?
In past months, there have been several opportunities for our vital data and photographs to be infected by viruses, making recovery a difficult effort. Stellar Repair for Photo is widely regarded as the best DIY photo repair software. It has attracted over 500 enterprises and has over 5 million downloads each year because of its dependable features and capabilities.
The greatest Photo Repair Software for both individuals and businesses is Stellar Repair for Photo. Our mobile devices all have a digital camera capability that allows us to take images and take appealing photos. We utilize storage devices like flash memory cards and SD cards to clear memory and free up space, and the most often used format for storing images is JPEG/JPG, however it just takes seconds for the picture to get damaged. When it comes to CDs, a minor scratch might cause the picture to be broken into pieces, color display to be inaccurate, and the picture to be lost. This is where Stellar Repair for Photo comes into picture. 
The higher versions of Stellar Repair for Photo also allows you to recover an image file that was mistakenly erased from your device. 
Other image formats supported by Stellar Repair for Photo are: JPEG, TIFF, DNG, HEIC, ARW, CR2, CR3, CRW, ERF, MRW, NEF, NRW, ORF, PEF, RAF, SR2, RW2, and SRF
Features Of Stellar Repair for Photo
Here are some features of Stellar Repair for Photo that make it stand out:
Repairs Multiple Photos Simultaneously: The picture restoration software can fix an infinite number of images in the same or other formats at the same time. Stellar Repair for Photo is a simple and effective tool for repairing hundreds of corrupt, broken, or damaged files on any drive or media.
Extracts Thumbnails of Severely Corrupt Files: At the same time, the image restoration program can correct an endless number of photos in the same or other formats. Stellar Repair for Photo is an easy-to-use program that can fix hundreds of corrupt, broken, or damaged files on any disc or media.
Fixes Many Photo Corruption Problems: Stellar Repair for Photo restores your utterly unreadable picture files, even if they have a corrupt header, corrupt data, incorrect picture file structure, unknown or invalid marker, or missing SOS marking, among other issues. You may also fix photographs that are unavailable, greyed out, grainy, fuzzy, or have mistakes.
Repairs Severely Corrupt Photos using Sample File- For highly corrupt photos, the programme has a 'Advanced Repair' option. To correct sophisticated corruption issues in photographs, it employs a sample file – a functional JPEG file made on the same device as your faulty one. The app fixes severe photo corruptions using information from the sample.
Let's take a look at some of its other features:
JPEGs and RAW picture data from cameras are repaired.
Recovers Repairs damaged photographs.
Multiple photos of various formats are repaired at the same time.
Software is compatible with the most recent versions of Windows 10 and macOS BigSur
Restores visuals that are deformed, hazy, pixilated, or greyed out.
Fixes a corrupt header and an image file structure that isn't valid.
Extracts thumbnails from photos that have been extensively damaged.
Uses sample files to repair photographs that have been significantly corrupted.
Unique Selling Points
Having seen its features, what are some of its unique points that make Stellar the best Photo Repair Software? Here are some :
Supports all types of camera memory cards, including SDXC, SDHC, and memory sticks.
Photographs shot using DSLRs, Android phones, iPhones, action cameras, and other cameras can be repaired.
Nikon, Canon, Sony, Olympus, and other prominent camera brands' RAW files are repaired.
Preview of Repaired Photos- The Stellar picture restoration program allows you to 'Preview' the restored photographs before saving them, allowing you to check for any anomalies. The program guarantees that the original photo's features are preserved. After that, you may store the corrected picture formats wherever you choose.
Saves Repaired photos at the desired location- Stellar Repair for Photo allows you to save your photos in a variety of ways. You may save the corrected photographs anywhere you choose, including the source location. All the restored picture thumbnails are stored in a separate folder.
100% secure to download- Stellar Repair for Photo is a completely secure and reliable application that is devoid of any viruses, malware, or Trojans. This picture restoration program is completely free to download and install on your Windows or Mac computer.
Stellar Repair for Photo Pros: 
It can search all types of media and storage devices for damaged files and photos with the JPEG and JPG extensions.
A preview option is also provided to examine and examine if the corrected image is clear or not.
Even if the header or picture is damaged or infected with viruses, Stellar Repair simplifies the process for you.
Only the image's fault is corrected, therefore your original picture format stays unchanged.
You may try out the demo version, which allows you to repair an infinite number of files.
Stellar Repair for Photo Cons:
Because the pricing is a little higher, the pace needs to be enhanced to keep up with the market's rivals.
When restoring photographs with the demo version, a watermark will appear, and you will need to obtain the registered version to remove it.
During the test, vector images were not restored.
User Interface:
With its simple and intuitive interface, Stellar Repair for Photo is simple to use. Multiple photographs may be repaired at once using simple on-screen instructions. Users with little computer skills can use the program to quickly fix faulty images in a variety of formats.
How To Use Stellar Repair for Photo Software?
Step 1: Click on Add File- Add the photos that you want to repair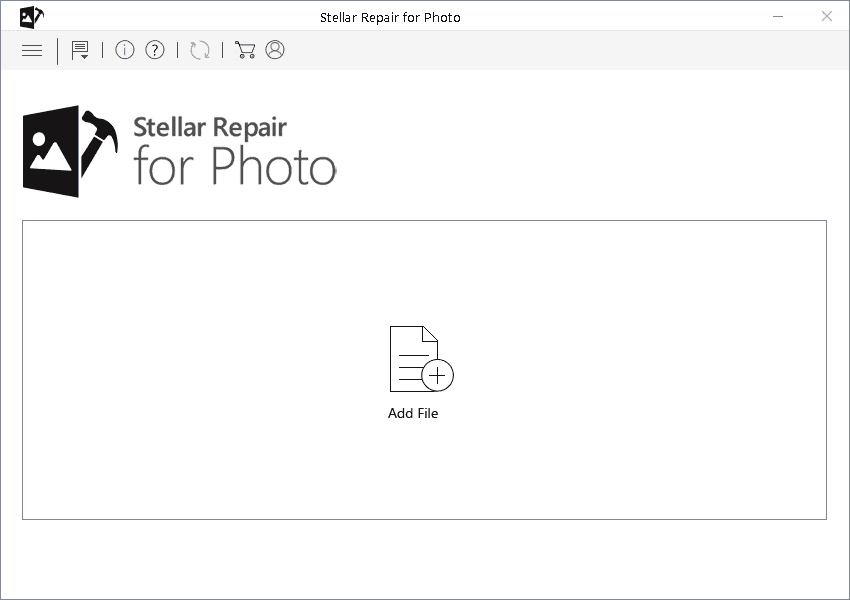 Step 2: Select Repair- The repairing of photos begins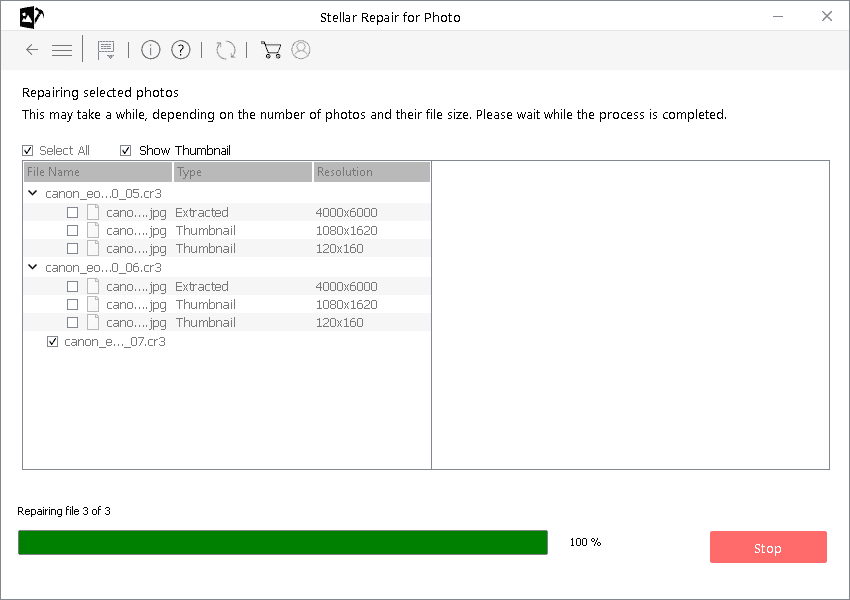 Step 3: Select the saved repaired files- Preview the repaired photos and save them at your desired location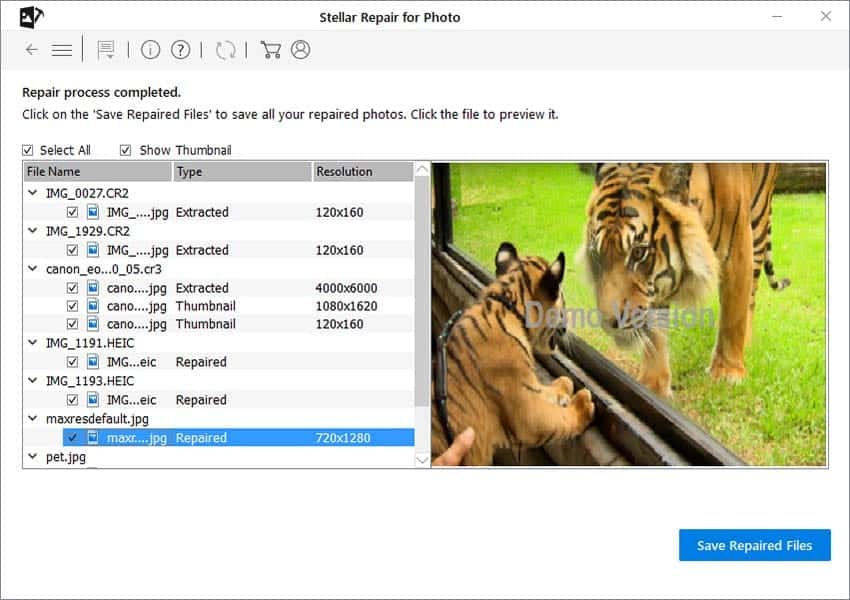 Stellar Repair for Photo Price
This software has three different plans- Standard, Professional and Premium. Here are the pricing options:
Standard plan
Repairs corrupt or damaged photos at $29.99 and provides the following features:
Repairs damaged and corrupted photos.
Repairs corrupt RAW images.
Extracts thumbnails of photos.
Repairs multiple photos at once.
Professional Plan
Recovers deleted photos and recovers corrupt photos at $49.99 and provides the following features:
All the features in the Standard plan.
Recovers photos, videos and audio files.
Recovers from HDD, SD card, USB drive etc.
Recovers deleted camera RAW image files.
Premium
Recovers deleted photos, repairs corrupt videos and photos at $69.99 and provides the following features:
All the features in the Professional plan.
Repairs corrupt videos.
Repairs multiple videos at once.
Repairs popular formats such as- MP4, AVI, MOV etc.
Technical Specifications:
Here are the technical specifications of Stellar Repair for Photo:
Version- 7.0.0.2
License- Single User
Edition- Standard, Professional & Premium
Languages Supported- English, German, French, Italian & Spanish
Release Date- January 2020
Alternatives:
Free Any Photo Recovery: Free Any Photo Recovery bills itself as a one-stop shop for recovering files from a wide range of devices, including PC hard drives, cellphones, digital cameras, memory cards, and more.
Features:
Recovers all sorts of files.
Recovers photos.
Simple to use
Works with any device.
Recover lost photos, images and pictures from PC, external hard drive, USB stick, SD Memory card and removable devices with a few clicks.
Pricing: This software is free of cost.
Download this software here: Free any photo recovery software
Undelete 360: Undelete 360 is one of the most effective tools for recovering files that have been accidently or inadvertently erased from your computer, regardless of storage medium.
Features:
Restore accidentally deleted files.
Restore files from cameras, hard drives, USB flash drives.
Supports file recovery and photo recovery
Compatible operating systems
Pricing: This software has the professional and ultimate version
The Professional version starts at $39/month.
The Ultimate version starts at $69/month.
Visit their website here :Undelete 360
Stellar Repair for Photo Reviews From Real Users:
We have established that photos are important because when time has passed they're all we have to look back to, it's important that we keep these memories safe. We hope this article helped you in saving your memories and photos, and the best part is you can do it all on your own. Let us in the comments below about a time where you lost your photos and how you recovered them.
Our Final Verdict
Features: 4/5
Handling: 5/5
Performance: 5/5
Value: 4/5
Overall rating: 4.5/5