We all love watching movies, well most of us surely do and we usually love watching them on various portable devices such as our mobile phones as they too have become great for watching movies thanks to the ever increasing big displays on mobile phones. If you are travelling then watching movies on your mobile can be a great time pass. So we mostly have DVDs of our favourite movies so to transfer them into your mobile phones can be hectic task if you don't have the right piece of software although there are many softwares available for it. WinX DVD Ripper Platinum is a great software for your Windows PC with which you can easily back up your favourite  DVDs and convert them with ease to various popular mobile formats for your mobile device.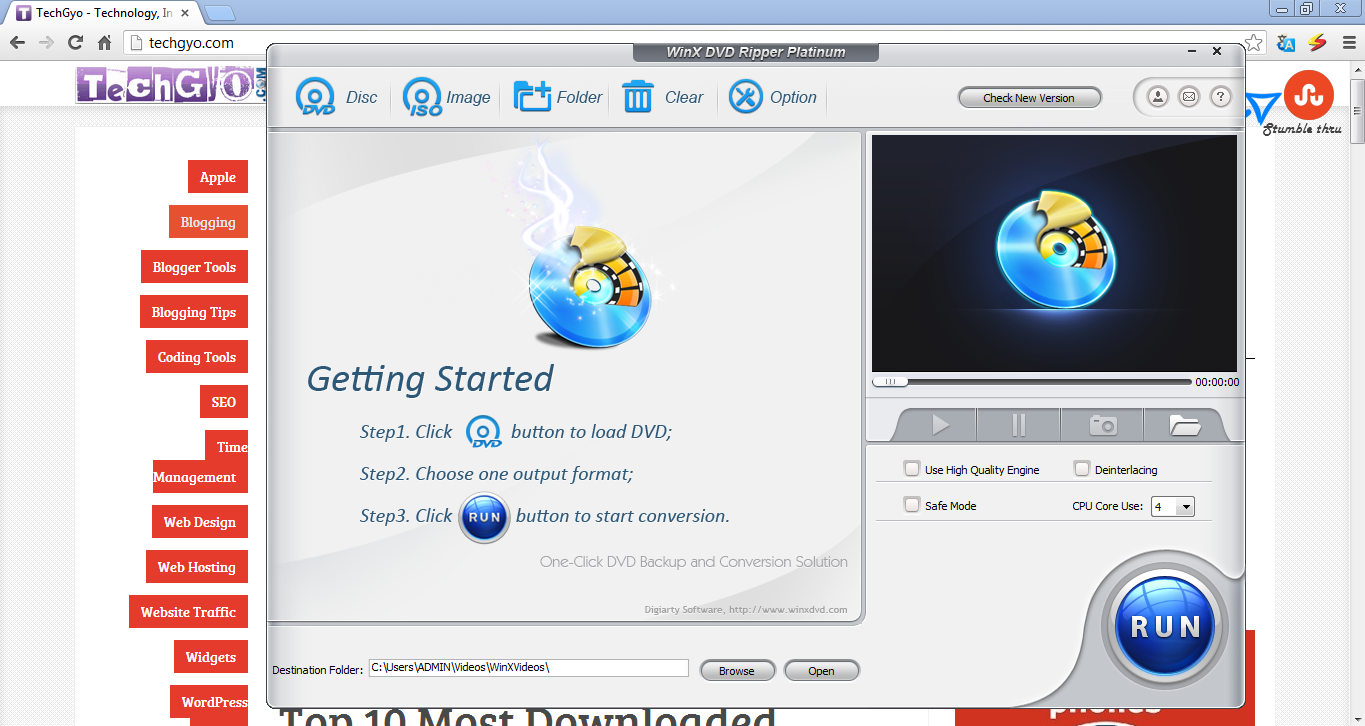 Although there are many free softwares for converting and to backup your DVDs but the freebies ones cannot match the level of features and liability WInX DVD Ripper Platinum brings. Although there are other WinX versions like but we decided to review the best  of them that is the Platinum version. The company behind the work is Digiarty. It cane be easily called the best DVD ripping solution on the market.
Features
The ultra powerful DVD ripping
With WinX DVD Ripper Platinum, you can rip your favourite DVDs to the popular formats such as AVI/MPEG/WMV with original DVD AC3/DTS 6 Channels audio . Other channels that are supported are MP4 video with AAC 2/4/6 which is great as many of many friends still prefer MP4 as their preferred video format.
There's also a build in WMV encoder which is optimized to fit the requirements Windows Media Center demands. Folks who love watching videos on their gaming consoles should not be disappointed too as they can convert DVD to WMV with AC3/DTS audio and can then stream to PS3 & Xbox 360.
You can even copy all the content and data you have in a DVD disc to a UDF ISO image file which can then be mounted to the virtual drive which makes it work as though you really have the DVD inserted and the best thing you can and burn the ISO file to a DVD disc later.
We have various movie DVDs where the files are spread rather than being a single file but worry not as WinX allows you to copy full title or the main content of the DVD to a single MPEG2 file thus making sure you don't get confused with different files and all of it in high quality with original subtitles, 5.1 AC3 surround and DTS audio.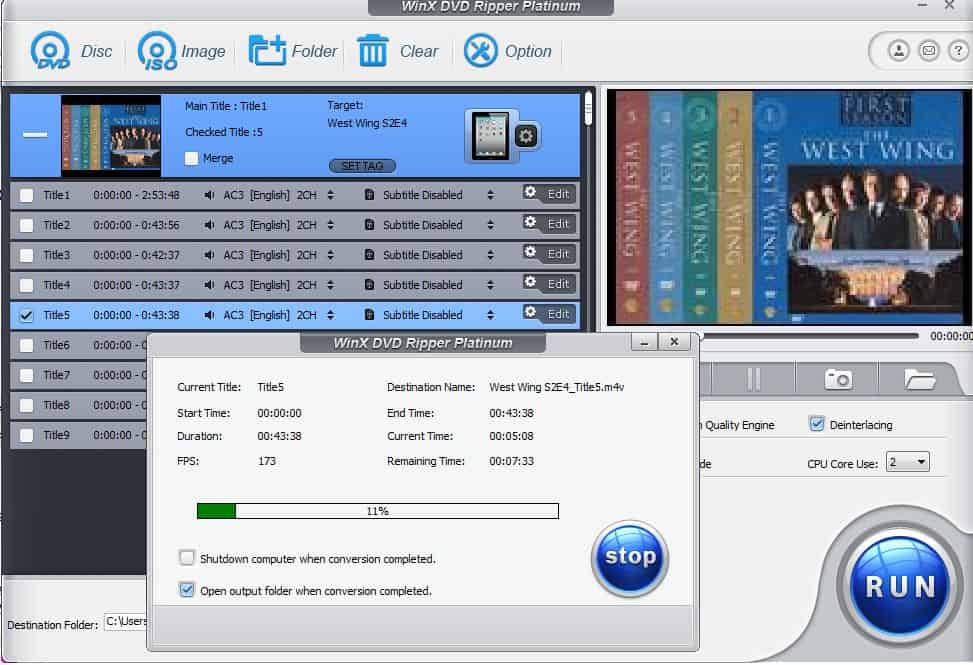 You also get advanced video editing features with WinX DVD Ripper Platinum as you can freely adjust almost all video/audio parameters to meet your desired video quality as you can edit almost anything such as video bitrate, video resolution, frame rate etc.
There's a split feature which allows you to edit out those annoying adverts that come at times in your DVD to watch your film without any interruptions whatsoever.
The built-in video player that is part of the WinX DVD Ripper Platinum interface enables you to preview DVD movies before going ahead and ripping and take snapshots to save as JPEG, BMP files.
You can even crop videos to remove the black bars and cut off unwanted area in the video. You can also edit the aspect ratio to meet the aspect ratio of your smartphone to play videos without any of those black bars.
Easily rip DVD to Portable devices
WinX DVD Ripper Platinum lets you rip and convert DVDs to MP4, H.264 for smooth and great playback on your Apple device such as iPhone/5/4S, DVD to iPad/3, DVD to iPod/5, Apple TV.
You can even rip DVDs to your Android smartphone and Windows Phone or any of your specific  HTC, Nokia, Samsung device or your XOOM, Galaxy Tab, Surface and other tablets, etc. as you get specified profiles corresponding to each device which makes things going really quick.
We already told you about its ability to rip DVDs for consoles and you can rip DVDs to PSP compatible MP4, AVC video.
If you happen to have an old device then also you can rip, convert and then transfer DVDs to your phone by ripping DVD to the popular old age formats such as 3GP, MP4 video.
Why choose WinX DVD Ripper Platinum over the competition?
Well this the obvious and very important question. WinX DVD Ripper Platinum offers high level of features and always up to date support for the growing number of platforms by Microsoft, Apple, Google and others.
It comes with support for multi-core CPU and multi threading which delivers blazingly fast DVD conversion performance which is twice faster than what the competition offers.
WinX DVD  Ripper Platinum has over 350+ output profiles and it supports most if not all known video formats. Another great thing is that it lets user to rip and convert both regular and protected DVDs, merge several video files into one.
Conclusion
WinX DVD Ripper Platinum can be bought at a now discounted price of $39.95. The features available are truly worth the price which may seem steep to some but if you constantly rip and convert DVDs then be sure this is the best software you can get. Ripping and converting DVDs was never so streamlined as you get it with WinX DVD Ripper Platinum. You can buy it from winxdvd.com/.