"Should my business be on foursquare? What about Flickr?"
Everyone is still growing in their awareness of what social media can truly accomplish, but to be safe, the logic is to jump on every social networking bandwagon that comes along. This is unnecessarily wasteful.
Social Media does have the benefit of being the quickest and most effective interaction directly to consumers, or users that might be interested in becoming customers. Companies have the option to tailor product lines and customer experiences  with a built fanbase, not to mention the opportunity for those fans to become brand evangelists and promote companies or products on their own. Free advertising through a personal recommendation? Almost any ad agency will agree, "There isn't anything better."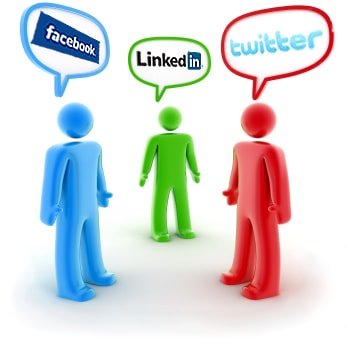 The problem occurs when small and medium businesses, that manage their own marketing, start to get caught up in the hype and not the effectiveness of reaching the social network's audience. Here is a breakdown of a few social media channels and what it can actually do for businesses:
Facebook:
With 750 Million active users globally, Facebook is a must for almost every business. Emphasis on almost. Not every business or brand needs a social media presence. And with a Facebook presence, the business or brand should have a Page, not a Profile. Facebook Profiles are for users, and are limited to 5,000 friends. The interaction is also very different. Pages are optimized to provide the most sought after information about a company, and are unlimited in the number of Fans they can have. Heavily social brands, like restaurants, gyms, or video games, should always have a Fan Page on Facebook.
Twitter:
The purpose of Twitter is to release very short bursts of information to a large group, and converse if necessary. Large brands use Twitter as a barometer for customer service, where complaints can easily be found and resolved directly with the person that had a bad experience. The large increase in Food Trucks, and mobile eateries has become possible primarily due to Twitter, where a location and menu can be instantly shot to hundreds of followers, who in turn share it with all of their friends.
Foursquare:
Foursquare should only be used by small businesses if there is a service or product sold at a specific location, like a restaurant or bicycle repair shop. Business to business companies and online brands have no reason to spend time or money on developing a Foursquare presence because consumers won't "check-in" to a place that they never go to. Huge brands like Coca-Cola use Foursquare, but their annual advertising budget is so obnoxiously large, they have to spend the money on every avenue that will remind consumers that they exist.
Yelp:
Can customers review your company? If so, claim your Yelp business as soon as possible. Yelp reviews are some of the most powerful out there as Yelp has built itself as the go-to for small business reviews. If a friend is seeking the best transmission mechanic, and none of her friends have had transmission issues before, odds are pretty high that she will look through Yelp for reviews of mechanics that do transmission repair. All reviews are user submitted, and to a degree, cannot be moderated. Provide an excellent customer experience, and the chances of a good rating on Yelp is very high.
YouTube:
Video content is some of the most consumed content in the entire world. Don't agree? Do you recognize any of these internet memes? Exactly. If a small business produces short, rough videos of moderate quality, a YouTube channel can be beneficial. How-To clips, musings at the watercooler, new products being released, or video press releases can all take advantage of a YouTube channel.
Flickr:
With a response to the question, "Do you take a lot of photos," the need for this network will be realized. Flickr is for photographers and photo enthusiasts. That is really all. It is social, and it could in theory benefit a business in some way, but it is very limited in its ability to monetize, making it a low priority on the Social Media food chain.
MySpace:
Truthfully, with a sale for slightly over $30 Million to a venture capital firm and Justin Timberlake, MySpace is not worth the time to invest in having any profile, business or otherwise.
For a number of brands this will truly seem like simple logic, however it is constantly done to reach every corner of the globe for an extra .01% customer base. Stick to the ones where your business' customers are and can interact the best with you.
Adam Costa is a blogger and professional marketer. He helps small and midsize firms create dynamite marketing materials, from sell sheet printing to brochures.