We cannot think life without sound effects, from early morning birds chirping sounds till cricket singing at night. Music helps us to connect and understand things even before visualizing it. For the same reason, big enterprises use different sound effects in advertising of their product as it leaves a lasting impression on the audience. A highly engaging video, podcast, or publication can be generated by amalgamating proper sound effects in it.
What exactly royalty-free sound effects mean?
Many websites offer you vivid sound effects to complete your video efficiently. It becomes absolutely pain-staking when you find some sound suitable for your production, and you have to pay every time you use it. It just unboundedly increases your budget. Royalty-free sound effects are a saviour in such a situation and help you to take benefit of sound at minimum cost. Royalty-free should not be misunderstood with free. Every free sound file can be royalty-free but not vice-versa. It means that you have to pay one time and buy a license of the sound file, then you can use it free of cost for the lifetime as per license agreement. You have to be cautious about the license agreement of the audio file on which it will depend on how you can use it without any legal hassles.
We are trying to optimize your searching time by enlisting the best website to download royalty-free sound files. For each website its pros, cons, and other attributes are highlighted below, which can help in choosing the best option.you can also try Youtube as it also provides you some great sound effects for free and you can directly download it
All sound effects files can be downloaded in both formats MP3 or WAV.
Wide-range of sound effects categories are available.
It has subscription plans for unlimited downloads per month.
Before downloading any file, you need to create an account.
Even if you wish to download only 1 file, you have to subscribe to a minimum plan of 600rs per month.
Library size: 10,000+ different pre-loaded computer sound effects are available.
It offers a royalty-free license for all sound files.
The standard license for individual use and there is no restriction on distribution and production budget.
Enterprise license for business use.
It is simple to use.
Precise details about license and prices are given.
Sound effects are precisely classified in different categories making it easy to search.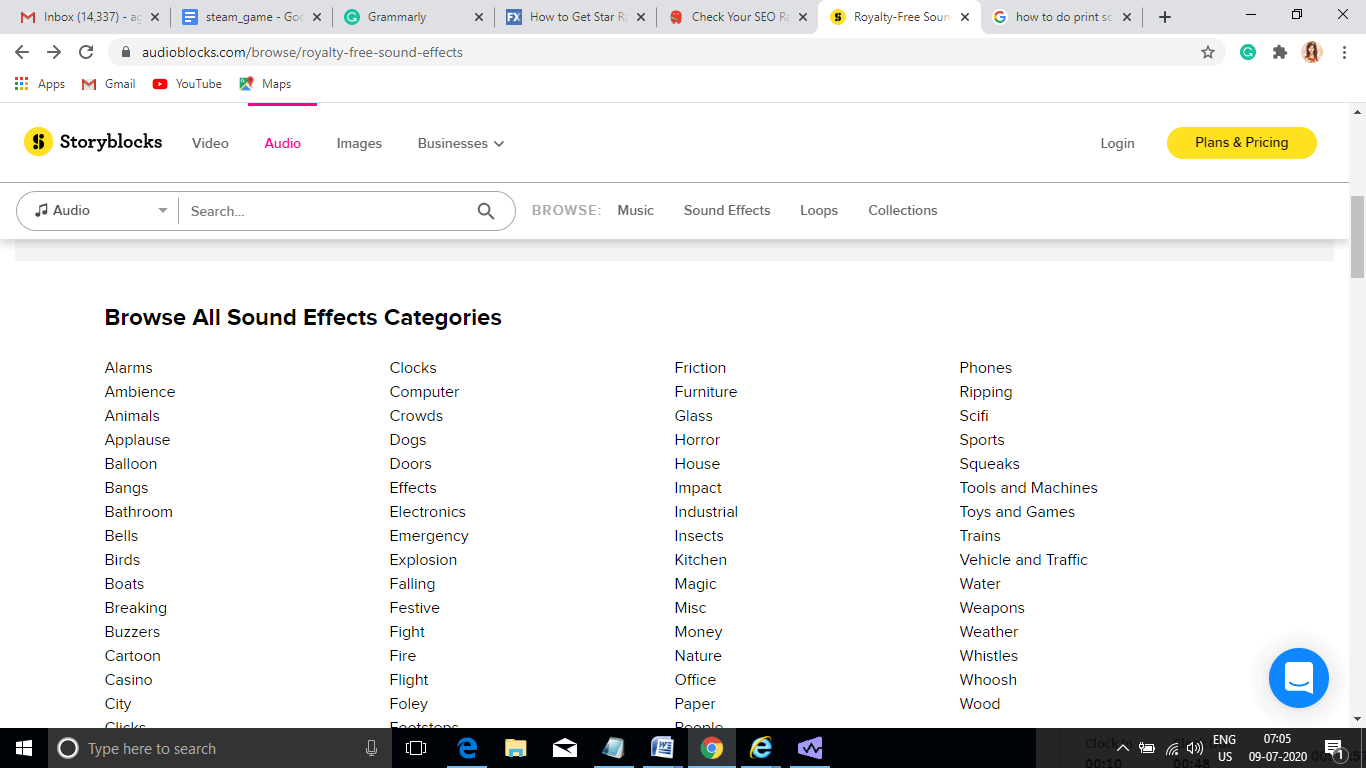 As the name suggests, maximum royalty-free sound effects can be downloaded free of cost.
It is an open platform where users can even upload sound effects.
Sound effects are categorized in the form of packs.
It supports four types of files that are mp3, FLAC, Ogg, AIFF/WAV.
You have to create an account even for downloading free files.
User-interface is a bit messy.
It offers three types of creative commons licenses:
attribution: http://creativecommons.org/licenses/by/3.0/
attribution-noncommercial: http://creativecommons.org/licenses/by-nc/3.0/
It gives detailed information about sound files like rating, duration, description, which helps in selecting the best file.
User comments are highlighted throughout the site, which helps the user to decide efficiently.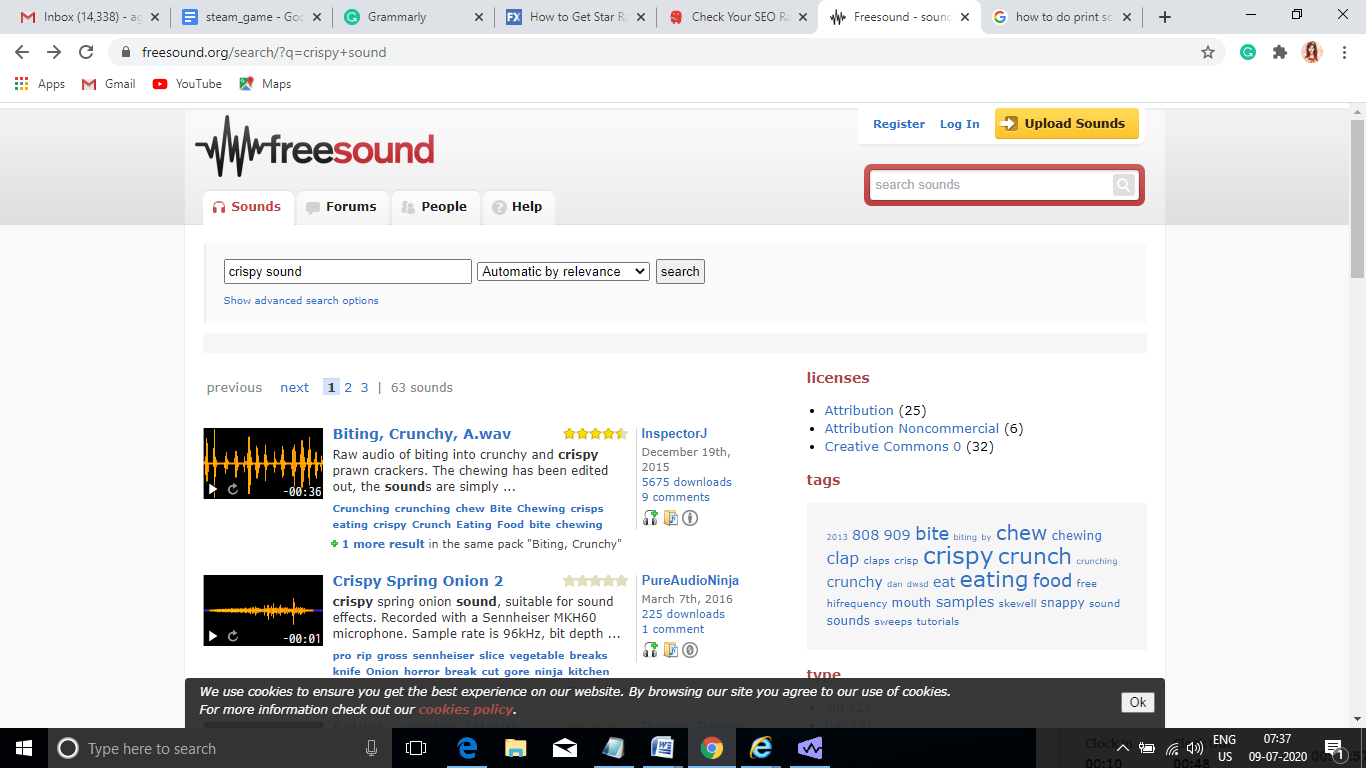 Broad classification of sound effects, packs, and music tracks is given on the first page, making this site very convenient to use.
Files can be downloaded in both mp3 and WAV formats.
High quality of sound files is available, which makes this site more appealing.
There are limited options for royalty-free sound effects files for non-subscribers.
Maximum files can be downloaded in .wav format only by users who took their gold membership.
All files are copyrighted, and a petite section of sound files comes under a common creative license.
Library-size: It has a vivid collection of 69,000 sound files.
Offers a Standard license where attribution/credit is required.
CCO 1.0 universal license.
It has a luxurious and elegant user interface.
In the figure below you can see that only essential details are highlighted on the main screen, and for detail view 'More info' link is added, this makes this site appear very clean and presentable.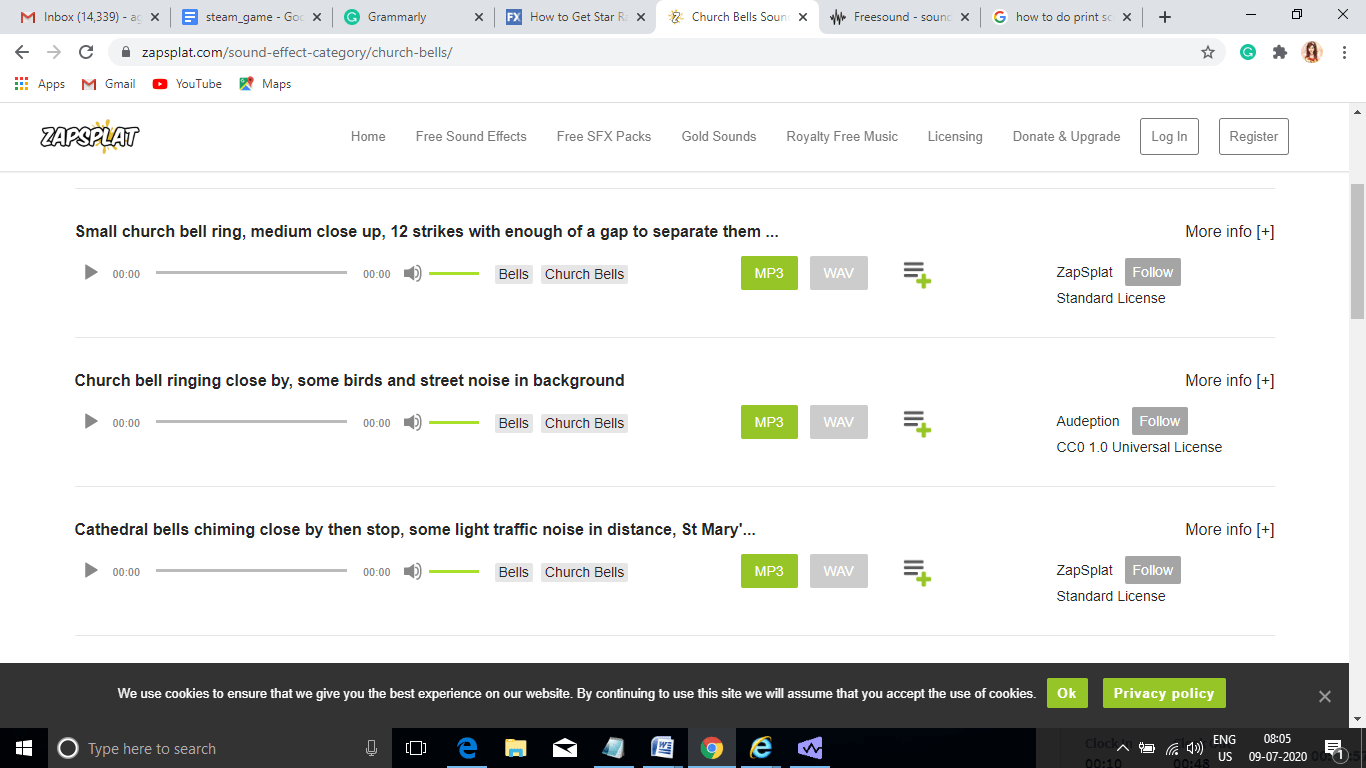 Free royalty-free sound effects files can be downloaded directly without making any account.
Free Sound files can be downloaded in both mp3 and wav format without subscribing to any membership plan.
The quality of the free sound effect is compromised.
A legal license is offered only for royalty-free sound effects and not on entirely free sound effects.
Licenses: custom license agreement of Freesoundeffects.
Sound effects are divided into broad categories and displayed on the same page, hence there is no need for hovering from page to page for downloading files.
As displayed in the below figure, add to cart option, and the rate of each sound effect file is clearly mentioned, simplifying the purchasing process to a great extent.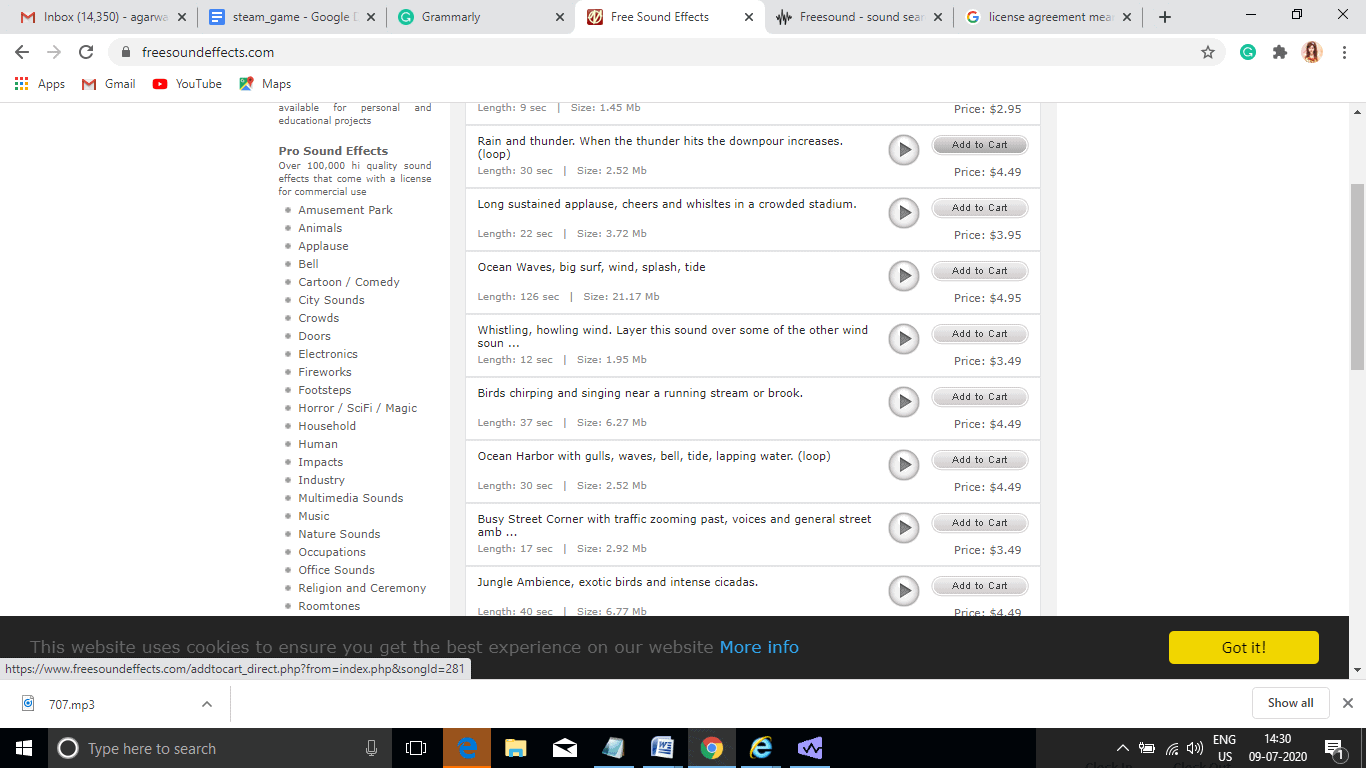 You can create your own playlist of sound files.
High-quality sound effect files are available.
Highly safe and secure site to download files.
The best filters are available to search required sound effect files.
A 30-days free trial is provided to test and use sound files.
You have to create an account before downloading any file.
A minimum one-month subscription is required before downloading any royalty-free sound file.
Very few files come under the free of cost category.
Library size:64000 sound effects and 32000 tracks are available.
License: Standard, social media, online ads, all media, and custom licenses are available.
The eye-catching factor is sound files are categorized based on different business sectors like corporate, cinematic, fashion, Gaming, etc.
It helps a lot to search, decide, and purchase the accurate sound effect file of your interest.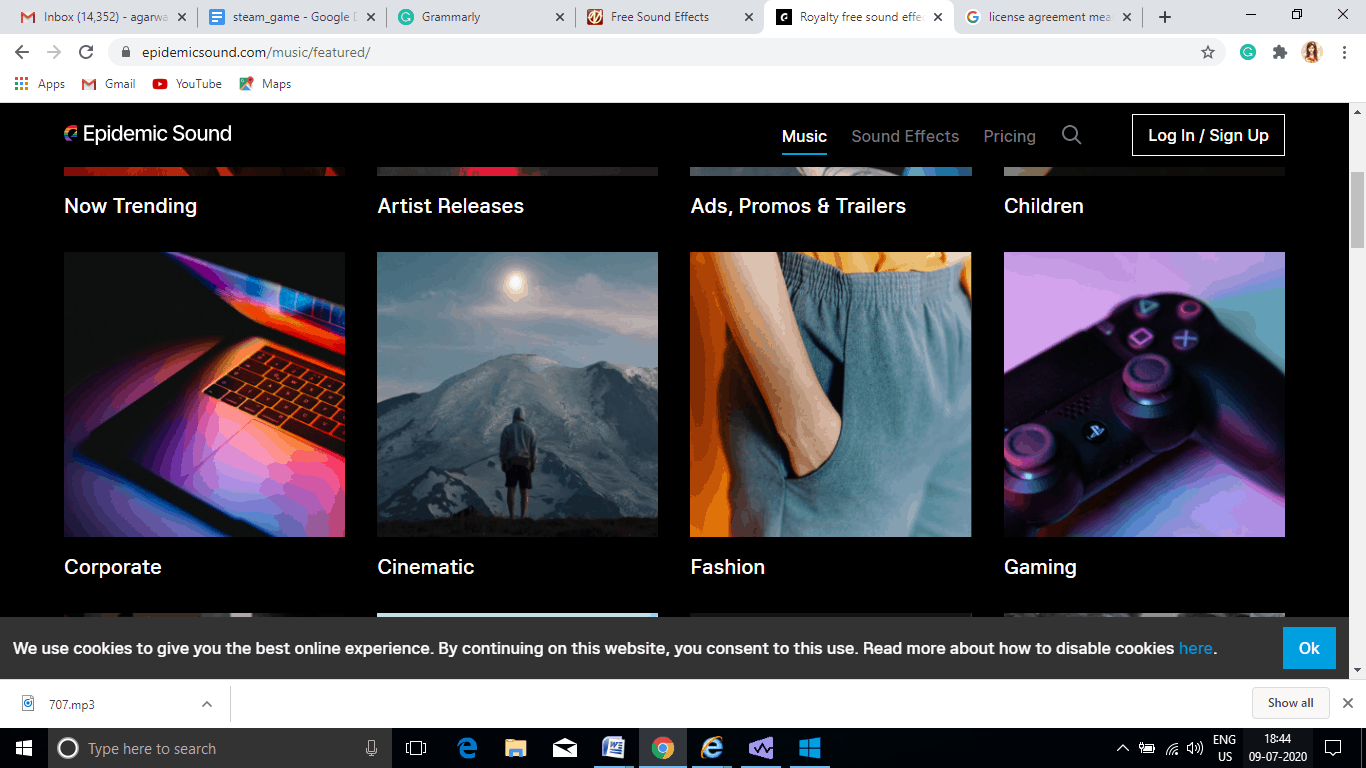 No sign-ups are required to download files on any website linked to Partner In Rhyme.
Professional level royalty-free sound files are provided with a very flexible license agreement where there are no restrictions once paid.
Opens a new tab for every sound effect file, which is time-consuming.
Some useful files are paid and not free as claimed on the website.
Library-size: over thousands.
License: Royalty-free custom license.
It has very sophisticated logical divisions of sound effect files, which help a lot in quick production.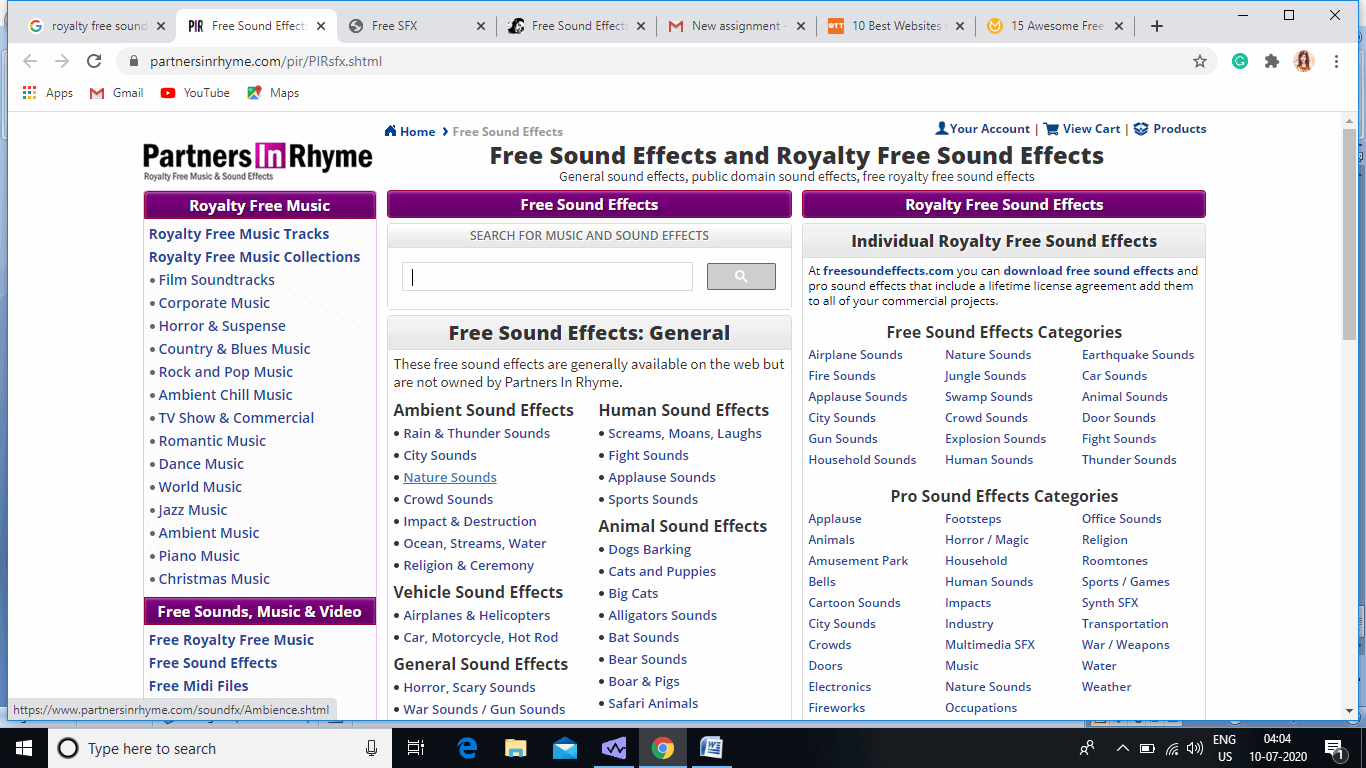 Separate column for royalty-free sound effect files is given, which avoids confusion.
To download files, account creation is not required.
Royalty-free sound files can be downloaded in both formats mp3 and wav.
Proper filters are not made available, which makes searching difficult.
Most attractive & awesome sound effects files come under the attribution license type.
Library-size: more than thousands
Licenses: Creative Commons Attribution 3.0, non-commercial, public-domain.
Searching for clips can be improper sometimes due to the clunky search bar.
The license is clearly mentioned for each sound file, which helps immensely in sorting.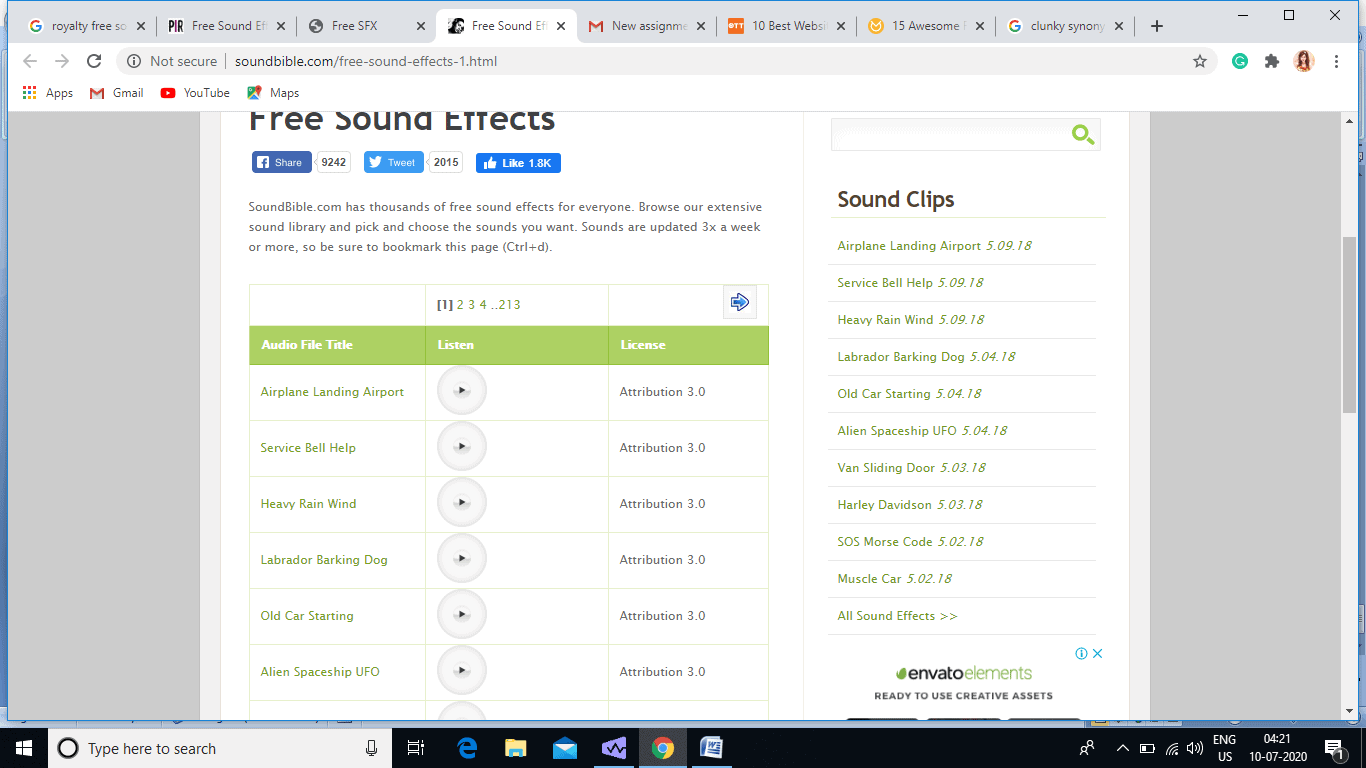 Bottom line:
We think the seven websites mentioned above offer you amazing royalty-free sound effects files to enhance your podcast, videos, games, movies, etc.
Most of them even give you these files without charging an extra penny.
Hence, it is really worth visiting these websites to get the highest quality, royalty-free sound effects files.