Web development is a broad term that refers to the tasks and processes involved in making websites functional. The process mainly consists of a series of coding or programming tasks undertaken to develop websites that can be hosted via the Internet.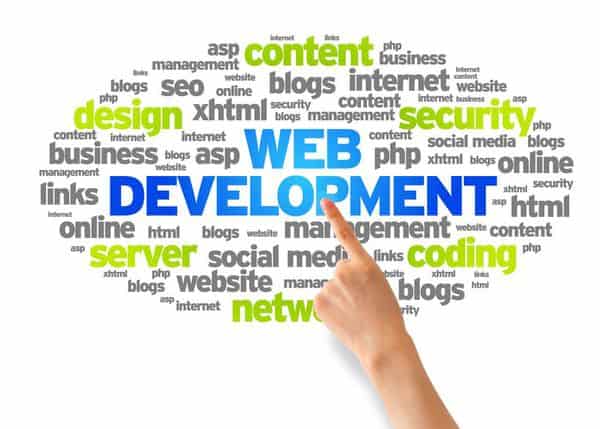 Web development also refers to the creation of both websites and web applications. The two are used interchangeably in some circles but their functions and designs differ. Websites consist primarily of static pages with limited functionality. They are informational in nature, displaying the same data to every visitor. Content variations on websites are rare although advanced sites may have more dynamic content on their pages.
By contrast, web applications are designed to do more than display data to users. They are intended for business functions and transactions as well as user interactions. Web applications can be websites by themselves or they can be presented as part of existing websites. The most popular examples of such applications include Facebook, eBay or PayPal.
Websites and web applications can range from simple plain text pages to complex e-commerce sites, electronic business or social network applications. Although web development can be the work of one individual (as in the case of a simple webpage), more often than not, it takes a team of people with various skills to come up with a detailed website. Some of the processes involved in web development include:
Web design – Web designers are concerned with the look and feel of a website. Their work deals with the customer-facing part of a website i.e. the fonts, colors, sidebars, page structure and navigation. They are mainly involved in shaping the website's user interface to improve client experience and interaction.
Web programming or development – Web programmers focus their work on how websites work and how customers can get things done on the sites. They may convert designs into code that controls how sites function.
Content development – This process deals with what is displayed on the main part of a webpage. Content can be presented in text, video or audio format, or a combination of any of these.
Flash development – Flash developers use Adobe Flash software to produce interactive websites featuring graphics, animation, movement and sound.
The cost of web development
With increased competition, individuals and businesses need effective ways of advertising and marketing their services to potential clients. Websites are the best ways of promoting businesses by increasing their market reach and customer base.
The cost of a website is relative to a company's needs and no two sites are exactly alike. Due to this, prices vary across the board. Generally though, the cost of web development is dependent on the website's purpose, functionality, appearance, design and customization.
If an individual needs a customized, feature-rich site with add-ons, integration with social sites as well as security features, he or she will have to pay more cash. This is because developing the site will require a lot of analysis, research, consultation, site quality assurance, testing and support. The web development process is often time-consuming and labor intensive requiring input from a team of different professionals.
Basic websites that serve as brochures to advertise company functions cost between $1,000-5,000, while more complex and fully customizable websites can go for $30,000 to $100,000.
The cost of building a mobile application also varies from one developer to another. App developers charge according to the apps' complexity, features, functionality and integration. The price will vary according to the hosting platform, which can be Android, iOS or Windows. Developing apps for tablets, phones and other mobile devices involves a slightly different process from that employed in developing web applications. This difference is reflected in the cost.
The future versus the past
The cost of web development has gone up over the years. These prices are expected keep increasing as more people find their way online, fuelling demand for better websites. Businesses have also taken competition to new levels on the Internet. Companies are continuously looking for novel ways to attract clients to their sites and to convert this traffic to sales. This has led to the creation of more online shops and marketplaces. Banks and other financial institutions have not been left behind as mobile banking picks up steam. The high demand for websites, applications and web developers shows no signs of abating soon.
Furthermore, the gradual shift from desktops to mobile devices has stimulated the demand for mobile apps as businesses try to bring their services and products closer to their clients. The mobile app sector is quite dynamic and innovation is the name of the game. This makes it difficult to forecast the future prices of apps in mobile markets.