Are you feeling weird using Windows 8 without Start menu? Of course you miss start menu if you are familiar with Windows 7, Windows Vista or XP. Microsoft has removed the Start menu which was brought together with Windows 95 and updated along with the new versions. In the most recent versions start menu was very handy as there was a search box was there to search for a program instead of going through the long list. Here are some free tools to bring back the missing Start Menu in Windows 8 operating system.
Also read: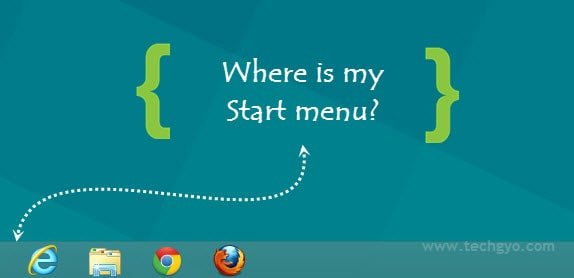 Free Tools to Restore the Start Menu in Windows 8
Viva Start Menu
Viva StartMenu will help you to bring the start menu in windows 8, this tiny app just of 1.65 MB. Viva start menu keeps the start button and opens up the start menu in Windows 8 when clicked. You also get a shortcut to open the modern desktop with metro interface. It includes the search box to search installed programs just like 7. Get your copy of Viva Start Menu here.
Start8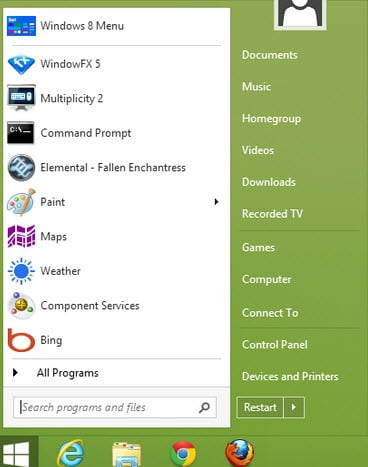 Start8 by Stardock is free start menu tool for Windows 8. It keeps the rounded start button on the bottom left corner of windows that opens up the start menu that looks like Windows 7 with the same features including a search box. It also allows you to pin frequently used apps so you can quickly access them, you can even open music, documents, and videos and shut down your PC with single click. Start8 even let you boot directly to the Windows 8 desktop instead of metro interface. You can either try it free or go for the paid version. Fetch Start8 tool over here.
Vistart
Vistart is a cool app to fetch the Start menu for windows 8 operating system. You just feel that you are using the same old Windows 7 start menu while using Vistart. You can even apply various skins to Vistart, it has a search box to search the apps and it arranges all the frequently used apps for easy access. Download it here.
Pokki
Pokki is more than just a start menu, it doesn't look like classic windows startmenu, it is a newly designed app with cool user interface. It allows you to Search for a specific app using the search box and add frequently used programs and folders to quick access. In Pokki you will also get facebook and gmail notifications. Download Pokki here.
Power 8
Power 8 is an open source project, it is similar to Windows 7 startmenu with the list of recently used software, just like classic Windows 7 start menu you will get the Computer, Control Panel, Library and Run etc., it also includes power options such as log off, hibernate and shutdown etc. Download your copy of Power 8 here.