OST to PST Converter aims at converting your Outlook OST file to its corresponding Outlook PST file. Well, the term OST is an acronym for Offline Storage Table, which refers to the offline Outlook data file created by Microsoft Office Outlook, when used in collaboration with Microsoft Exchange Server. In other words, when you set up an Exchange account on Outlook client on your Windows-based computer, your mailbox contents are saved in an OST file (i.e. Outlook.ost) on your computer.
As long as the Internet connectivity is available, the OST file synchronizes with your mailbox stored on the Exchange Server.
Needs to Perform OST to PST Conversion
The OST file, being on your computer, provides you offline access to your mailbox. You can use all the contents in your mailbox exactly how you do it being online. In case you are offline (i.e. no Internet connectivity is there), every single change done in your mailbox (i.e. in the OST file stored on your PC) is also synchronized with the mailbox contents on the server, as the Internet connection is reestablished. As Outlook can now synchronize your local mailbox with the original one stored on the server, you can access all your recently received emails once they download in your Inbox.
In contrast, Microsoft Outlook creates a PST file to store your mailbox contents when collaborated with an IMAP/POP3 based email account, viz. Gmail, Yahoo! Mail, and more, which is portable as well. You can keep it as a backup of your mailbox, and then import it into Outlook whenever required. You can convert your Outlook OST file to its corresponding Outlook PST file to attain features, such as mailbox backup and portability. In fact, both these in-demand features make users convert the OST file to its corresponding PST file. Tips to find the best JPEG to word file converter
About Stellar OST to PST Converter
Stellar OST to PST Converter alleges for the systematic conversion of your Outlook OST file to its corresponding Outlook PST file that you can keep as a backup of your mailbox as well as an import into Outlook client installed on any computer (including Outlook for Mac 2011 and 2008). Remember, Outlook OST file is not portable; no email client can import OST files. Thus, keeping OST file as mailbox backup is not worthwhile.
This Windows-based OST to PST converter thoroughly scans your OST file for all its contents, viz. Emails, Contacts, Calendar, Tasks, Notes, etc., and then generates a preview of all these items in its Outlook-like interface. You can also switch to different Outlook-based themes. The software enables the entire as well as selective mailbox items conversion, aiming at keeping only required items in the backup.
When it comes to select an output format, you get multiple options, viz. EML, MSG, RTF, HTML, and PDF, in addition to the PST file format.
Key Features
Reliable and efficient conversion of OST to PST
Preview of all contents in the mailbox in 3-pane window
Entire as well as the selective conversion of mailbox items
Multiple output formats, viz. PST, EML, MSG, RTF, HTML, and PDF
Option to save converted PST to a network drive
Added support for Windows 8
Added support for Outlook 2013 (32 and 64-bit)
How it works
The offline Outlook data file (i.e. Outlook.ost) is stored on your PC, at a specific location that is not the same in each version of Windows. Thus, you should know where the OST file is located on your PC. Well, it does not really matter, especially when the tool to practice is Stellar OST to PST Converter, as you can search for the OST file(s) stored on your computer. You simply need to choose a drive to look in for the OST file(s), and the software will search you the available ones listed in the scan result. This surely eases the conversion by a bit, as you do not have to waste your time looking for the OST file on your computer. In fact, the Find OST option is convenient for laymen, as they may not know the location of the OST file.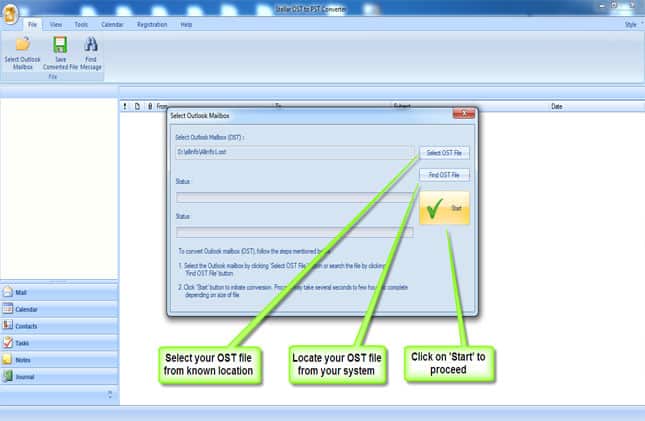 An option for manual selection of the target OST file is also provided, which is more convenient and recommended if you know the exact location of the OST file, which is to be converted.
With the right OST file selected, I suggest going for the mailbox preview. Well, the software first will scan the data file selected and then lands you at a three-pane preview screen. You can watch a preview of each item in the mailbox right there, in the preview screen. For this, you need to select a folder in the folder hierarchy shown to the left, which reveals its contents to the right.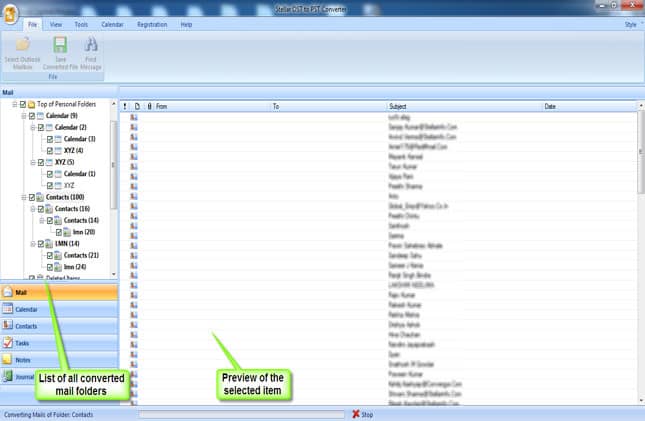 Select these items individually for the preview at the bottom. Searching for an individual message in the mailbox is also enabled. If you want to convert only a few folders in the mailbox, the software enables you doing it. For the same, you need to check the checkboxes in front of the respective folders.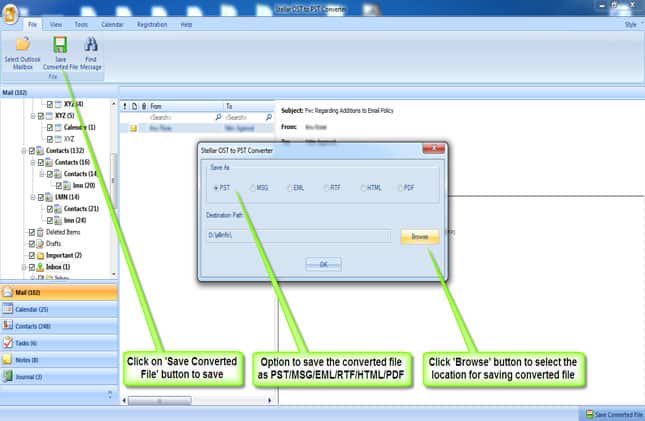 With the required folders selected in the folders hierarchy, click the Save Converted File option in the software toolbar, and then choose PST as the output file format. Another key feature of the software is that it lets you save the converted PST file at the desired location.
You may choose any of the other available file formats, in case you need any of them at a later time.
Pros
Simple and Intuitive interface
Outlook-like interface
Easy to convert OST to PST
Preview of the mailbox items
Selective conversion of the mailbox items
Multiple output formats
Well-arranged emails
Cons
Availability
The Administrator license of the software is available for $99.
The Technician license of the software is available for $275.
You can download the demo version here and/or purchase the full version here.
Why Use Stellar OST to PST Converter?
Stellar OST to PST Converter is blessed with the brand name Stellar – ranked #1 organization that specializes in data recovery software and services. The organization has a strong presence across the globe from over two decades and has more than 2 million satisfied customers worldwide.
This ISO 9001:2008 certified organization deals in multiple domains, viz. data recovery from various types of storage media, email conversion and recovery/repair tools, database recovery and repair tools, media files recovery and file-format conversion, password recovery, and more.
Stellar OST to PST Converter is proficient in the conversion of Outlook OST file to its corresponding Outlook PST file in a systematic and reliable way. The software quickly searches for the OST file(s) on your computer and scans it thoroughly. While running on Windows-based computers, it performs efficiently and generates a preview of the mailbox items.
Note: The software is based on three key steps, i.e. Scan, Preview, and Convert.
The selective conversion feature of Stellar OST to PST Converter makes it more suitable for your needs, as you can convert only required items in the OST file to make them available in the PST file. Thus, the software is recommended for such tasks and worth to have.