After lots of work, we finally have a great solution for people who want UI kits that work well right "out of the box". It's called PixelKit. It's a fully functional library that is overflowing with high quality UI kits, along with other web design resources.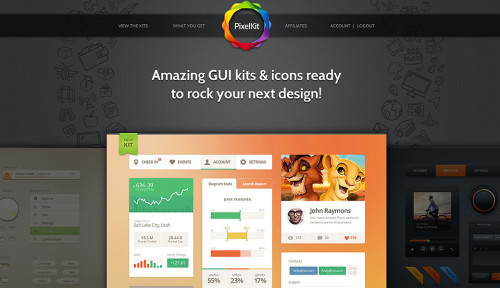 What will you get?
The three lucky winners will each get a one-year PixelKit membership account. You may be wondering what benefits PixelKit offers, so let's touch on a couple:
Access over 3300 premium graphics and all the newest releases available during the year.
Brand new graphics are faithfully added every month.
There are literally thousands of graphics. PixelKit has extensive kits with many elements and icons in them. This will overcome the problems you have found with other packs. They may only contain a few different elements, which makes them essentially worthless for your real-life projects.
All of the graphics included are fully scalable – think "vectors".
The graphics are extremely mobile-compatible. That means everything in today's market.
The elements in these kits are fully compatible with 960 grids, meaning you can easily usethem with most HTML.
PixelKit will allow you to complete projects faster with a more consistent look. You can get right to work without time wasted hunting for a great UI kit. Check out the products and see what you think.
Simply Enter to Win:
Tell us how you'd use your PixelKit graphics by making a comment on this post.
Next, share the news with all your followers on Twitter by retweeting this message: Win a
free @PixelKitcom membership account from @[your Twitter] (RT to Enter).
Now, sign onto Facebook and press the "Like" button on the PixelKit Facebook page.
Here are a few of the great icon sets and UI kits you may win:
Chubby Stacks – Fresh UI Kit
This UI kit is so playful and fresh, it will make your website stand out. It includes more than 100 vector elements, so you'll have everything you'll need for cohesive designs.
Crooked Stats – Stats Infographic Kit
This is an infographic kit for statistics that will allow you to use visual representatives of data to be presented clearly and in a way that is easy to read.
5 O'clock Shades – App Icons
This icon set gives you the modern, flat style you're looking for, with an approach that is more detailed. These icons have a modern, cool vibe.
City Break – Hotel UI Kit
This UI kit is hotel-centric, with great web layouts and designs for vacation websites, B&Bs and hotels. The variety of elements and modern look give you everything you need that people can access with just a click.
Dark Velvet – Dark UI Kit
This dark, sharp, clean-looking UI kit is perfect for giving your website a corporate, elegant feel.
File Manager – Mobile App UI Kit
This is a UI kit for iPhones that is ready for implementation, with its minimalist, flat look.
Look at this bonus treat– the Free PixelKit Bootstrap UI Kits. These modern HTML templates can
be easily downloaded so that your design is cool and functional.