Today, on internet there are many twitter clients available to help you make your tweet easy and by reading this, you'll add one more twitter client in your collection of knowledge, jokes a part. It's not like other twitter client.
Streamie is a full realtime Twitter client that runs in your web browser. New tweets will appear in your timeline immediately when someone posts them to Twitter and by using streamie you can make your own version of streamie if you're a programmer. Cool? The most interesting thing is you do not have to run your own server you can concentrate on actually building the features you want. The infrastructure is handled by them you can learn how to make your own version of streamie if you want.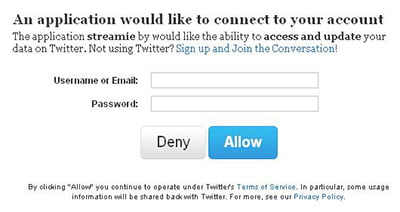 It's cool, it's easy and I think you must give a try. Just link your account with Streamie and starts enjoy using your new Twitter client. And you'll get the ability to display Notifications on the desktop.
Features of Streamie
Cutting Edge Web Technology – They use to take advantage of the latest web standards such as HTML5 and CSS3 . They'll encourage you to update to the newest (even beta) versions of your favorite web browser to use streamie. If you'll not update, streamie will not work.