Speccy, a small utility from Piriform is an advanced System Information tool for Windows that can display the advanced system information in an arranged form. Various system features including CPU, RAM, motherboard, Operating System, hard drive, graphics and audio options are kept at left side and one can see the detailed information about the features by clicking the options respectively. Of course you get this information in Windows but not in a simplified and arranged manner like in Speccy. Speccy is also able to show temperatures of your different components such as CPU and Motherboard.
Why Use Speccy?
Speccy which is free for home users can show the system information including CPU, Motherboard, RAM, Graphics Cards, Hard Disks, Optical Drives, Audio device etc.
With Speccy you can see the temperatures of CPU and Motherboard in the real time and attach the additional cooling devices if heat goes beyond 60 degree.
You can also have a LIVE look at network speed, DRAM frequency, Bus speed, Rated Bus speed and memory usage. All these live stats are displayed with green colored line chart and the vertical progress bar.
You can save your system information generated by Speccy on the web in the unique URL and share with others or save the same as either XML or text file in your system.
Speccy is designed for everyone, it is so easy that even newbies to tech world can understand the specifications of their computer and at the same time power users can analyze their PC with advanced information provided by speccy.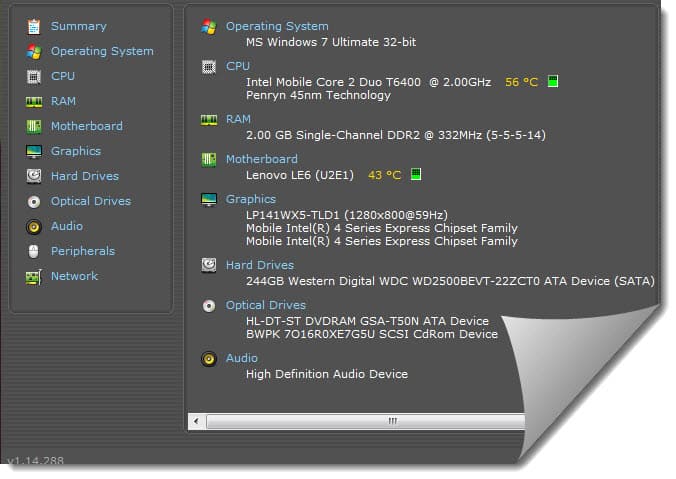 How to Get Speccy?
Speccy is available in Free, Home and Business Editions. Home edition costs $19.95 and business edition can be purchased with $34.95 bucks. Speccy can be downloaded as a freeware but no technical support is available in this edition.
Website: http://www.piriform.com/speccy