After you plug in an external hard drive to a Mac computer, the Mac operating system will detect the device and automatically mount it. After that, you will be able to see and manage the external hard drive through the icon on the desktop, in Finder or in Disk Utility.
If nothing happens after you plug in an external hard drive to a Mac, you will probably worry that your important files on it may get lost. Actually, many reasons can cause a removable hard drive not appear on Mac properly such as bad connection, Mac settings, incompatible file system, disk corruption or physical damages.
Not every cause will end up with disk replacement and data loss. Read through this post carefully to see how to save your external hard drive and important files.
Before you can find the most relevant solutions, ask yourself a very simple question:
Are you familiar with the external hard Disk and the Mac

Scenario1: You know this external hard drive and the Mac well
If you have been using the external hard disk and the Mac for a while and the external HDD suddenly stops working on Mac this time you connected it to the computer, the causes should be limited within the bad connection and disk corruption.

First, reboot the Mac. It is rare but also can happen that your Mac OS is not fully booting up. Click on the Apple logo and choose "Restart" to reboot the Mac into the desktop. Then reattach the external hard disk to the computer to see if it shows up now.
Second, verify the connection. If you have a good spared USB cord and USB port, use them instead. Remember to push the cord all way to the end of the port to ensure a firm connection. Then wait for a few seconds to see if the computer can detect the external hard drive this time.
Third, check the disk in Disk Utility. Disk Utility is the application you should take a look every time you have any problem with your both Macintosh HD and removable disks. The "Erase", "First Aid", "Partition", "Restore", and "Mount/Unmount" utilities in there are very useful for managing a detected disk. The keyword is "detected". If your external hard drive is not even showing up in drive list in the left column, how could you manage it and access the files? That will be the worst-case because your external hard disk has physical damages beyond repairing on your own.
Forth, recover data and format the external hard drive. If your external hard drive just shows grey and can't be mounted even after you manually mount it, there still is hope. Believe it or not, formatting a disk is the best way to fix nearly all logical problems on a disk. It will get rid of any malware, virus, file system errors or partition table damages, as well as saved files on a disk. If you don't have a copy of the important files, it is highly recommended that you recover data from the failed external hard disk first using professional data recovery software for Mac.
Steps to recover data from an external hard drive using iBoysoft Data Recovery for Mac:

Download and install this data recovery application on Mac.
Launch the software and select the external hard disk in the home window.
Check "Deep scan" and hit "Scan". (Deep scan will take up to hours to finish if you have a lot of files)
Preview the recoverable files in case you saved them in similar names or versions.
Select the files you want to recover and click on "Recover". Do not save the recovered file on the troubled external hard drive.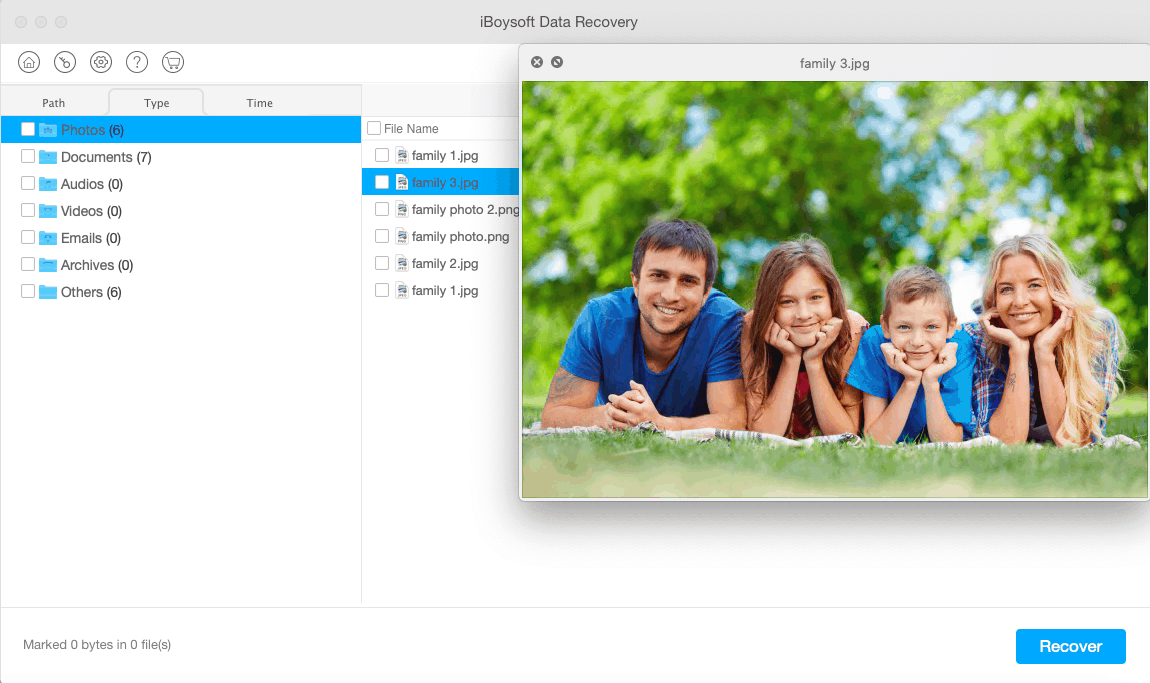 After all files have been retrieved, use the "Erase" utility, which is "formatting" in macOS, in Disk Utility. If you are using the external hard drive cross Windows and macOS platforms, remember to choose ExFAT or FAT as the file system.

Scenario 2: You just got this external hard drive and you are not using your own Mac

If you are not familiar with the external hard disk and the Mac, it is very possible that the external hard disk is formatted with an unrecognizable file system or Mac's settings are not proper. 
First, verify if the external hard drive is formatted with NTFS or Linux file systems on a Windows PC. Latest macOS or earlier OS X is not fully compatible with Windows NTFS file system and Linux EXT file systems. The external hard disk with incompatible file system may not be able to be mounted and shown up correctly on Mac. Right-click the icon of the external hard drive on a PC and choose Disk Manage to verify its file system.

Second, check if the external hard drive is APFS formatted and the Mac is running macOS 10.12 and earlier. APFS file system is the default file system in macOS 10.13 and later, so any Mac running macOS 10.12 and earlier can't read and write to the APFS-formatted disks. Go to Disk Utility and select the external HDD. The file system information will be displayed on the right window.
Tip: If you want to use the external HDD on the Mac, you will have to format it as instructed aforementioned.

Third, change the settings on Mac's desktop and Finder. This issue is very common when you are using another person's Mac. Some people like to change the default settings to make the desktop and Finder more organized. Click on the "Finder" in the top menu bar and select "Preferences…". The tick the box saying "External disk" under the "General" and under "Sidebar". Then you can see the icon of the external hard drive on the desktop and on the left side of Finder. 

Conclusion
External hard drives are popular and useful portable storage devices nowadays. People use them to save and share family photos, favourite movies, downloaded music, working documents, etc. If you don't see the external drive on Mac, it doesn't necessarily mean your external hard disk is broken and your data is lost. Be sure to use the reliable data recovery software to get back those files, so that you can fix the problem without any data loss.