You may have heard of the legendary popularity of a few game apps (Flappy Bird, for example), but they are not the most important thing in the app store. Game apps come and go, but the most popular apps are social networks.
As a small business owner, you can cash in on the popularity of social networks within your own app by studying what makes apps popular with users.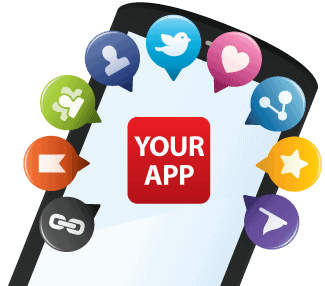 Let's take a look at five of the most popular free apps (according to the Apple and Android app stores) and what they offer users.
5 of the Top Free Apps
1. Facebook
The most popular social networking site of all time, Facebook allows its users to exchange photos and instant messages in real time, as well as providing a blog-like setting for status updates and photos. While an optimized mobile version of the site is accessible via the Internet browser on smartphones and tablets, the Facebook app is the most popular app for both Apple and Android users.
2. Pandora
Pandora Internet Radio works with the Music Genome Project, which analyzes the musical characteristics of songs and groups songs according to these characteristics. The Pandora mobile app, which launched in 2008, allows users to stream music to their smartphone via Wi-Fi or cellular data. Unlike other music streaming programs, Pandora does not charge for mobile service, which may speak to its popularity with smartphone users.
3. Instagram
Instagram is a photo sharing app that allows users to put a stylized filter on their photo and share it to their Facebook, Twitter, Tumblr, and Flickr accounts. Unlike other social networking programs, Instagram was first developed as a smartphone app that then evolved into a website. Part of Instagram's popularity stems from the ease with which it allows users to share photos to other social networks.
4. Facebook Messenger
Facebook Messenger is an instant messaging program that allows users to contact all of their Facebook friends without being logged into the Facebook app or website. Much like other messaging apps, it also has voice call capability. Unlike standard phone calls and text messages, it can be used via Wi-Fi or cellular data; because of this, it can be used on devices other than cell phones, such as tablets.
5. Skype
Skype allows users to make voice calls and send text messages over Wi-Fi or a cellular network, similar to Facebook Messenger. Skype allows free Skype-to-Skype calls, and also allows users to call landline and mobile phones for a fee. Because of this capability, Skype is popular with iPod and tablet users as well as smartphone users.
What Can You Learn From These Apps?
Looking at these five apps, it's easy to see what consumers want from their smartphone experience: they want to connect, whether that's with real life friends and family members, or friends around the Internet. Even the Pandora app has a social aspect. It allows users to connect to their Facebook accounts and see what their friends are listening to.
Any small business, from a mechanic to a dentist, can benefit by connecting with their customers. Here are a few ways an app can help you connect with your customers:
Quick access to your contact info or in-app contacting
Notifications about appointments
Automatic appointment scheduling or scheduling forms
Quick access to helpful company info such as pricing and services
Investing in an app for your business can help you connect to your customers, which will help boost your reputation. It's important for a business to be accessible, and an app is a great way to accomplish this goal.
And if you want to include a game in your app, it couldn't hurt.
Chris Miller is a professional writer, blogger, and English grammar enthusiast. Chris enjoys learning about new products, procedures, and ideas across a range of topics.