This is sponsored post by Sellmymobile.com. All opinions are 100% mine.
Sell My Mobile is UK's top mobile phone recycling price comparing website where you get best buyers for your old mobile with finest deals. Sell My Mobile stands ahead in its kind when it comes to the matter of selling your old mobile as it provides unbiased comparison and best price. It compares for the best price with more than top 40 recycling companies such as Top Dollar Mobile, Blackberry Recycling, O2 Recycle and Cash For Phones, and comes up with best deal while saving your valuable time and energy. Here in sellmymobile.com you can also sell broken or damaged phones and get up to 90% of the value of for same. By selling old mobiles you don't just get bucks but also help the environment from being populated with e-toxin.

How to Sell Your Old Mobile at Sellmymobile.com?
Selling your old mobile at Sellmymobile.com is simple. You can sell your old or damaged handsets by sitting in the comforts of your own home or office. To sell your old mobile-
Enter your mobile name in the search box provided at the top of the website
Sell My Mobile searches through its recycling companies and gives a list of best deals and price for your old mobile.
Here you can pick a best deal and click 'Sell Now' button. Further go through instructions of recycling companies and post your old mobile. Most of these mobile recycling companies offer a FREEPOST service and sends a postage bag which makes your work easier and you even need not worry about the package of your old phone.
Once your old phone is posted, it will checked by recycling companies and you can get your cash sitting in your home by various paying methods such as cheque, bank transfer, PayPal or shopping vouchers.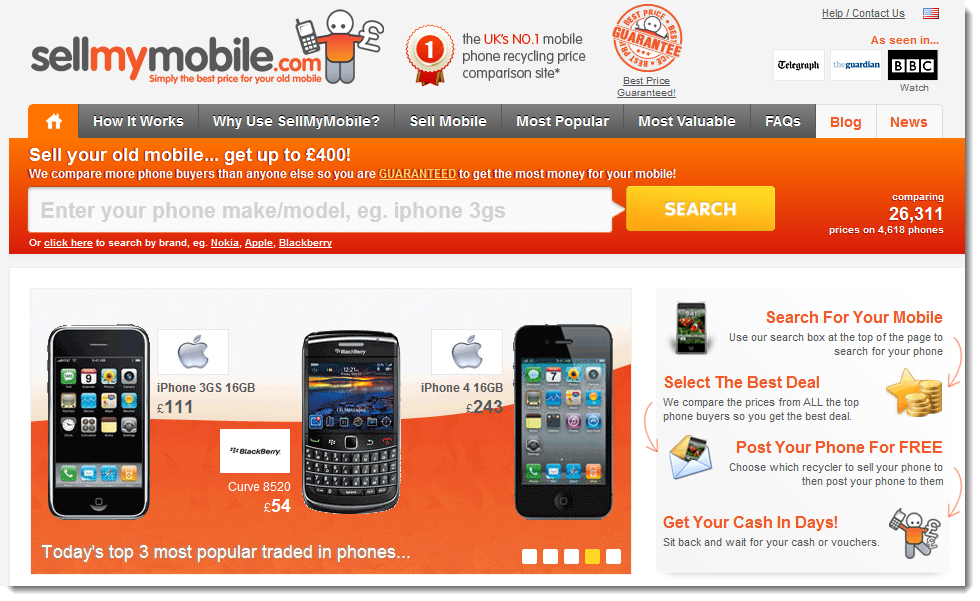 Why Sell Your Old Mobile at Sellmymobile.com?
There are many reasons to sell old mobile at SellMyMobile website, first of all is Sellmymobile.com is UK's No.1 official phone recycling price comparing website that gives 100% guarantee of cash for old mobiles. It searches through more than top 40 recycling companies for best deals which stands the best reason for this question. SellMyMobile operates a minimum quality standard and it don't feature the mobile recycling companies which don't follow these criteria.
Moreover SellMyMobile has been featured in the renowned medias such as the BBC, The Guardian, The Times and Daily Mail etc. and this depicts the popularity and trustworthiness of Sell My Mobile. User-friendly interface of SellMyMobile website allows you to sell your old handsets with ease while saving precious time.
Conclusion
SellMyMobile is a best platform for where you can sell old mobile to the top recycling companies by getting the best deals and price. This is an ultimate place where you get the appropriate value for your old mobile handset.
Website: www.sellmymobile.com