Prysm yet again has hit us with a brand new innovation which will take the Video Wall experience to a whole different level. It has been one of the finest and the most trusted companies when it comes to creating an exquisite brand experience. Be it in meeting rooms, exhibits, or brand centers, Prysm products add a lively aura to your events. They recently launched their newest product in the market- The LPD 6K. It has created a wave of excitement amongst the corporate masses.
The all new Prysm LPD 6K comes with a lot of exciting features promising to make a world of difference in the way people look at Video Walls from now on.  It's interactive, large-format single panel display, will leave no stone unturned to offer you a seamless and immersive visual experience. With this newly launched product Prysm has created an entire a new category of interactive displays, with bezel-free viewing above 100 inches, with screen sizes available at 190 and 135 inches.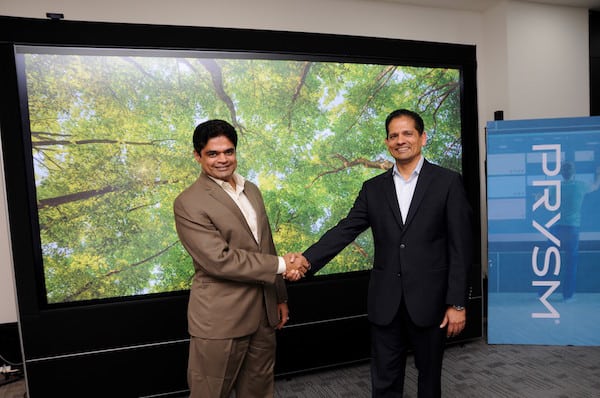 Built-in interactivity with more than 32 simultaneous touchpoints is one of the most exciting features of the LPD 6K amongst many others. Here are some more features to look forward to:
High fill factor and an exceptional contrast ratio.
Laser Phosphor Display.
Cool-to-the-touch screen with low power intake.
Striking picture quality.
Shatter-resistant display.
Low power intake. (less than a commercial coffee maker)
Offers rollability for transport.
Better serviceability
Prysm products have always stood for visual integrity and interactivity and it looks like the LPD 6K will not disappoint us at the slightest either. We are positive that it will provide as an essential element for inspiring new ideas, driving business forward, and promoting united smart work.  It has already set a new standard for interactive video walls and collaboration. The 4 main areas where we see the LPD 6K being a huge hit are
Experience Centers
With its humongous size and phenomenal display, there are no second thoughts, that this product will make your brand look irresistible from all angles.
Retail Market
With its brilliant attention seeking nature, no passerby would be able to take their eyes off the screen if they see any product displayed on the LPD 6k in a shopping complex. We are pretty sure this product will play a huge role in the sales of any brand.
Executive Boardrooms
Positioning the bezels to fit the spreadsheets and graphs perfectly before a meeting can be such a pain. The LPD 6K simplifies the whole process with it's no bezel display. Everything becomes smooth and seamless. Other than that, meetings turn really fun, comprehensive and interactive
Private Theatres
It's time to swoon your family and friends and gift them the beautiful experience of watching movies together with a 6K resolution. Maintaining the industry's highest pixel fill rate and high contrast ratio it is easily gives one the movie experience of their lifetime.
The LPD comes with a lot of scope and we can't wait to see it's growth spread like wildfire on a global level. During its official launch on 31st August 2018, here's what the Vice President of Prysm, Mr. GB Kumar had to say: "Prysm is leading the disruption in the industry with its innovative technology. Today, customers across industries are looking for a future- ready solution that can redefine digital display experience for them and for their brands. With the clearest resolution, unrivalled contrast, and a fully interactive display, LPD 6K, offers an unparalleled experience."
Well Prysm, we buy every word you say and are just as excited about the launch of the LPD 6K. It's actually very thrilling to see such brilliant products coming up which are so ahead of their time. We love exploring them and hopefully we will get to see a lot more products like these in the near future. To find out more about the LPD 6K do check out their official website.