While everyone was waiting for the tsunami that Penguin 2.0 was sure to be, hardly anyone noticed the waves gently lapping at their feet as the new Google algorithm update rolled out on May 22nd. Okay, so maybe it wasn't quite so subtle, but Penguin 2.0 certainly isn't the harbinger of doom for spam and black hat SEO that everyone was expecting. In fact, there are many complaints that more spam sites are ranking now than before 2.0 was released, and Google even has a page were people can report spam sites that are still ranking. So what kind of changes are we seeing in the SERPs? Well here are some of the most prominent.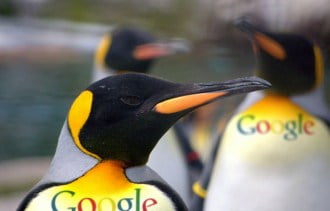 Anchor Text Abuse and Other Unnatural Red Flags
Sites have lost rankings even if they've built quality, "natural" links through guest posting or other means and their on page SEO is up to Google's standards. Usually this is because the links they've built have too high of a percentage of exact match anchor text. Meaning that if you want your dog bed page to rank for "cheap dog beds" and nine out of ten of your links have "cheap dog beds" as the anchor text then you shouldn't be surprised to see your rankings drop after May 22nd since Penguin 2.0 is targeting obvious SEO manipulations.
When Penguin was initially released last year it targeted web spam and black hat link schemes, much like 2.0 is designed to do – just at a much better rate.  A strong indicator of these practices is red flags that look unnatural, like a high percentage of exact match anchor text. Here are some other traits of sites that have seen their rankings penalized after Penguin 2.0 sunk its beak into them.
Link Networks: Sites participating in link networks who exchange high numbers of backlinks that pass PageRank have been aggressively targeted, even a week before Penguin 2.0 was officially launched as Matt Cutts revealed on his Twitter account.
Low Quality Links: A natural link portfolio will have links from all manner of sites, including low quality sites, spam, irrelevant, along with industry leading sites. That's just the way of things and Google expects this. That being said, if 80% of your links are coming from one demographic or area it looks unnatural.
Advertisements that Pass PageRank: In Google's eyes, if a link has been paid for it must be a noffollow, no exceptions. This stops PageRank from being passed to the target site so the only benefit is from direct traffic. Google is getting better at telling if a site is breaching this policy and Penguin 2.0 is seeking them out better than ever before, and you can bet that Google is only going to keep getting better moving forward.
Demotions, not Firings
The majority of sites affected by Penguin 2.0 were not completely kicked out of the SERP, rather it looked like a shuffling of rankings after May 22nd. For our clients who have had a history of bad SEO policies, demotions from 4 – 15 rankings were normal. Many stayed on the page they were on but ended up near the bottom while others are farther back in the pages. This may not seem like a big demotion, but if your site is depending on high rankings for competitive keywords to drive the majority of the traffic then you can see immediate and drastic search traffic fluctuations which can affect your bottom line.
If you think that you've been hit by Penguin 2.0 it's important to realize that Penguin and Panda are both algorithm based, not manually imposed link penalties made by a member of Google's spam fighting team. For a more in depth read on these particulars check out this post by Marie Haynes. The basis is that you cannot request a review for a Penguin 2.0 penalty since it is algorithm based. You have to look into your link portfolio and figure out why you were docked in the first place, and then try to fix it from there. It could be improving your anchor text diversity starting immediately, getting link directory or spammy links removed (or at least disavowed), or making sure you're not "illegally" getting PageRank from advertisements.
There are many other ways that you may be sticking out like sore thumb and most of the variables depend on your niche, so if you want to figure out how to get out from under Penguin 2.0's shadow you'll need to take an in depth analysis not only of your site and the back links, but your competitors as well. Look for areas that are drastically different than the top rankings for your keyword, especially if your competitors maintained or improved their rankings after 2.0. It might sound like a tedious process, but improving your rankings and traffic is nothing to be spurned. Plus, working with Penguin 2.0 and the rest of Google's algorithm updates will only make your site better since it promotes natural sites and good content.
Thomas McMahon has a healthy respect for penguins and other shaded animals after working with Page One Power, a white hat link building company based in Boise, Idaho.