What's buzzing up on the web today? its twitter rolling out two new feature for its users. The first new addition is that you can see when someone favorites or retweets one of your Tweets. You might be wondering whats new with it, its new because you now get a lot more info on the activities connected to your twitter account. Just click on the new tab with your @username from your profile page, and you can view whch of your tweets were interesting for others, you'll be able ot see who retweeted your tweet and who found you interesting and followed you or added you to a list seeing one of your tweet.
The below picture should give you a better idea about the new feature.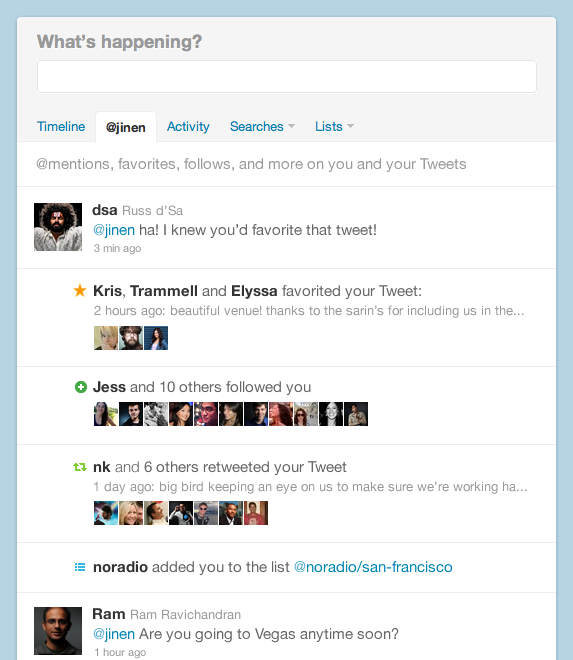 And the other feature is that now you can tweet a pic directly from twitter. Many Twitter users felt earlier that it lacked easy photo tweeting feature which was earlier fulfilled by apps like twipic, now you can do it without leaving your twitter page. Isn't that cool?.
Most of the users will see this new feature notification when they log in to their twitter account. Below is the screenshot of the notification.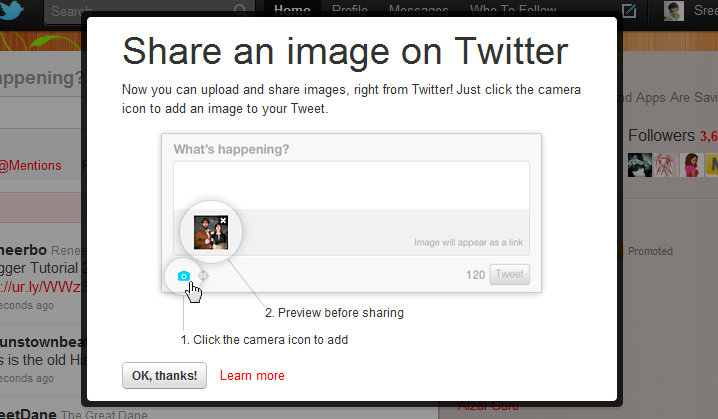 With the new feature the picture you upload will be saved along with the tweet and the image will get deleted when you delete the tweet.
As you can see above, you can click on the camera icon under the text field to upload an picture. I tried a GIF and if didn't work but here's a tweet link to a Jpeg picture. http://twitter.com/#!/Stumblerbuzz/status/101508970736386048
Try the new features on Twitter and let us know in comments, what you think about it and how its gonna change the way you use twitter.