Good news for all those Ola and Uber fans. Google has now teamed up with both the cab service providers to make cab bookings even more hassle-free. Thus, you can now look out for directions and choose the taxi service directly within the mobile search browser or Google Search app. This feature is exclusively announced for the users in India in an attempt to make commuting more convenient.

Google describes that on the request for a specific information like Cab to Bangalore airport, more specifically Ola/ Uber to Bangalore airport, the application or browser directs the user to select a service & automatically opens the app to book your ride. And this just happens in one tap. In the case where the application isn't installed on your device, Google Search displays the link to install the application.
Earlier this year, the feature was added to the latest version of Google Maps. It has been offering a section with the information regarding the cab service in addition to the existing "driving", "public transport", or "walking" tabs. Now with the further integrations, a user can ask Google for directions & book their rides directly from the Search App.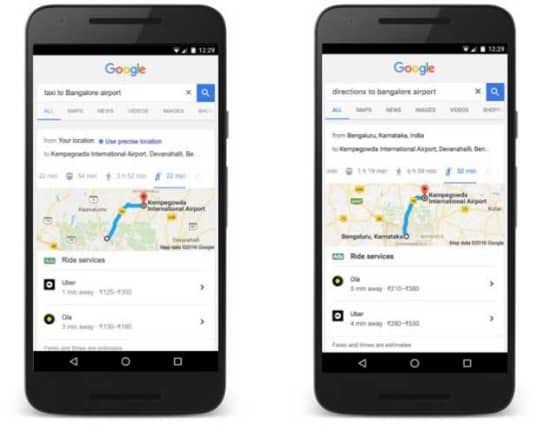 Sanket Gupta, Program Manager, Google said,
"Choosing the best transit option can be a task at times, our aim is to help users simplify their everyday travel. With this, users will be able to order, explore and make quick comparisons about the best-estimated taxi fare directly from the Google Search results on their smart phone."
With Uber & Ola pricing showing in the search results, Google hopes to maintain it on the top of mobile searches & have a lot more to contribute to the smart phone population. The advantage being that you won't have to open two separate applications one after the other  to check which ride will be cheaper or quickly available before making that booking. Google Search can be the go-to option for clarifying all those doubts at one single place. And of course, you will still have to open the actual cab  app for making the booking.
The feature works quite well on our Android device offering taxi service options from both the companies – Ola and Uber. It also mentions the estimated time of arrival along with the fare.
On examining the cab service feature using Siri on the iPhone 7, it asked us that what type of ride we are looking for & then listed out the available options. However, the iPhone 6 & iPhone 5s running on iOS 10 didn't reveal the desired results in the Google search.