With the launch of iPhone 7 & iPhone 7 Plus in India, several online, as well as offline retailers, witnessed long queues across Mumbai and Delhi. Stores have been offering multiple exciting offers. One such unbelievable yet possible offer is being advertised by Airtel on their website. The offer is displayed on Airtel's Apple page with the headline, "NOW ENJOY AN iPHONE 7 AT JUST Rs. 19, 990 WITH AIRTEL POSTPAID." Of course, the offer comes with certain terms and conditions. For the moment, this offer is valid only in Noida & Karnataka and gradually will move to other cities.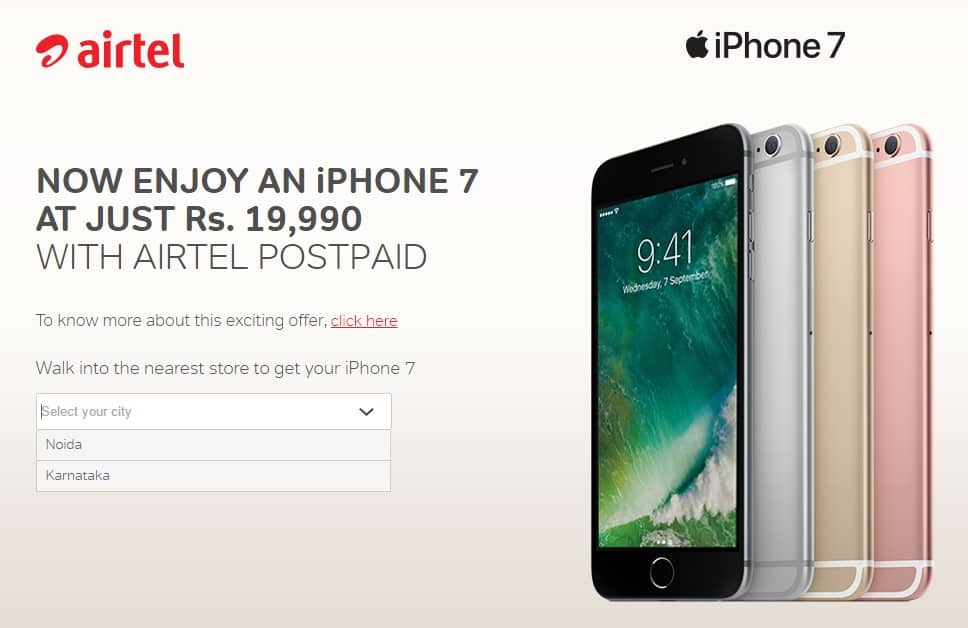 ELIGIBILITY FOR THE AIRTEL'S iPHONE 7 OFFER
Airtel's iPhone 7 and iPhone 7 Plus offer entitles you to get the iPhone at a fractional price as compared to its market price. You just need to choose one of yearly Airtel postpaid plans for at least 12 months after which you'll also be eligible to return the device next year and upgrade to a latest model. The plans are as follows: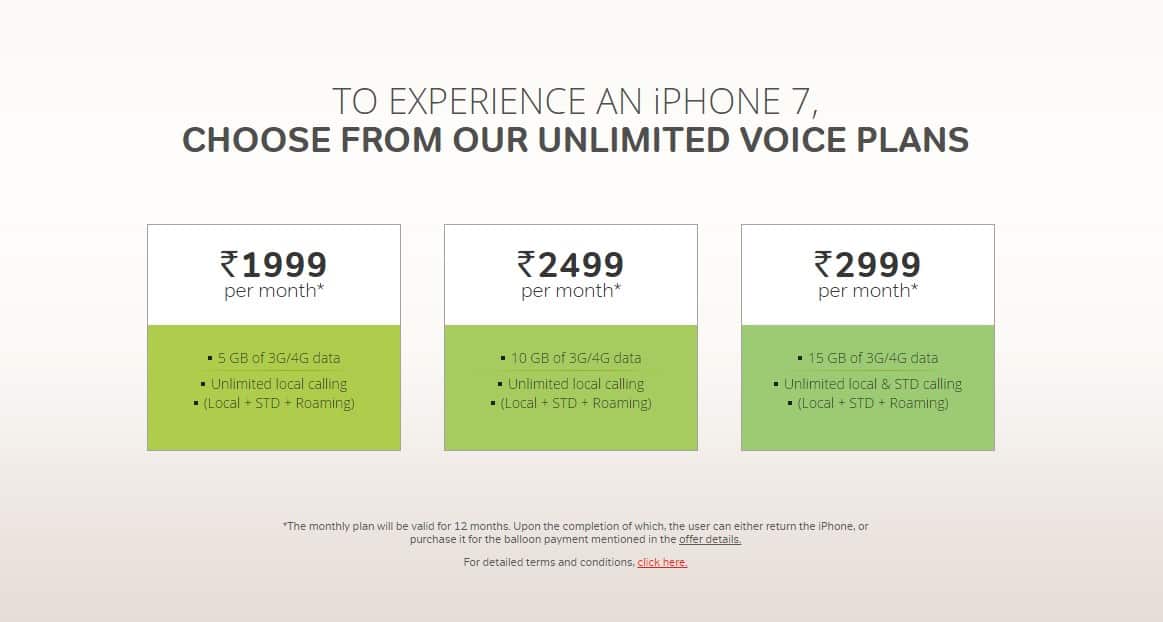 So basically, to purchase an iPhone 7, 32GB variant costing Rs. 59, 998 the buyers have to pay Rs. 19, 900 upfront as Down Payment and rest shall be paid for by your Bajaj Finance Ltd (BFL) EMI plans @ 0% interest. Then choose the yearly postpaid plans by Airtel (mentioned above) for the next 12 months.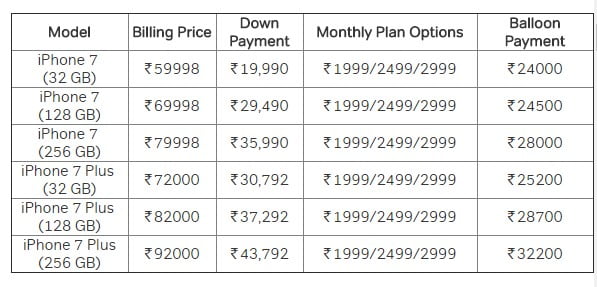 Following the expiry of 12 months validity, users can either return the iPhone 7 device to Airtel for upgradation to the next iPhone model or buy it completely at a lump sum balloon payment. Airtel would only take back those iPhone 7 devices which meet the listed physical condition criteria after 12 months. Airtel would take back only those iPhone 7 devices which meet the listed physical condition criteria after 12 months.
RESTRICTIONS APPLIED
During those 12 months, you will not be able to:
Switch your postpaid plans,
Port your mobile number to any other network,
Transfer the ownership to another user,
Migrate from postpaid to prepaid
WHY SHOULD YOU BUY THE iPHONE 7 and iPHONE 7 PLUS DEVICE FROM AIRTEL?
The primary advantage of availing this offer is that you can upgrade to the newest iPhone every year without having to pay for its full price.
And of course, this will require you to take extra care of your device to ensure it has no damages while upgrading.
To exit this offer at any point of time, you will have to pay the lump sum remaining Balloon Price and settle the EMI deal independently.
You can also enjoy unlimited calling along with data plans.
You get 0% interest rate affordability.
You may also like to read : Facebook launches a dedicated events app for iPhone users
FINANCING THE EMIs
In addition to signing up for this offer, you will have to avail a loan offer on your chosen iPhone device from Bajaj Finance Ltd. (BFL).
Either you can upgrade your device to the latest one after 12 months or you can end the contract. "The EMIs shall form a part of the bill amount under this Plan. Thereafter, BFL will debit the remaining outstanding amount ("Balloon Payment") from your account and your contract with Airtel for the Plan will terminate and your loan with BFL will be closed," says Airtel.
To know more about this offer you can log on to the official website at http://www.airtel.in/apple/