It comes as no surprise that people have smitten to the WordPress.com for their blogs but the Word Press offering does not end there and there is still a lot more glory to this new free and open source blogging tool. And that's precisely what we are going to discuss in this post. Making its way as the most popular blogging platform in the world. WordPress is a free publishing tool "via WordPress.com" and a content management system (CMS) for self-hosted blogs "via WordPress.org". Having an enormous library of themes and plugins, WordPress provides a broad spectrum of blogging options for casual bloggers as well as top-notch businesses.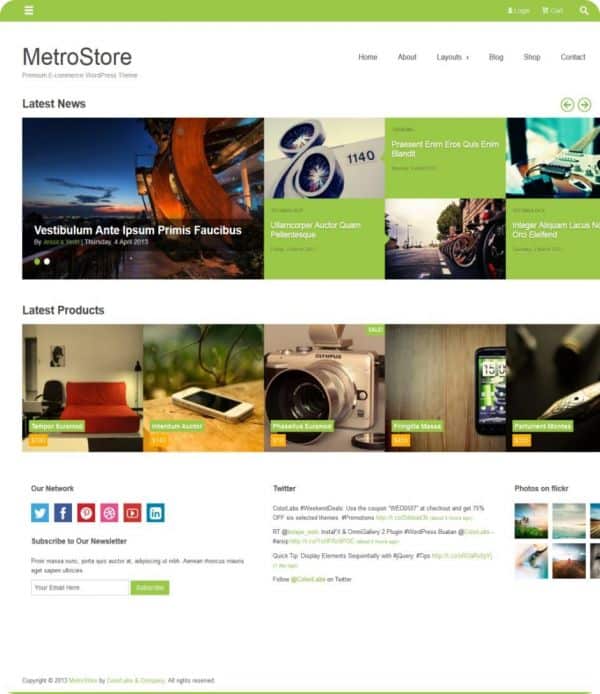 Photograph Courtesy: Metrostore.com
Having such strong attributes the question is if WordPress can also be a platform for ecommerce? And the answer is a big "Yes" but things get gloomy when you come to know that although most WordPress eCommerce platforms come free and are open source, but their plugins aren't free. Generally the price ranges from about $50 to $150 or more based on the preferred features you may require. In addition to the benefits mentioned above, the word plugin is a jargon because such plugins are very much the same like apps which other e-commerce platforms also brag about, for e.g. Shopify apps.
So, if you own an e-commerce "store" or are planning to start one soon you'd definitely want to take a look at WordPress if it can be the "to be" e-commerce platform. So there you go firstly, along with the user friendly interface you get a number of plugins available which are easily installed on the platform to facilitate you for the various e-commerce functions and features. Next is the "third party" shopping cart plugin which has been evolving slowly along with WordPress since the last couple of years. Integrating your WordPress content management system and shopping cart helps you to create a seamless user experience for all your customers. Selling products or services on your WordPress site has come a long way that will benefit your e-commerce site in a variety of ways.
WooCommerce
One of the most popular wordpress ecommerce plugin available in the market is WooCommerce that offers a number of powerful features. The e-commerce sites that use Woo-Commerce plugins are capable to feature a number of tasks like comprehensive tax and shipping options, powerful marketing tools, inventory management tools and extensive reporting features. This plugin is extremely useful with its superior user interface.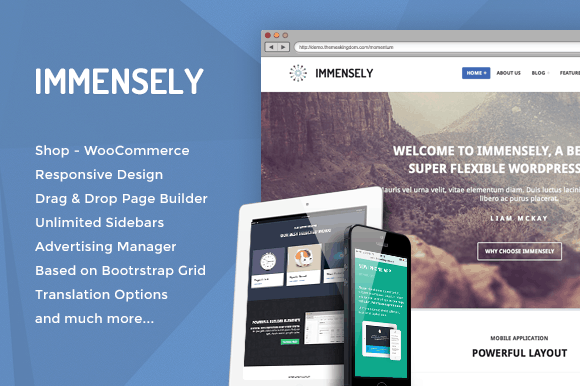 Photograph Courtesy: evowpthemes.com
Cart66
The Cart 66 plugin provides increased functionality for your e-commerce website. It's perfect and easy for most types of online WordPress stores. Cart66 is different when compared to other WordPress e-commerce plugins, is that you can sell digital and physical products through this medium.
The verdict
Having said all that about what all Word Press can offer as an e-commerce platform but making things a lot more easier for the decision maker the fact is that WordPress was originally not developed for an e-commerce platform. The burgeoning popularity of WordPress as a blogging platform raised the expectations of developers to overlay the basic program incorporating plugins and heavy themes to make it work as an e-commerce platform. The popularity of Word Press has come as a major disadvantage for it as it has a large installed base, being under constant attacks by hackers. They surely offer upgrades but who want to live under constant threat of being hacked and especially for an e-commerce site security comes as a top requirement.
When an e-commerce business is successful and one has to process an increased number of orders the number of synchronized scripts executed by WordPress can overwhelm a number of web servers and given that one needs to add a theme and plugins to make WordPress work decently for e-commerce, there can be some problems when upgrading your WordPress installation. Firstly the installed plugins and themes may not be found compatible enough with the WordPress upgrade. It's important to note that its plugins and themes have to be upgraded quite often. And any customization one makes will get overwritten every time there's an upgrade. Although Word Press has been admired for its "rapid strides" and there are high expectations that there will soon be an easier way for Word Press to overcome the problems mentioned above, but for right now an ecommerce platform on Word Press may not be a very good idea despite the great features we've mentioned above. But choosing it as an acceptable performer today will probably make it the winner for tomorrow.
Author Bio:
Nancy Ronnie is a New York based Writer and Editor, an MA in English with a specialization in Creative Writing from New York University. Her literary interests include 17th century poetry as she has always had a passion for literature. An expert creative non-fiction writer as she is, Nancy also enjoys outdoor activities such as biking, fishing, hiking and running.