Google has been trying hard to make the virtual globe into realistic map experience. And they have highly succeeded in doing so. Now Google adds yet another interesting feature to Google Earth with version 6. Realistic and clear map with close view on to anywhere on earth. With the new update, Google has added two new realistic features to Google Earth, a truly integrated Street View experience and 3D trees. Which makes you feel like you are flying around the sky when you explore the map. Google introduced Street View in Google Earth in 2008, which amazed by users all over the world and also Google ran intro few controversies and privacy issue and remember it even took Google to court.
Now, lets check what new in Google Earth:
Pegman docked & scroll to walk feature in Street View layer.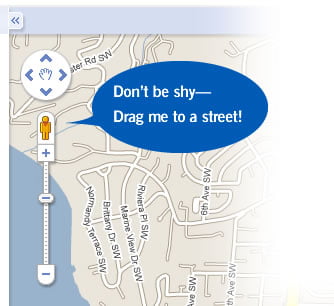 Pegman is now placed right of navigation controls When you want to view in Street view to have a virtual walk, you can just drop the man icon on highlighted blue road wherever you see. Previously street view wasn't that easy to move around, but unlike earlier Street View layer, now you can move easily with arrow keys and mouse scroll-wheel.
3d Trees and new ground-level navigation to walk among the trees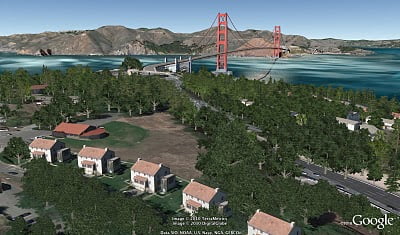 Addition to 3D building models, now 3d trees have been added to Google virtual experience. Now users can browse 3D trees(online) in some of your favorite parks around the globe.
Google has just negun to add trees to their maps, lets hope they'll cover more and help conserve our earth and help create an awareness on conservation of tree. Already with Google Earth Outreach program they have been working with several organizations to model planet's threatened forests.
To enjoy 3D trees in your map, just enable 3D trees layer from the bottom left and start a search for "Palace of Fine Arts San Francisco."  and zoom  closer to checkout 3D trees. And be amazed with ground-level navigation. Although Google hasn't covered 3D trees all over the world, they should be working harder to cover more areas in the coming days.
Urban tree coverage includes San Francisco (downtown and Golden Gate Park), Chicago (Grant, Millennium and Lincoln Parks), New York City (Prospect and Riverside Parks), Athens (Thiseio Park, the National Gardens, Lykavittos Hill and around the Acropolis), Berlin (Tiergarten Park) and Tokyo (Yoyogi Park, Shinjuku Gyoen and the Akasaka Imperial Grounds).
Apart from 3D trees and integrated Street view, Google has improved its historical imagery to more user friendly and easy to use. Users can now go back to the maps of the days before 1935 and on. Before and after earth quake inPort-au-Prince Haiti and   Warsaw in 1935, London in 1945, and more. Now the dates of the oldest maps will appear at the bottom of the screen, you can click on the dates to view the maps of those times. You can download the latest version of Google earth from and enjoy these new features
Checkout showcase page for more on 3D trees and other features, videos of Google Earth 6.
Do share your thoughts on 3D trees features in Google Earth also let us know how it is going to change your virtual map experience