There are plenty of DVD rippers available in the market with some being even free but free does not always mean good and if you want the best option to rip DVDs we suggest a paid DVD ripper software is the way to go and today we are bringing to you a review of one of the popular DVD ripper software that is DVDFab DVD ripper which lets you rip DVD with ease. DVDFab ripper is the best if not the best option for ripping DVDs. So let's divulge into the details, shall we? Read on.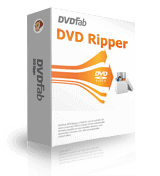 DVDFab's Features:
You can rip basically any DVD with

DVDFab

as it has the ability to remove any DVD protections for your ripping love.
DVDFab allows you to rip almost any video format, it supports all the popular formats such as MPEG-4, DivX, Xvid, H.264, AVI, FLV, WMV, etc. to name a few.
If you want to rip and convert DVDs to audio there's nothing to worry as DVDFab supports all the popular audio formats as well such as MP3, MP4, M4A, WMA, WAV, AC3 and DTS.
It supports various devices and there are over hundreds of presets ripping profiles from which you can choose according to your device.
DVDFab brings powerful controls to your video ripping experience. It lets you choose on the start and the end chapter of a video which is a great feature for editing homemade videos or recorded concerts.
With DVDFab, you can basically alter anything in the video according to your need. You can control and change the bit rate, frame size (resolution), frame rate, aspect ratio, image cropping with a preview to fit your personal needs and it also provides a real-time updated value for bits/pixel and file size to let you know what effects your changes are making.
You can select your own audio track for the output and you can force subtitles in a video. It even lets you alter the behaviour of subtitles so basically DVDFab ripper is all about giving the users total control.
DVDFab enables you to watch a movie with only forced subpicture if you need it.
You don't have to wait for one video to convert and rip to start the next one. DVDFab uses batch conversion which lets you convert and rip multiple videos, DVDs all at the same time thus saving a lot of time and patience.
DVDFab supports multi-core CPUs from a very long time but in a recent update, it has been updated with the newest NVIDIA CUDA and Intel Quick Sync acceleration technologies which brings a lot of speed to your ripping.
It lets you preview the ripped video so that if you are not satisfied with the effects you've used, you can again change them thus making sure you don't regret.
Supported Formats
Input
DVD-Video disc, DVD folder, ISO file
Output
Video: MPEG-4, DivX, XviD, H.264, AVI, MP4, WMV, DPG, etc.
Audio: MP3, MP4, M4A, WMA, WAV, ACC, AC3, DTS, etc.
System Requirements
Windows 8/7/Vista/XP (32-bit/64-bit)
Pentium II 500 MHz
512 MB of RAM
20 GB of Free Hard Disk Space
A DVD-R(W) or DVD+R(W) Drive
Interface and Ease of use: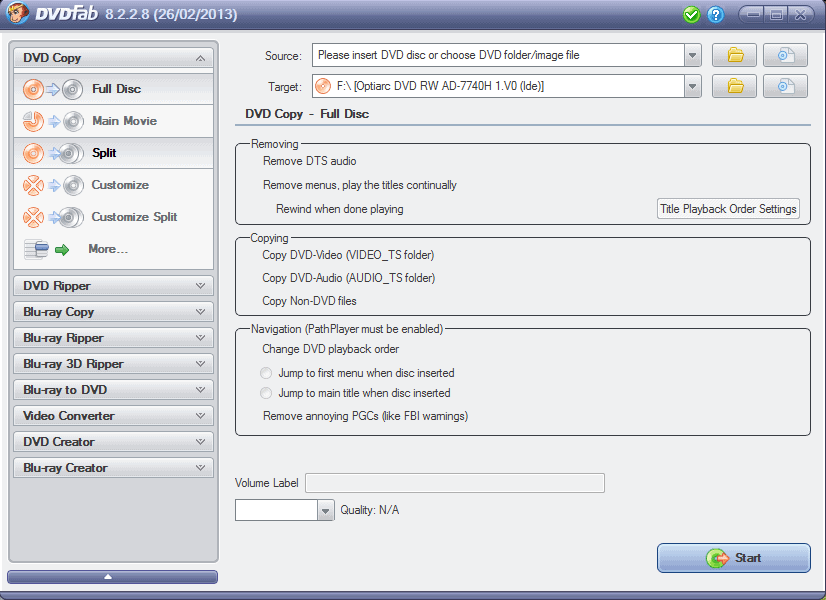 The user interface of DVDFab is a very feature-rich one since it packs all the features you would expect in a good DVD ripper solution. For a first time user, things might seem a bit confusing but once you get going everything's great and finding new features always brings joy to a geek so that's not really a big deal. For a casual user, DVDFab provides the default settings, anyone who does not want to get confused in the plethora of options available can directly click the start button after selecting the destination folder for the output file. The files which are ripped using the automatic default options offered by the DVDFab are saved in basic AVI format on the specified location of your hard disk. For a more power user, there are plenty of options and most of them are available just at one single click. The DVDFab interface allows user control over most output settings on the go. Once you insert the DVD, it automatically reads the inserted DVD and lists the titles of videos with basic information which include Play Time, Chapter, Aspect Ratio and Format. After you select one title among the lot, you can trim, resize and crop the video. Other features such as changing the bit rate, frame size (resolution), frame rate, aspect ratio are just clicked away in the video effects settings. All in all the interface of DVDFab is very professional which makes sure that the features we use are available to us easily.
Speed of conversion and ripping:
Speed of the conversion and ripping mostly depends on the source of the DVD your are ripping and the hardware your computer has but the latest DVDFab ripper software supports the newest NVIDIA CUDA and Intel Quick Sync acceleration technologies which basically speeds up computing performance of a system by utilizing the graphics processing unit of your graphics card in your computer systems. This means the speed will be a lot more when compared to other DVD rippers in the market. DVDFab uses batch conversion which lets you convert and rip multiple videos, DVDs all at the same time thus saving a lot of time and patience.
Quality of the output:
The quality of the movies ripped or converted are as good as you can get. You cannot expect any DVD ripper to make the output quality of videos the same as the original but thanks to DVDFab, it gets you the best quality it can and thanks to its editing features you can go ahead and improve the output quality a hell lot more. The output quality which DVDFab brings makes it worth the deal.
Screenshots: How DVDFab works?
Changing the aspect ratio or the screen resolution of the video can be done by going to the video effects settings. For cropping, it can be done through the cropping tab in the same video effects settings window.
There is an edit button which will take you to the advanced configuration settings. In the advanced options, you can take care of things like output format encoding, audio encoding, frame rate, bit-rate and even simpler things like the video name and title. When you are done with configuring everything, you can start the ripping by just hitting the start button which will start up the ripping and conversion process.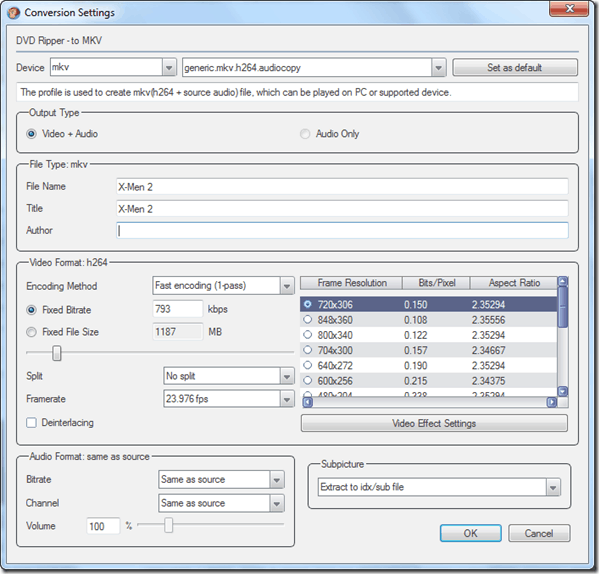 Pros:
It has a lot of features

can rip even protected DVDs
The output is quality is as good as you can get
a very user-friendly interface
speed of ripping is truly unmatched
Cons:
The free version features a watermark in the converted videos

a casual user would find the features a bit complex but automatic default settings take care of that so not a deal-breaker
Conclusion:
DVDFab DVD Ripper is the ideal DVD ripping solution anyone would need. It covers whatever features a user would need ever in ripping videos. The customization options while editing videos, the speed thanks to its latest technologies, the output quality truly make it the best DVD Ripper on the market right now. So what are you waiting for, you can go ahead and try out the free version and if it impresses you then don't hesitate in buying it for a price of $49 which is worth all the great features they offer.