Video processing has become a standard requirement of the day to day life of anyone who is even remotely into the digital industry. You don't necessarily have to be a YouTuber to learn some video editing skills. But here comes the most basic and the most horrid part of video editing, which is- Video Processing. It sounds like such a simple task, just processing the video, can't be that hard right? I wish it was easy as it sounds. Attempting to process a video without getting your laptop hot enough to cook an omelette on or having to restart it a hundred times because it keeps freezing, can prove to be quite a headache.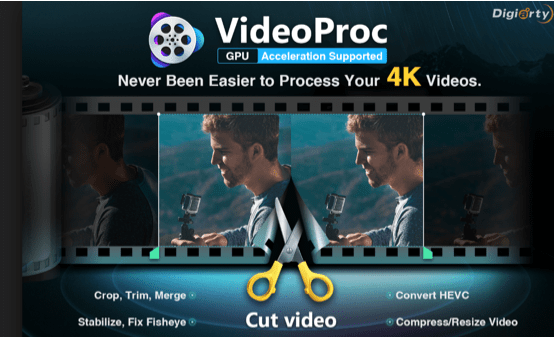 We have tried a bunch of free and paid video processing softwares, but the hunt for the best one just could not end. This time, we decided to try out VideoProc by Digiarty.
We had heard quite a bit about it being smooth as butter when it comes to processing high-quality videos. This was a perfectly timed opportunity to try out this product because we had a bunch of GoPro 4K footage to process from our latest campaign. Before, we talk about that, here's a little background of the parent company. We have created a separate article On Gopro: A Comprehensive Perspective of Gopro Camera.


ABOUT DIGIARTY:
Digiarty has been in the business of offering easy and creative solutions of free DVD ripping, DVD copy, DVD burning, HD video conversion, online video downloads, media play, iPhone file management and more for over 11 years now. It is safe to say that Digiarty is one of the world-leading providers of video-applications based on Windows and macOS.
THE REVIEW: VideoProc
Our experience with the VideoProc software has been extremely pleasing, we had no idea that videos with 4k resolution could be processed so quickly and easily. The major elements of surprise were:

My laptop did not heat up or freeze.
There was no rocket science involved, I completed the whole thing with hardly 3-4 steps.
It did not drain my battery, there was hardly a difference.
Needless to say, the software did not crash even once.
My main problem with all the other tools I tried like Final Cut or Adobe Premiere was that they would severely lag my PC, and the rare times they would not lag or freeze, just understanding the functionality and how they work was so difficult to comprehend. I used to also worry about the videos diminishing in quality. With VideoProc, I faced no such issues. Just with this and the pointers mentioned above, I was sure this was going to be my go-to processor from now on, especially for my GoPro footage.
Just to give you a clearer idea about this software, let's test it on the basis of four main parameters: Usability, Accessibility, Value for money, and Utility.

USABILITY

My experience with VideoProc was efficient, intuitive and satisfying. The downloading and installation process could not get any simpler. With just a few clicks I had the software up and running in my laptop. Download > Install > Launch and you're done! It supports both Windows (Windows 7, Windows 8, Windows 8.1 & Windows 10) and Mac OS.

Digiarty has done a great job with the design of the software. The clean and minimalistic design along with the use of soft tones makes it very easy for the user to find exactly what he needs. The different options like Trimming, downloading, converting, recording are all very neatly placed on the homepage. It has a very easy on the eyes layout.
It gives you a variety of editing options for your GoPro video footage. You can crop, split, cut, rotate, flip, and merge video clips with ease. My requirement was just for a little cropping and cutting here and there. But I did play around with some other options offered to me like adjusting video color effects (brightness, contrast, hue, gamma, etc), removing shakiness and noise from your video, correcting fisheye distortion, and converting your video to M3U8. All of these features were quite impressive to work with.

On the overall judgment of the Usability factor of VideoProc, I would rate it a solid 9/10.

ACCESSIBILITY

Supports 370+ Built-in Video Audio Codecs –
You can work with almost all types of video formats on VideoProc. I personally used it to process my HEVC videos but it also supports other formats like H.264, MPEG-4, AVI, MKV, MOV, M2TS, MOD, MP4, etc. In my opinion, it does the best jobs for multi-track HD videos and 4K @60fps videos from GoPro. It's a range, however, lies from ISO images to multi-track HD videos from DJI, DSLRs, Blu-ray, Apple iPhone X, and Android smartphones. It also manages any kind of video conversion.

420+ Profiles for Apple Android Devices –
It's almost impossible to share your GoPro footage with your friends and family on our standard media players. VideoProc makes it a piece of cake by making any incompatible videos friendly with SNS, HDTV, or any portable players. You can now share your GoPro footage on Youtube, Vlog, or enjoy it on iPhones, iPads, Xbox, Android tablets, smartphones and more.  The entire, software is pretty user-flexible it will cater to all you converting and video processing needs without any hurdles.
The official website of VideoProc will be like a personal assistant to you with regards to the software. It has an ocean of tutorials on a lot of topics right from installation and editing to more complex subjects like Converting GoPro 4K HEVC to H.264, Video Stabilization, Removing fisheye from videos and more.

Record Videos From Your Screen/ Webcam
You can also record screencasts in full HD (1080p) quality in formats like MP4, FLV, TS, MKV, MOV, etc. If you are into creating course content or gaming videos or conducting webinars. This is a gold feature for you. It also provides feature widgets like paint tool, mouse-show, adjustable window and more.

On the basis of Accessibility, I would rate it 9.5/10. It literally leaves no stone unturned in this area.

UTILITY

One of the biggest factors that we look for in our video processing tools is the speed. VideoProc is said to be 47x times faster than the real-time speed of the other software. The secret behind the speed I'm guessing is its key strength features like level-3 hardware acceleration, Video Audio Passthrough (Auto Copy), Hyper-threading and AMD 3DNow Tech.

Because of the hardware acceleration, VideoProc delivers over 90% compression ratio for resizing large video footage in a smooth and in an efficient manner. I thought it would lose marks here considering the huge sizes of 4k GoPro videos, but nope, it worked fine without any issues. It did not even hamper the quality of the video in the slightest.

High Quality At The Smallest Size
VideoProc has an embedding de-interlacing engine called the "Yadif Double Frames" which can reduce noise, optimize the image quality and adjust the definition to make the video crystal sharp. The cutting-edge GPU acceleration is the winning factor of VideoProc. With it, a high-resolution file can be reduced into a much smaller file without hampering the video quality even one bit. It also takes full advantage of Intel QSV, AMD and Nvidia CUDA/NVENC to convert and process videos with the fastest possible speed.

Download Music And Videos With Ease
Another utility factor of VideoProc is its ability to download 4k/1080p videos and audios from popular sources like Vevo, Vimeo, Soundcloud, Yahoo, DailyMotion, etc. Not just that, you can even save live-streams, playlists and more. I did not personally try this feature out because I did not require it. But I'm sure a lot of people can benefit from this feature.

I would like to give Video Proc a full score of 10/10 on the Utility factor, it beats all the other software I've known, in my opinion.

VALUE FOR MONEY

Our last factor to be considered, probably the most important one is, is it worth its the price! The best part about VideoProc is that they give you a free trial. So if you are not satisfied with the services you do not have to buy it!

VideoProc New Release Celebration Sweepstake
Digiarty has started a New Release Sweepstake where you can get the permanent version of VideoProc at half its market price. The original price is $59.90 but with this amazing discount, you can get it only for $29.95! This sounds like a sweet deal to me!

Based on the value for money factor, I would rate this software a 9/10.

More, the developer Digiarty prepare GoPro Hero 7 and accessories contest in the Six Methods to Process and Resize GoPro 4K Video page which include

1x GoPro HERO 7 Black ($399)
2x GoPro Karma Grip ($299)
10x GoPro Dual Battery Charger + Battery ($49)

The Importance of HARDWARE ACCELERATION for GoPro
We have mentioned this term quite a few times, which is why I want to take a moment to talk about Hardware acceleration and the major role it plays in processing 4K videos with full GPU acceleration. When it comes to video encoding and decoding GPU accelerations beats CPU acceleration without a doubt. But, hardware acceleration will increase the speed of the processing speed by a huge range without disrespecting the quality. When you are using GPU to process videos of a large volume or intensity, then the type of video should also specifically run for GPU based hardware acceleration, i.e your operating system should be configured with corresponding hardware like Intel and Nvidia. If you are playing a 4K video recorded from a GoPro or a drone it has a high possibility of crashing, stuttering or lagging. There can even be loading and reading errors.  

These high standard gadgets like drones and GoPros collect raw video data signals which may again cause an explosion of data due to pressure on the CPU calculations causing permanent damage to the CPU. Because of all these factors hardware acceleration plays a really big role while dealing with your GoPro content. So for someone who uses a GoPro, VideoProc sounds like a necessity.

CONCLUSION
Considering all the factors that we discussed in this review, my overall experience with VideoProc has been pretty smooth. And I might as well add it as a permanent member in my laptop. I would say this is a must-have product for GoPro users, because it will definitely save you a lot of your time. It is a great product at its price.

| | |
| --- | --- |
| Factor | Marks |
| Usability | 9/10 |
| Accessibility | 9.5/10 |
| Value for money | 9/10 |
| Utility | 10/10 |
The 3 major takeaways would be:

It is a great tool to process 4K UHD videos, large sized videos, and high-speed videos shot with 120fps/240fps (slow-mo videos)
It delivers buttery smooth (4K) video editing and transcoding without compromising the quality.
And also provides both easy-to-access presets and advanced video audio parameter adjustment options.
If you want more information about VideoProc, please visit their official website.