Microsoft and Verizon:
As we all know about the story, how Verizon Wireless acted against the curiosity of Windows Phone and most especially against Lumia users. When Microsoft stepped out for Lumia Denim Updates since yesterday, there arose a little bit of positive reaction from Verizon that paves a way for a good reason to trust the news as it comes from Microsoft directly.
Though Verizon was absolutely clueless on any Lumia update including Cyan and it is Microsoft, more voluntarily took the things in its hands and has created a clear way for Denim update that opted to skip the Cyan update. Verizon's all the three Lumia handsets such as: Lumia 822, Lumia 928 and flagship Lumia Icon would receive the update and the official time frame for Lumia 822 and Lumia 928 would be th e next few days, whereas Lumia Icon would receive it in the beginning of 2015 and as for now, some of the Verizon users have already received it and now it looks like good days arosed for Verizon users.
This means that the aforementioned Verizon-branded handsets would go for skipping the Lumia Cyan update totally that haven't received and can go straightly to Denim. Also, the Lumia Denim update for Verizon comes with:
Consumer VPN for better security
Live Folders
Cortana
Many upgrades for the Camera app.
In addition to Cortana, the Lumia 928 and 822 will be receiving a number of features that came to other phones along with the Windows Phone 8.1.1 that includes: Background images on Live tiles, The Word Flow keyboard, Action center and more.
Apart from this, Windows Phone 8.1 Update 1 by itself comes with some of the new user-facing features that include: native application folder creation on the Start screen support for interactive phone covers. Update 1 is now new with several performance improvements and fixes.
Manually, go for Lumia Denim Updates by opting the Check for updates option in the "Phone update" menu in "Settings". In simple words: Settings -> Phone update -> Check for updates.
(video by Nokiapoweruser)
How to update to Lumia Denim – Visual:
(video by microsoft lumia support)
Lumia Denim Update: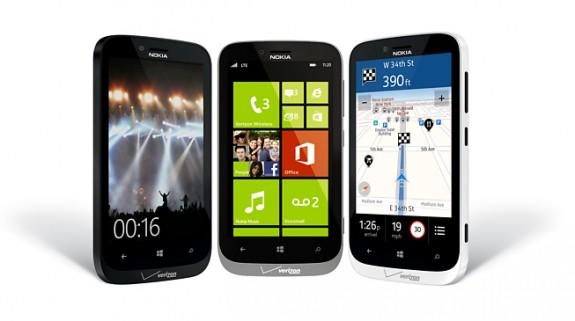 Microsoft has already comes up with its shared details about the Lumia Denim software update in  its Lumia Conversations blog that makes a roadmap for the Verizon customers with the Lumia 822 and Lumia 928 to get notifications to upgrade by Denim updates.
The Lumia Denim update act as a part of firmware and Windows Phone 8.1 upgrade where the firmware portion of the upgrade includes big camera upgrades but as for today, Microsoft's Lumia camera experience little slow and following the upgrade, all Lumia owners need to find that they can take better pictures a lot faster than they could before. The Windows Phone portion of the upgrade comes with an
an all-time-listening upgrade for the Cortana personal assistant provided that the phone's hardware supports it and Lumia Denim also adds 4K video recording.
The users of Lumia 928 and Lumia 822 users could find that they're automatically prompted to download the update when connected to Wi-Fi and the updation would take not more than a half-hour. During updation, users are not encouraged to take up: the phone calls, listen to music, receive text messages.
Simultaneously, Windows Phone users can go for the manual trigger update by moving into the Settings app and then tapping on Phone Update. In this also, it is very important for users to be connected to Wi-Fi before downloading the update.
There is no idea for the other Windows Phones that are available in the United States can achieve the Lumia Denim update which is  not currently available to anyone on AT&T or T-Mobile.