Hacking group "OurMine"—known for penetrating into the digital accounts of prominent celebrities, technologists, and venture capitalists—reportedly breached BuzzFeed News, on Wednesday, possibly in retaliation of a story that unmasked one of the members of the secretive group.
Hackers deliberately destroyed and deleted a number of BuzzfeedNews articles & official reports. The group changed the headlines of several BuzzFeed stories to read:
"Hacked by OurMine-ourmine.org"
They also replaced the body with a message declaring:
"Hacked by OurMine team, don't share fake news about us again, we have your database. Next time it will be public. Don't f[***] with OurMine again."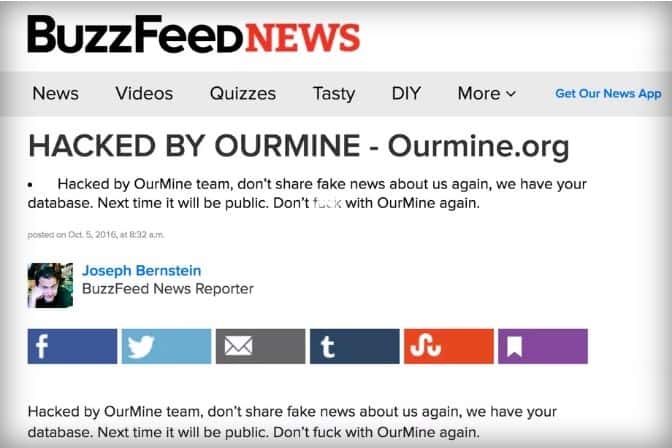 Buzzfeed Breach – Why it happened?
The hack had happened in retaliation to an investigation report published by BuzzFeedNews reporter Joseph Bernstein on Tuesday. The story exposed about an alleged member of the OurMine hacking group. Buzzfeed had confirmed that though OurMine comprises of an unknown number of hackers but one member of the OurMine team is likely to be a young teenager living in Saudi Arabia. On social media, he goes by the name Ahmad Makki.
But OurMine refused about the connections with the alleged member through an official email account They said that Makki is not a member. The message read, "Nope a lot of people thought he is a member of OurMine, but he is just a fan, for this reason, people thought we are from Saudi Arabia, we are not." Hence OurMine seems to have opposed of all things by hacking BuzzFeedNews.
Buzzfeed's Reaction
According to TheVerge, BuzzFeed had taken down the affected posts within minutes and worked throughout the day and is still working to restore all its stories & reports in their original form. BuzzFeed also tweeted the following message regarding the breach: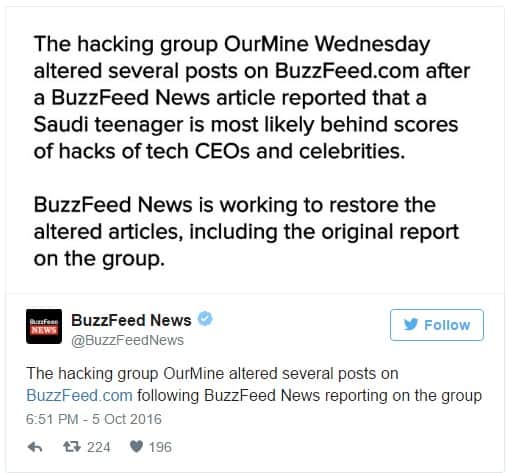 BuzzFeed did not have any additional comments on how did OurMine breach its systems. Apart from this, regarding the OurMine's threatening indication towards a database leak, The Guardian asked in an email (to an email account associated with the group) to clarify what "we have your database" meant. To which the reply was: Emails, Passwords Hashes, Usernames.
No one knows as to what that database includes and what kind of information OurMine could publish against BuzzFeed.
OurMine
OurMine, for over the past six months, has attacked & taken the responsibility of hacking into the social media accounts of some of the biggest names including Facebook CEO Mark Zuckerberg, Google CEO Sundar Pichai, Uber CEO Travis Kalanick and Twitter's Jack Dorsey. The group poses to be a benevolent researcher & claims to foster awareness towards security dilemmas. OurMine has established itself as a massive trouble to the dozens of tech luminaries & celebrities.

It's also frequently seen that when OurMine takes the responsibility of hacking a target their goal is just to test the security & expose the dangers of reusing the passwords. According to the members of the group, their aim is  to make a name for themselves as white hat information security consultants. OurMine's approach seems to be functioning. They have swiftly made a name with many high-profile hacks.
One of its client had mentioned, that the group makes all these hacks just for fun & to help people. They basically help you to improve your security systems. According to the client, OurMine people might have had a bad name but to him, they are just trying to help.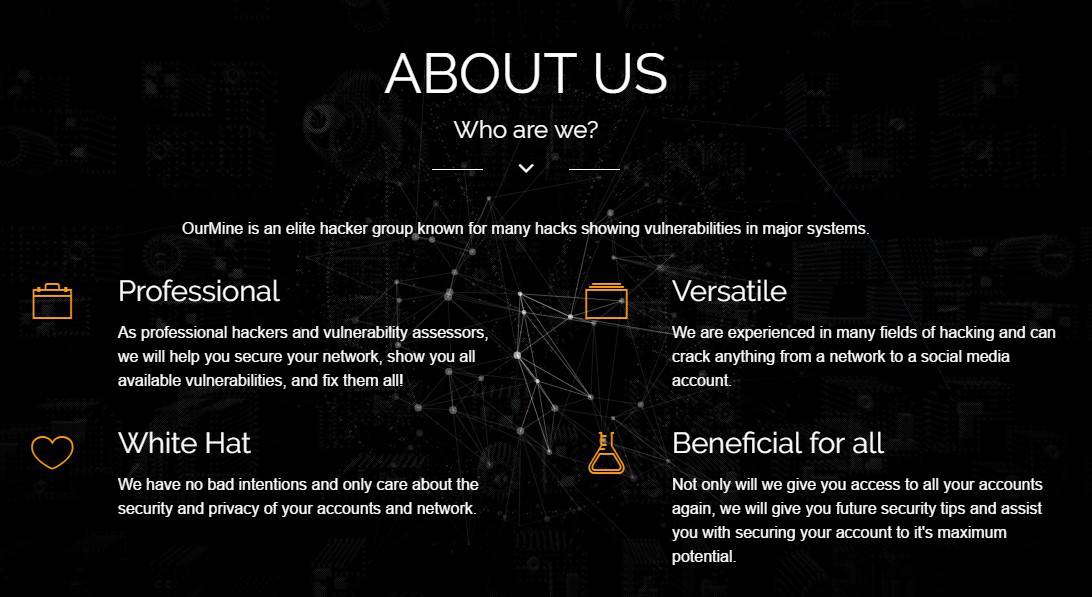 From the risks of physical security by posting about daily life on the social media to the digital risks of being infringed, everyone needs to be more and more careful to lock it all. It really doesn't hurt for the regular folks to do the same.