Guest post by: Space Invader
Announcement: BrandsWalk

 (the exclusive distributor of the 

gold HeadStand

) just launched a giveaway for tech fans in which your readers can win $300 Sennheiser headphones and the limited-edition gold

HeadStand

to complete their desks. The contest is ongoing now, and ends Nov 15. All important details can be found at the link below: 

http://brandswalk.com/contests/photo_contest.html
You've probably seen a HeadStand (headphone hanger) on a friend's desk or two (probably in silver), but you've never seen one in the rare color Rose Gold. This sleek desk accessory is meant to turn your high-design headphones into a centerpiece of your desk, and only 499 were manufactured in this rare color. Being one of the very few reviewers that actually got his hands on one of these, I feel super lucky just for that reason.
Completing the Desk Environment
Up until I put one of these on my desk, my workplace just never felt complete. It never felt right. It's weird that this is never touted as a selling point. I'd always have my headphones in random places, sometimes stuffed into busy drawers or hanging off speakers, sometimes shoved behind my monitor. Being a kind of neat freak, I can't stand it, so having a place to hang my 'phones so that they become a decorative element of my environment (instead of poorly shunned to whatever part of my desk I'm not using) is a major relief.
Really think about the passion and effort that a designer put into designing your headphones. Is that something you want to hide away? No, like a nice watch, it needs to be seen.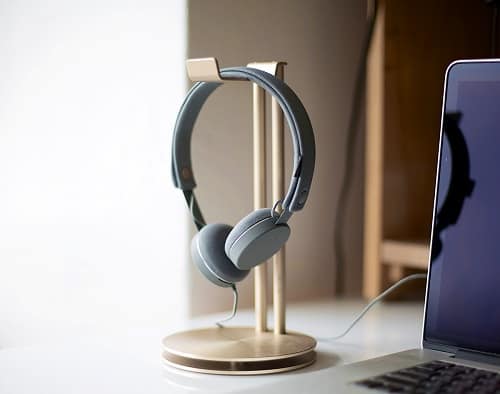 Protecting Your Headphones
What's also weird is the company never touts perhaps the strongest selling point of the device: The problem with buying nice, well designed headphones is it's really hard to take care of them.
You might think you're not damaging your headphones when you shove them into your bag or drawer, but really think about what you're doing. All the delicate seams, stitches, glues and plastics are constantly being tugged on, scratched at and stretched as your drawer opens/closes or your bag gets tossed around on your side. When that happens everyday, that has a huge effect on the lifespan of your 'phones.
After all, what are are the first two things to break on a pair of 'phones: the cable or the ear cup. That's almost always a result of your headphones getting shoved around in bags or drawers because, really, honestly, who is so violent with their headphones that pieces just start tearing and falling off? Nobody! But your bag or drawer and all the stuff inside, it isn't so considerate of your gadgets.
A High Design
We've broken down the functionality of the product, but what about it's design? It's clearly a well manufactured piece of equipment. However, it comes disassembled, so the construction is only as good as you're assembly skills. But if you tighten the screws just right and line everything up correctly, it's a very solid piece of equipment.
The metallic finish pairs well with the metallic finish on Apple products. The rose gold becomes a royal accent to a Mac-based desk setup, so no complaints here. It looks fantastic; however, if your desk setup is absolutely reliant on your Mac's silver metallic color with black accents, there are silver and black HeadStands available. But these are not limited edition, and pretty much anyone can have one.
On the other hand, only 499 Rose Gold HeadStands have been manufactured and will ever be manufactured, and the remaining units are only available at BrandsWalk.