This post brought to you by Bitdefender. All opinions are 100% mine.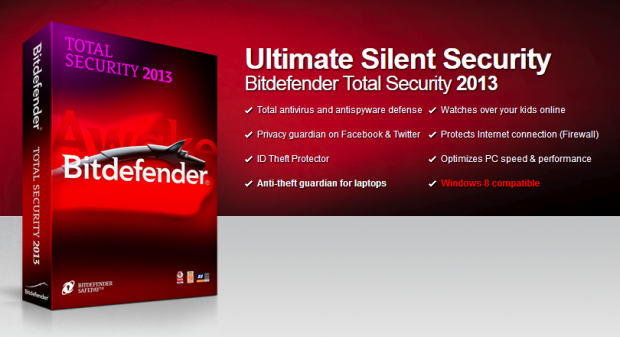 The internet has become an integral part of today's lives seeing how much people of every age are involved on the internet today. The need of security is growing day by day, one of the companies that have always try to innovate in the field of internet security and protection against viruses and malware is BitDefender and with their latest release BitDefender, they have surely tried to raise the game. With the Bitdefender Total Security 2013, they are building up on the foundation laid down last year and even added up a few more modules as well as a bunch of changes designed to increase usability. It leaves little to be desired in terms of functionality that it provides. Bitdefender's line of 2013 security solutions provide user-friendly state-of-the-art, proactive protection from e-threats, such as viruses, spyware, hackers, spam, and phishing attacks. They also offer more advanced safeguards and rich features, including parental controls, online backup, social networking protection, and more! You must be thinking as to what new features BitDefender has brought to the latest addition to its top of the line antivirus, well don't stress your mind much as we are here to tell you all about it including my own personal views on its each and every new feature.
BitDefender Safepay: How will this help you feel secure in your online purchases?
It is surely one of the most integrated core features in the new Bitdefender Total Security 2013, designed for carrying out online financial transactions securely. All your online transactions will be done through Safepay which protects your transactions thanks to a secure connection which makes sure that you are safe from all types of malicious activity which includes keystroke logging (with the added benefit of a virtual keyboard), phishing attacks, network spoofing and automated screenshots. Safepay is basically a stand-alone browser which automatically launches just as it detects that you are visiting a bank website or a website which needs to be secure. This feature surely is great for people who do a lot of transactions online as you can complete your transaction through Safepay without any hussle, close it, and go about with your business. It is not a feature which will be integrated into your browser which is pretty inconvenient but is nevertheless a great fresh take which we hope BitDefender builds on its next edition.
BitDefender Autopilot: BitDefender operates on its own, without a pop up every 5 minutes. Enjoy your computer experience without constant interruptions.
One of the main features of BitDefender 2013 is Autopilot, which silently and automatically detects, quarantines, and removes malicious software from your machine. It works like a charm on its own with no interaction from the user and no irritating pop-ups.
Bitdefender Anti-Theft: protects you from more than just online threats; it can track lost or stolen devices!
Another great new feature in this version is Anti-theft which can be used to locate and lock a stolen PC or laptop, and to wipe sensitive data so that the thief is not able to access it. It requires a Bitdefender account and the feature is also  extended to Android phones, too, as long as the Bitdefender app is installed on the device. This gives you an overview of the SMS and calls of the user.
Social Network Protection: Filters the links you receive from your Facebook and Twitter friends and monitors your privacy settings.
The Safego app is integrated into your social networks which scans your friends on Facebook and followers on Twitter and your posts, and shared links to check whether anything or any person poses a threat to your personal security and space. In the Facebook version of the app, it automatically scans friends and shared posts and links while in the Twitter version, you have the ability to even  scan individual users.
Parental Control Options: BitDefender allows you to block inappropriate content, restrict Web access between certain hours, and it helps you remotely monitor your children's online activity – even on Facebook!
It also features parental control options which is one of the popular features  these days with the all the antivirus programs, what matters is implementation at which  It also requires an account at Bitdefender. You can even login with your Facebook or Twitter account. Now you can monitor your children's activities with all the details including the monitoring of Facebook and web browsing in general, and even phone calls if an app is installed on Android phones, parents can even block any web content they deem to be inappropriate.  I am pretty glad they din't have this feature when i was still a kid.   Total Security users also get access to 2 GB of free secure online storage, and access to a number of tools such as file shredder to delete files permanently, encrypted storage to protect files from being access by third parties, or a tune-up module to speed up the PC. I guess you must be pretty much impressed with what BitDefender has brought to the table, well we are pretty impressed but we are not the only ones as the it is ranked #1 in Antivirus software and that Bitdefender earned CNET Editor's Choice and PCMag Editor's Choice. You can get the awesome antivirus at a great price of $69.9 for a year and a single piece, there is also a 3 PC version which will cost you $79.95, to get all the details and prices, please check out Bitdefender Total Security. If you love the antivirus but cannot get it due to various reasons, then be sure to enter to win a Dell Inspiron laptop with BitDefender Total Security and do tell us if you're the lucky one and do tell us if you got lucky.