Even though Apple has made some advances in their latest iPhone battery life and the iPhone X's has stepped its game up as the battery can last almost a whole day with medium usage. But at some point of the day you may run into low battery if you are a heavy smartphone user. And, what if you are away from your charger for a while?
Fortunately, there is a simple solution to always keep your iPhone perpetually charged on the go and that is a battery case. Instead of carrying a power bank, you can just slip on a battery case on your iPhone X when it is running low on power and it will save your day.
While looking for iPhone battery case it is important that it should have a high energy capacity and shouldn't look bulky at the same time. After going through a plethora of options, we have gathered a list of best five iPhone X battery cases ranging from slimmest to those with high capacity. These battery cases will increase your usage time and also provide protection to your iPhone.
The best iPhone X battery cases that you can get in 2019
Mophie Juice Pack Air-A Reliable Brand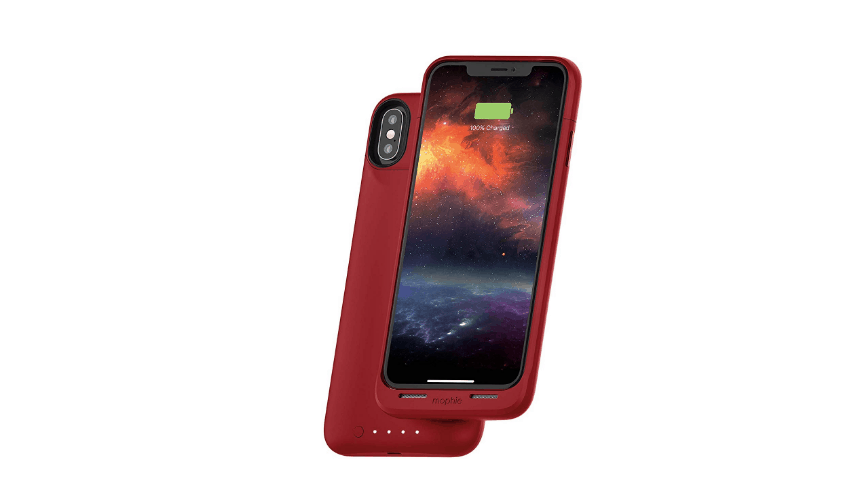 With a powerful 1720mAh battery, the Juice Pack Air battery case from Mophie gives the extra boost to your iPhone X battery that can last up to 30 hours. It supports QI-wireless charging so that you can recharge your phone along with the battery case whenever the option is available. The battery case is compatible with other wireless charging pads as well and while doing that it also maintains your iPhone's wireless functionality.
The Juice Pack Air battery case flaunts a beautiful and light-weight design which fits snugly with your iPhone. It is available in four different colours-red, black, graphite, and rose gold. Even though the case looks extremely slim, but when it comes to the protection, the brand has surely made no compromises. The case has internal rubberised support pads and raised corners to prevent any damage to your iPhone from drops and falls.
You will get a USB cable along with the case to recharge the battery case. Once you connect with a power source, the Mophie Priority+ charging will allow the iPhone to get recharged first and then the battery case will recharge itself. Additionally, you can use your iPhone's lightning cable to recharge the battery case.
Juice Pack Air comes with LED Status Indicator button which can be used to turn the battery case on/off or display the charging status.
Highlights:
Extends battery life for 30 hours
Qi wireless charging
Priority+ Charge and Sync
Approved by Apple
ZeroLemon iPhone X Battery Case-Sturdy and Robust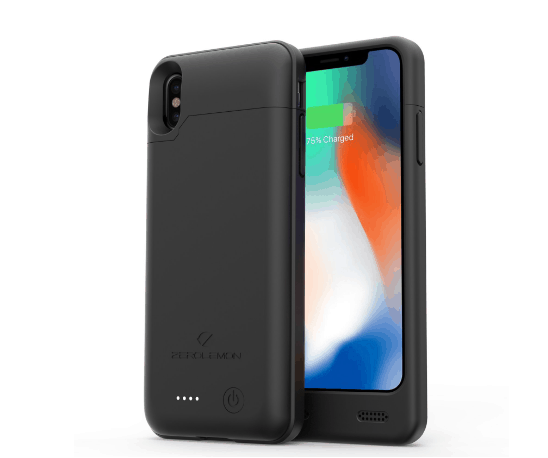 Priced at only $29.99, the ZeroLemon iPhone X Battery Case is definitely something that you should not miss if you have a limited budget. The attractive yet sturdy case has everything that you will need from a battery case. It comes with a removable top where you can insert your iPhone. Just press the button at the back to begin charging your iPhone and the LED lights will show the current battery level and charging status of the battery case.
ZeroLemon battery case features a 4000mAh extended battery which gives your phone enough power to last for an entire day. You can charge your case with the USB-C cable that comes along with the pack.
Highlights:
23 hours of talk time
65 hours of music
15 hours of movie watching
14 hours of gameplay
Alpatronix iPhone X Battery Case-Powerful Battery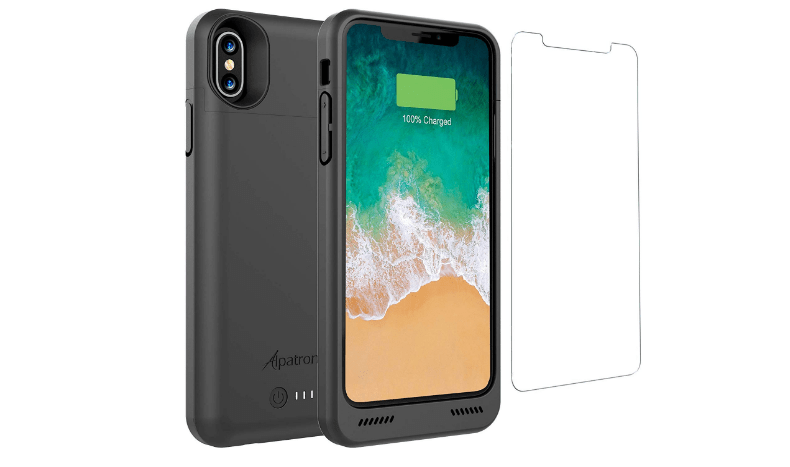 The battery case from Alpatronix BXX boasts a remarkably light-weight design with a slim body. The case features a rechargeable 4200mAh battery which doesn't add much of any weight to your iPhone. It comes with a removable top where you can slide in your iPhone and the four LED lights at the back of the case display the charging levels. The LED lights also show how much charge is left to be delivered to your iPhone and the battery case will automatically stop charging when your iPhone is fully charged.
You can recharge the case using a USC-C cord; moreover, it is compatible with Qi wireless charging which means you can simultaneously charge your iPhone and battery case. It has opening for speaker grills at the bottom and slots for the camera, volume button, and power button.
With over 1300 reviews on Amazon, the case is certainly popular amount iPhone users. Additionally, Alpatronix BXX battery case is approved by Apple which makes it even more reliable. It is available in three colour variants-black, gold, and rose gold at approximately $24.95.
The only downside with this particular battery case is that it doesn't support Lightning cable and 3.5mm earphones which means you can only use wireless headsets and Apple Airpods.
Highlights:
12 hours of talk time
Comes with a free tempered glass screen protector
Apple Smart Battery Case- The best of the best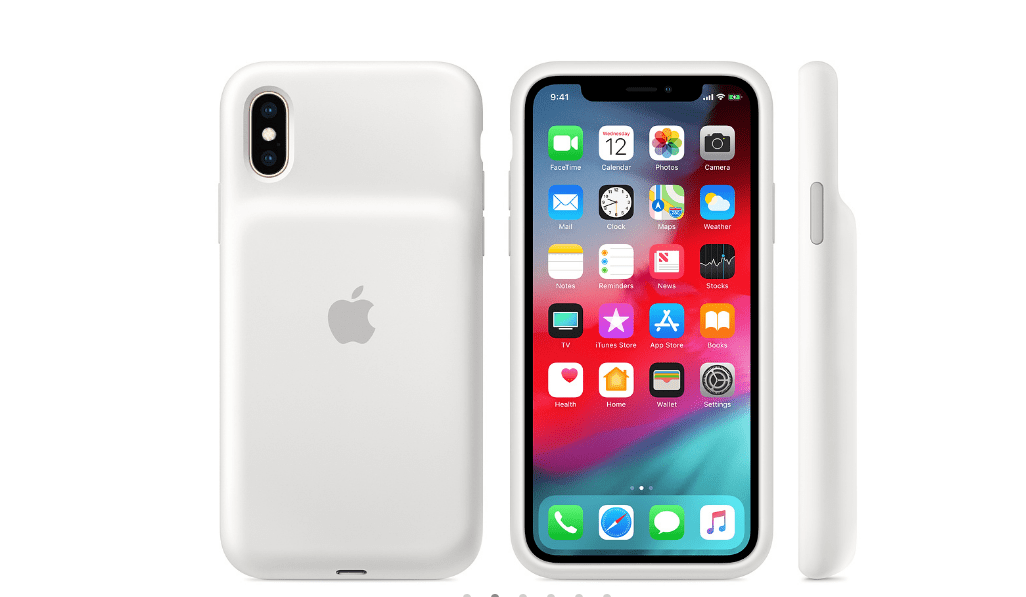 Apple ultimately decided to release its own battery cases after the launch of iPhone XS and iPhone XS Max. Although, the case is engineered for iPhone XS but it can fit that iPhone X too.
The battery case supports Qi wireless charging and once you encase your iPhone, it will use the battery charge of the case first and the fall back to its own. The 1,369mAh battery capacity is enough to charge a phone at one go. The status of batteries for the iPhone and the batter case is displayed on the iPhone lock screen.
The case is made of silicone material with a microfiber lining. The outside design has a soft touch finish of silicone and is robust enough to provide protection to your iPhone from minor drops and goes on and off with little effort.
Highlights:
33 hours of talk time
21 hours of internet usage
25 hours of video playback
Supports lightning accessories
If you don't mind spending an extra $129 dollars on an Apple certified product, then you can't find anything better than this battery case.

Trianium Atomic Pro- Ideal for Basic Requirements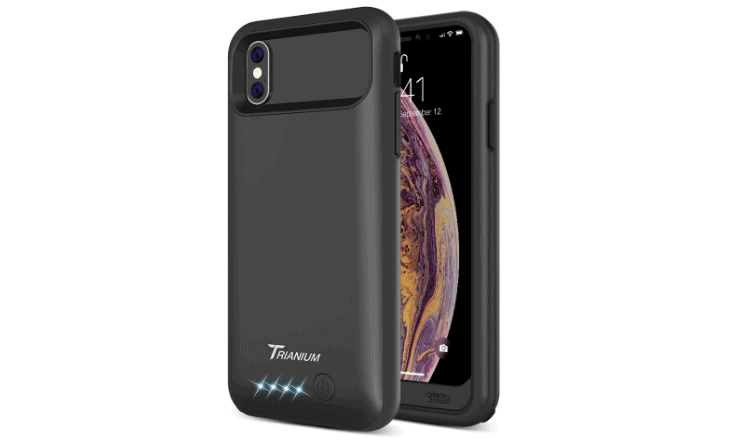 The last battery case in our list, Trianium Atomic Pro Battery Case is a trusted product which is completely efficient in charging an iPhone on the go. What makes Atomic Pro stand out is the amazing design. With the shock-absorbing frame, this battery case provides enough protection to your iPhone from falls and drops against hard surfaces.
Atomic Pro features a rechargeable 400mAh battery which provides more than 8 hours of talk time and approximately 11 hours of web-browsing time. With the sync-through technology, you will be able to sync your iPhone to a PC without removing the battery case and charge your phone along with the battery case using the micro USB cable that comes with the pack.
The case doesn't support wireless charging, 3.5mm headphone jack, and Lightning Earpods. However, it is compatible with Bluetooth earphones and all other headphone accessories which can be connected wirelessly.
Highlights:
8+ hours of talk time
11+ hours of web browsing
Lifetime warranty
That's it! These were our best five handpicked battery cases for iPhone X.
We hope this hand guide was helpful in letting you pick the perfect battery case for your new iPhone X.