We receive hundreds of important messages, multimedia messages and we also keep the call history of important contacts, we assume that the data in our mobile is always safe and neglect to backup our valuable data. But what if the mobile got lost, damaged or stolen? We'll surely lose all our important SMS, MMS and call logs, so it is better to be cautious about backing up your phone data so that even in case of data loss, you can easily restore it. This post can help you backup Android to your Gmail
If you are searching for free android app to backup SMS, Call Logs and MMS then here comes the great app for you i.e. Backup Android t0 Gmail. Let's have a look at some good features of this useful android app.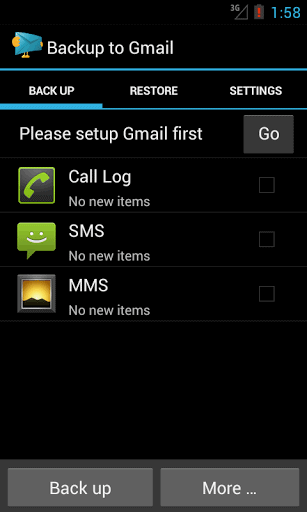 Features of Backup Message & call to Email Android App
You can backup your SMS to your Gmail account and restore them in minutes
You can backup your multimedia messages (MMS) to your Gmail and restore when you wish
It is also possible to backup your call logs and restore them in case you lose them.
Backup Message & call to Email app offers auto backup feature
How do I backup Android SMS, Call Logs and MMS with this app?
Backing up your SMS, call logs and MMS is easy with this android app. First of all make sure whether you have enabled IMAP in your Gmail account. IMAP allows to access Gmail from other clients, to enable IMAP go to Gmail settings >> Forwarding and POP/IMAP, choose Enable IMAP and click on "save settings", refer the image.

Once this is done-
Install

Backup Android

Gmail from Google PlayStore
Run the app and click on the Go button to setup gmail account and grant access to app
That's it, now go to settings pane and choose auto backup if you want the app to backup new messages.
How do I restore my SMS, Call Logs and MMS from my Gmail account?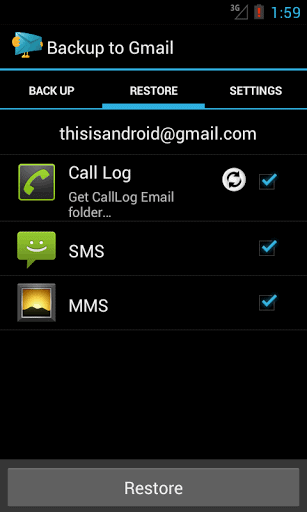 To restore your SMS, Call Logs and MMS from your Gmail account, simply go to Restore tab in the app, choose the items you want to restore and hit the Restore button. Give a try to this free Android app at Google Play.