We all love social media because sitting at our homes getting to see the world seems fun. Who is doing what and sharing our beautiful memories with others is a sharing of our happiness with our extended family on Social Media? But do you feel at times it just becomes irritating because of a few glitches? Did you just find Facebook pictures not loading error? Or maybe you're seeing black boxes, empty boxes, or broken images instead, don't worry we are here to help you sort out this issue. You would be wondering why is facebook not loading pictures? Just sit back and relax and get on reading this article and follow the precise steps to load pictures on Facebook.
Ever wondered why your facebook pictures not loading suddenly?
Users from all over the world have experienced this glitch with Facebook where images refused to load or boxes appear abruptly. It can be either on Android devices or on web browsers as well. In this article, we would delve into all the possible solutions for facebook not loading pictures problem. We will definitely try to fix the facebook not loading images problem because we understand how important it is to stay connected to people worldwide.
Most of the technical glitches happen due to bad connectivity and Internet issues, so first step to solve that is to try switching to AIRPLANE MODE and then try connecting to your Internet again.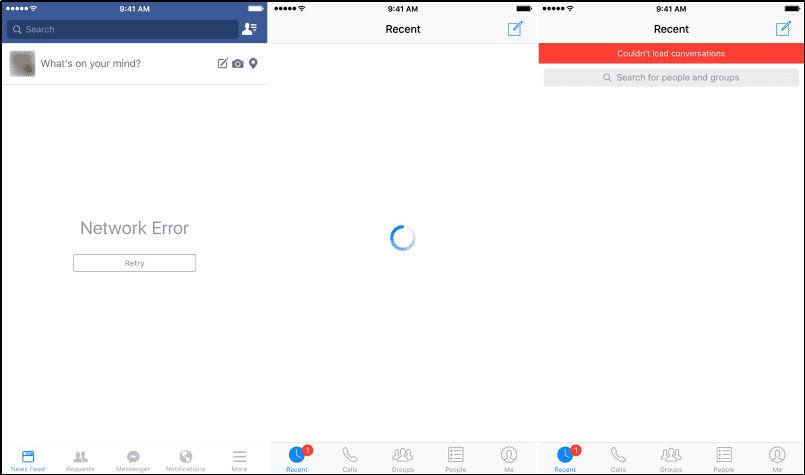 Please follow the next given steps to get to the appropriate solution connecting to why is facebook not loading pictures question.
Your problem may vary so read and try all solutions so that you understand the issue and come a step closer to solve your issue.
Let's dive into the problem theory and check out which problem resembles for you
There are several user cases which looked the same and with a background research there is a crucial conclusion that the issue occurred due to several different reasons but most of them related to the network on your computer. You may be facing the Facebook pictures not loading error because of the following reasons:-
· Bad DNS:-
DNS servers perform a very crucial role in resolving the hostnames of different requests and can be one of the reason for facebook pictures not loading properly. Typically, DNS errors are caused by problems on the user end, whether that's with a network or internet connection, misconfigured DNS settings, or an outdated browser. So you can change your DNS server or reset your router by simply restarting your router or modem may help you to fix this problem easily.
· Bad internet connection:
This cause doesn't need much explanation because we all have dealt with this issue somehow and know how it affects everything in general especially when we are stuck in a very crucial situation.
PRO TIP– Try putting in airplane mode and then switch 'ON' again. If you have a bad internet connection on your computer or mobile the images will appear as black boxes in an infinite loop.
· Network cache:
Like all other modules in other devices, working on your device maybe laptop or phone. If your network cache is somehow corrupt or has bad data, it might create problems with the new upcoming data from Facebook, and thus you would be facing issue of facebook not loading images on your computer or mobile.
Once a browser cache is cleared, every web page that loads will load afresh on that page. If something loaded incorrectly the first time and was cached, clearing the cache can allow it to load correctly.
· Hosts file:
The host's file handles the host locally on your computer. If your host file doesn't contain proper entries for Facebook, the images will fail to load indefinitely. Entries in the hosts' file may be used to block online advertising, or the domains of known malicious resources and servers that contain spyware, adware, and other malware.blockers,speed,
· Free Facebook:
In some networks, Facebook provides itself free without consuming any data from your plan provided that you are not downloading images. If the free mode is activated, the images will not be loaded. It is free but comes with a bad quality which may create loading problems for the pictures.
· Disabled images:
Try going to settings and see if you have blocked the image setting. Some browsers disable images of particular sites, this can be a major reason for this problem of loading pictures. Try changing your browser or try going to settings and then changing it to images allowed.
· Ad-blockers:
Ad-blockers work tirelessly on your browser to make sure that all the Ads get blocked. However, in some cases, during this process, the application may have blocked Facebook pictures too and you would be getting facebook not loading images error. So try changing the setting and it shall be sorted out.
The above-listed problems can be one of the reasons for Facebook pictures not loading in your browser since we now have dwelled into the problems, finding solutions is our next step.
So the next step is very crucial for you to understand and solve the issue which matches your problem. Keep trying all the solutions because you never know which solution can be the perfect hack for you.
NOTE- Make sure that you are not logged in as an administrator and have saved all your work as we will be restarting your computer a lot so make sure you remember or have your credentials safe.
We are a step closer to understanding and solving the problem of why is facebook not loading pictures. So let's dive into the solutions one by one.
SOLUTION 1- Checked your internet speed yet? Because that can be the first reason!
Steps to check the speed of your internet:-
Check your Internet speed in under 30 seconds. Click on this to the your internet speed. The speed test usually transfers less than 40 MB of data but may transfer more data on fast connections.
If these tips don't work and still your Facebook pictures not loading, you should consider resetting your router but do so after performing the other solutions. Below is the method on how to do so but you should come back to it after performing all the other solutions.
Recheck if you have disabled images on your browser which may lead to facebook not loading pictures error on your computer.
Another thing to check before we proceed is making sure that images are not disabled on your web browser as we mentioned earlier. If they are, not only will you get facebook not loading images error, you will not be able to see any images if that's the special case try using some other browser for an initial check. If you are experiencing this behavior, you should check with your computer's documentation and see which options you can tweak to disable the option. For example, in Google Chrome, you can search for Images and when the option comes forward, make sure Show all is enabled. Restart your computer after doing so and see if this fixes the facebook not loading images problem.
Still not working 🙁 Don't worry we're gonna sort this out soon!
If none of the above methods work and you still figuring out why is Facebook not loading pictures, we can try changing your DNS server, this is the BIGGEST HACK OF ALL TIMES. Domain Name Servers are used sparingly when you are browsing the platform but if the computer cannot connect to them, you will be facing bizarre issues including the facebook pictures not loading or connectivity issues.
When you change your DNS server to Google's public DNS, the changes will reflect all the other applications on your computer but don't worry, this DNS server usually works all the time.
1. Press Windows + R, type "control panel" in the dialogue box, and press Enter.
2. Once in the control panel, click on the sub-heading "Network and Internet".
3. Select "Network and Sharing Center" from the next window.
4. All the networks to which your computer is currently connected will be listed here. Click on the current connection which you are using to open Facebook.
SOLUTION 2- Disabling Adblockers-
Adblockers somehow improve your browsing experience by removing all the ads which you see on your computer while you are using different sites or accepting cookies at times. They have an inbuilt mechanism that intercepts all the traffic and then passes on the filtered version with ads removed from the system. Even though extensions like these might improve your experience, there are instances where they cause issues like Facebook not loading images so either you can block ads from that specific site rather than ad blocking in general.
Conclusion:-
Hope we helped you to sort the entire issue of facebook pictures not loading. If you still feel any troubles attaching a few links which you can further refer to sort out the problem.
https://www.facebook.com/help/396404120401278/?ref=u2u
https://www.facebook.com/help/181495968648557/?ref=u2u
Thank you and happy scrolling 🙂