This Diwali Amazon had quite a gift for Windows users! On Thursday(Nov 8) Amazon launched an application of Alexa for all the Windows 10 PCs. Noweveryone who owns Windows 10 can enjoy the benefits of voice commands on Alexaand get things done with much more ease! The ability to use a servicehands-free, and get a load of tasks done is quite a luxury.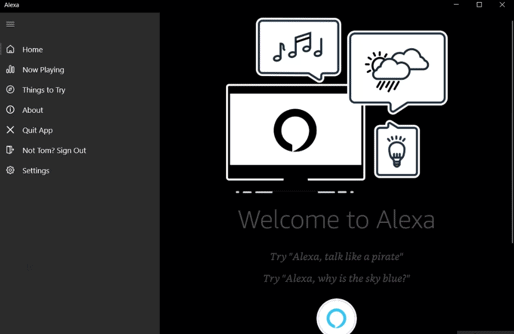 Is that not great news! It opens the doors for a whole new world of possibilities on the technology aspect for PC users. Some of the basic things that users can do with Desktop Alexa is, creating a to-do list, getting latest updates on news, get weather reports, set timers and alarms, schedule appointments, play music, control a smart home, set alarms, manage meetings, and much more!
This new step by Amazon, shows that they are freeing Alexa from the Echo speakers and other general home devices. The Alexa for Windows is very similar to Alexa for mobile. It can also be used for more real-time activities like locking the door, checking CCTV footage, get live updates while travelling, etc. Currently it is only available in U.S, U.K and Germany. They are planning to extend it to more locations all over the world soon.
Some of the features that Alexa Windows doesn't support are Spotify, Pandora, video and communications. This news was followed after the Cortana-Alexa integration which lets a user call Cortana through the Echo speaker and also on the Invoke speakers.
Some PCs have something called 'Alexa Built-In' which as the name suggests, is already built in into their systems. The users would be able to speak to Alexa hands-free. Personal Computer and Laptop companies like Asus, HP, Dell, Lenevo and Acer support Alexa Built-in. Alexa was even showcased during the debuts of various PC's in January of this year. At the events, all these companies revealed their partnership with integrated Alexa voice assistant to their upcoming models of tech.
Highlights:
Alexa now available on Windows 10 devices
Announced on November 8, 2018
Currently available in U.S, U.K, Germany.
Features like door locking, setting appointments, traveling, etc are active.
Some PC manufacturers get a hands-free Alexa access.
About Amazon Alexa
Amazon first introduced its first virtual assistant in November 2014. This smart piece of technology was first induced in Amazon Echo and Echo Dot speakers developed by Amazon itself. You can use this virtual assistant to schedule your meetings, get quick information and even lock your doors. Users can even extend the use of Alexa by installing a set of skills (which are manufactured by third-party vendors) which will give you access to even more fun features and optimization. To activate Alexa, you have to use a wake word by calling out her name. The languages that Alexa supports currently are English, Spanish, Japanese, Italian, French, and German. It is said that the real inspiration behind Alexa was the science fiction TV series called "Star Trek: The Original Series." Another interesting fact about Amazon's Alexa is that its name was chosen for quite a logical reason. The hard consonant with X which makes it very easily recognizable.