Aakash2 which is also known as UbiSlate7+ is the revised version of Aakash 1. Aakash 2 tablet comes up with a faster processor and 256 MB RAM. Datawind who are the makers of this tablet claims that Aakash 2 is completely tweaked for better performance. Aakash 2 is equipped with Cortex A8, 700 Mhz Processor with HD Video Co Processor. It has the GPRS module ensuring SIM to make phone calls which was not possible with Aakash 1. In Aakash 2 you can also access the internet of 2GB limited usage for only Rs. 98/- per month. According to Datawind, Aakash 2 brings up the rich internet browsing experience with its UbiSurfer browser. It consist standard USB port which allows to connect pen-drives, external keyboards, webcams, dongles and other peripherals.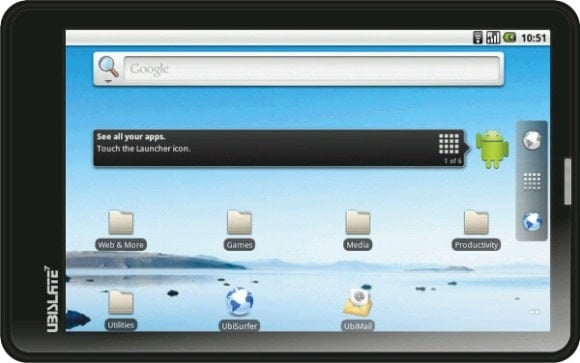 Ubislate7 : Salient Features 
Ubislate7 is powered by Android OS 2.3
Cortex A8, 700 Mhz Processor with HD Video Co Processor for better performance.
256 MB RAM and 2GB internal memory, external memory can be expandable up to 32 GB
2 USB ports and 3.5 MM Audio jack which can be connected to external speakers or sub-woofers
7″ display with 800×480 pixels with high quality video streaming & HD quality video playback
Connectivity with GPRS & WiFi IEEE 802.11 a/b/g
Aakash 2 can run upto 180 minutes on 3200 mAh battery and AC adaptor 200.240 volts
You can plug-in a 3G dongle and standard pen-drive to Aakash 2 tablet
Resistive touch screen
Along with this Aakash 2 (UbiSlate7+) comes up with 1 year warranty and pre-installed GetJar App Store.
Ubislate7 Releasing on 26 April 2012 (update)
Finally here is the answer for "Anybody got ubislate7 tablet?" or "anyone got ubilate7?" questions roaming around various blogs.. According to the recent news Datawind is about to launch the upgraded UbiSlate7+ on 26 April.
Ubislate7

 : Pricing & Delivery
Aakash 2 tablet costs Rs.2,999/- and if you wish your tab to access internet then you can have the internet plan at just Rs.98 per month. You can place the order for Aakash 2 (UbiSlate7+) at the official website. http://www.ubislate.com
Ubislate7 : How to check the status of prebooking (Update)
As the company is delaying delivery, many people who have pre-booked ubislate7 are worrying about the status of their order. Here are the links which can be used to check the status of pre-booking order of ubislate7. If you have pre-booked but yet paid then you check the status over here and the people who booked and made the pre-payment for ubislate7 can check the status over here.