Over a billion people use Android devices today, yet many smartphone users have never owned or used an Android. You may not be in on the smartphone game yet, or you may have spent the last several years using a different operating system and device style. Whatever the reason, you should stop to consider that Android devices offer significant perks that non-Android-users may not know about. From customization to dozens of device options, there are many reasons to switch to Android.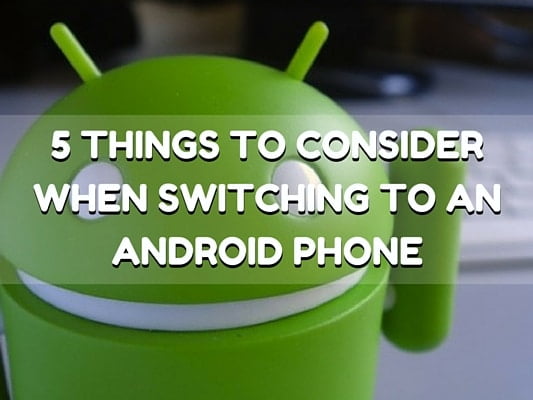 More Phone Options
Only one kind of phone runs with iOS: iPhones. Generally, Apple comes out with a new iPhone every two years, and an upgrade variation in the years between. You're locked into a phone design with the iPhone, and regardless of what features you want, you get whatever Apple is offering this phone cycle. Many companies, like LG and Samsung, make Android phones. Look for reviews and updates on the best Android styles from Android Headlines to figure out which Android device has what you need, be that a large screen, great photos, or lots of storage.
Better Phone Customization
Other than changing the home screen and background of your iPhone, or zooming in a little, interface customization isn't really on the table. Because of the way Android software works, you can customize your Android phone in myriad ways. Themes and widgets help you get a unique home screen look with different fonts, backgrounds, and layouts. You can download different keyboards, rearrange the way your apps look, and even change the looks of the app icons themselves.
Great Camera Options
The iPhone 6 and 6s have pretty amazing cameras, but they aren't the only phones on the market with great photo features. The Google Nexus 5X and 6P both have more megapixels than the iPhone cameras. The Motorola Moto X Force boasts 21 megapixels, and the HTC One M9 boasts 20 (both of which kill the iPhone's 12.) The LG G4 gets more megapixels than the latest iPhone, and it offers optical image stabilization, which the iPhone 6s also has.
The Google Now Feature
Google Now is the Android version of iPhone's Siri. It offers an "on Tap" feature that runs with Marshmallow; you can use Google Now without leaving whatever app you have open, and Google Now communicates with the apps you're using. It also tracks packages, lets you know about your calendar, and looks up information for you.
Tip: Check-out these free calendar organizer.
Easy Google Access
If you're a Chrome, YouTube, or Gmail user, you've probably noticed that everything is Google these days. Most of us rely on at least a few of Google's platforms to get things done in our personal and business lives. Android phones are designed to run with Google's features, which makes them great choices for people who love to use Google everything.
Every phone user is different so why would you want a phone that isn't as unique as you are? Android phones give you choices, from what brand and model of phone you buy, right down to the details of how the interface looks.