Smartphones are no longer a luxury these days. These devices have already replaced the paper phonebook and are filled with a multitude of features that increase productivity. Here are some productivity increasing apps that you may want to install on your smartphone.
Koalcat's Clear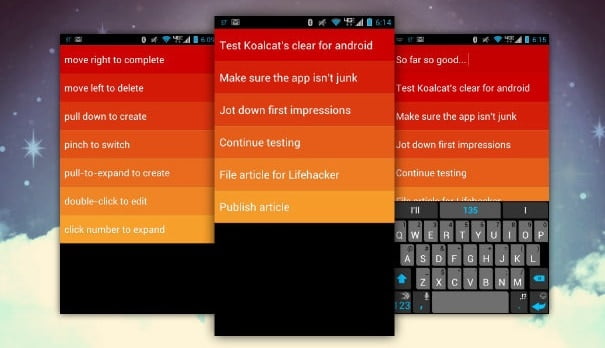 This is a fantastic app when it comes to checklists. You use checklists at work and for personal purposes as well, but having them on paper or on the computer can be cumbersome. Here comes Clear with its swipe-friendly and intuitive interface and features. With this app, you can make sure that you don't miss on any pending task. By using the simple set of interactive checklists and reminders of Clear, you can plan your future tasks quite easily.
Download from Google Play Store
Dropbox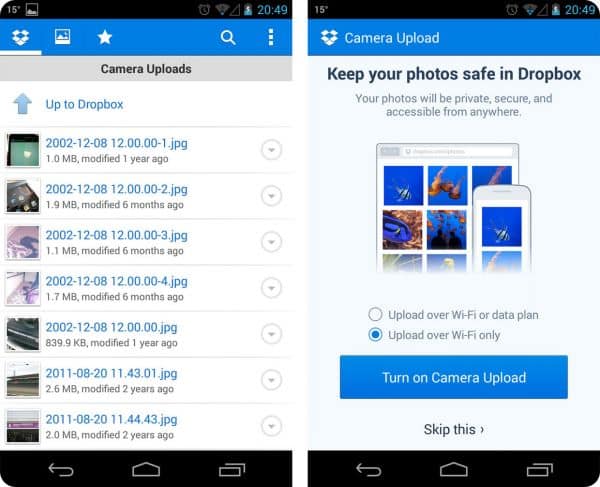 This is a wonderful app for business users as well as personal users. You can upload your photos, videos, and other files very easily. Once you install Dropbox on your computer, the data gets synced automatically on all devices that are connected to Dropbox. With the Dropbox app, you can carry your stuff on the go and it does not matter where you are. In addition to storage, you can also share your videos and photos by using the Dropbox app. One latest feature added in the Dropbox app is the saving email attachment feature. As per this feature, you can save email attachments directly to your Dropbox. Once you have the documents in Dropbox, you can easily edit them.
Download from Google Play Store
Kingsoft Office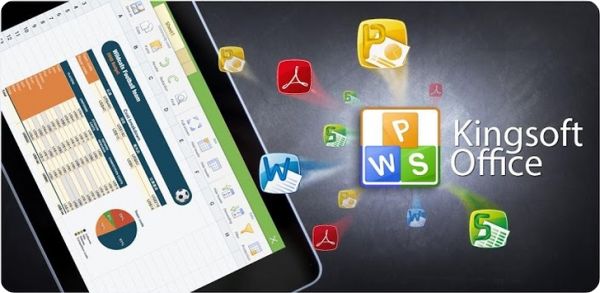 If you have a tablet or a smartphone that has a large screen size, then you can use it to edit documents, presentations and spreadsheets. This Office application is free and has myriad features that you will surely like. When you create files such as documents, presentations and spreadsheets in Microsoft Word, you need the Microsoft Office suite to open them. However, with the Kingsoft Office application, you don't need to install Microsoft Office Mobile at all.
Download from Google Play Store
Pocket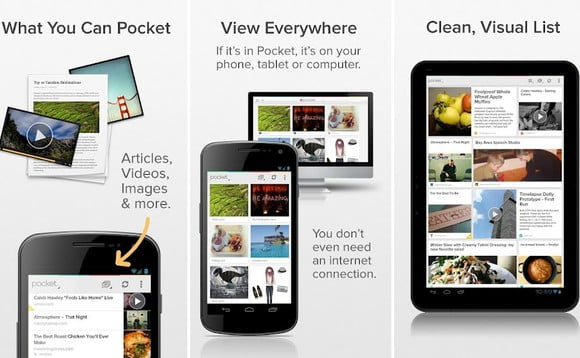 Pocket is one of the best read it later app available on the market and its also one of the most used. It makes life easier by letting you save articles that you can read later. And in a clutter free way. Pocket converts any page into easy to read simple white page, so you can read it without distraction. Once you read it, you can archive it.
This is much more useful than bookmarking and also helps being more productive. Good news is that now Pocket comes default in Firefox
Download from Google Play Store
Freecharge
This is touted to be one of the best apps for online recharges or online payments for bills. With Freecharge, you can make online prepaid recharges for carriers such as BSNL, Airtel, Reliance, Tata Docomo, Idea, Vodafone, Aircel, etc. You can also make online post paid recharges for Airtel, Reliance, Tata Docomo, Vodafone, Idea, BSNL etc. On the DTH front, you can refill the monthly charges for companies such as Tata Sky, Reliance Big TV, Videocon d2h, Dish TV, Sun Direct, Airtel Digital TV etc. If you don't have a credit card, you can still make an online payment using your debit card. When you compare the Freecharge mobile application, you will find that this app is much faster than the other applications. You can use freecharge discount coupon to make sure that you get a good discount on your recharges.
Download from Google Play Store
All the aforementioned apps are free of charge, hence it will not pinch your pockets as well. Make sure that you read detailed reviews of these applications before you download them on to your smartphones.