Globally, the number of number of internet users continues to increase and there's no sign that this increase will be stopping or significantly decelerating soon. Similarly, the amount of data and multimedia content shared online keeps increasing. These mean that demand for broadband services will most likely keep growing and developments in the internet service sector are something that significantly matter, especially for home broadband users. The following are three major predictions for the home broadband internet industry for 2017 and the coming years.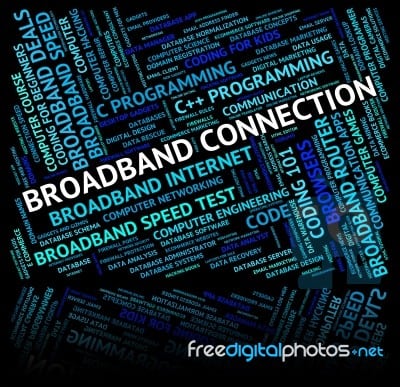 1. Google Fiber Won't Be Coming to Your Area
The Google Fiber project is said to be aimed at disrupting the hold of large telecoms on broadband services. Whether or not it has achieved this purpose remains to be seen. What's quite clear, though, is that Google Fiber is no longer going to proceed as it was initially planned. If you don't have Google Fiber in your place or if there have been no initial Google Fiber installations in your place yet, the possibility that you will experience this inexpensive ultrafast internet service is close to nil. Google has suspended further expansions for the project and there are business analysts who are saying that Alphabet (or the company more famously known as Google) should already let go of this "struggling business."
Nevertheless, not having Google shouldn't be the end of your wish to have reliable fast broadband service in your area. As mentioned, internet services are expected to become faster and better as new technologies and greater competition emerge. New Zealand for example, which is known for its competitive broadband market has already began outfitting homes with ultra-fast internet connections. Local NZ broadband plans are becoming less expensive speed-wise. Nowadays, you can get considerably faster connections at the same price you used to pay for the slow services of yore.
Faster, better, and more affordable: These are the some of the words that can describe the trend in home broadband in 2017 and the years to come. We may not see the ultimate fruition of Google Fiber's original intention, the dawning of 5G and faster fixed and mobile wireless connections are definitely a welcome development.
2. Significantly Faster Home Broadband Speeds
With 5G technology possibly getting commercially deployed this year and fiber optic networks expanding, it can only be expected that broadband speeds will become considerably faster. In the US, telecommunications companies such as Verizon and AT&T have already set plans to deploy their pilot 5G services. Certainly, internet speed leaders such as South Korea, Singapore, and Japan are not going to be left behind. But even without 5G, the trend of significantly faster broadband speeds is still expected to become a reality as fiber networks are expected to expand and reach more users.
"It's all about speed, " as one UK telecom company CEO said when asked about his thoughts on what could possibly happen in 2017 in the internet industry. The adoption of full fiber broadband is believed to increasingly become a necessity. Internet service providers need to scale up their network architectures to adequately provide for the needs of media-rich online services and more dependable network performance. The popularity of high quality video content, higher resolution online gaming, and virtual reality will require corresponding improvements in broadband architectures. Even home broadband users will no longer be satisfied with 5 to 10 Mbps. In tune with the US FCC's new definition for broadband, many home users would likely expect internet connection speeds of at least 25 Mbps to consider them fast enough.
3. Increasing Popularity of Fixed Wireless Connections for Homes
Expanding fiber networks is not cheap. That's why they tend to be limited to urban centers or major cities. The traditional copper DSL lines are not as expensive as fiber but they still don't get to reach users in many rural areas. Fixed wireless internet is seen as the solution for high speed internet access in rural areas that are difficult to cover with wired networks.
Fixed wireless internet services have been less preferred in the past since they used to be not as stable and reliable as wired connections. However, in recent years they have become greatly dependable and fast. The introduction of LTE fixed wireless services for homes allowed many to enjoy download speeds of over 50 Mbps and upload speeds of nearly 20 Mbps. With the advent of 5G, these speeds are expected to be even better. 5G fixed wireless internet connections can very well serve as excellent alternatives for fiber connections.
Fixed wireless internet services are not without their disadvantages but for now the boons easily trump the vanes. Notably, it's advantageous having fixed wireless connections in areas frequently affected by calamities since the transmission towers usually withstand most natural disasters so the services are not easily disrupted or are quickly restored since there's repairs required considering the nature of the infrastructure involved.