How expensive your phone may be or how robust your phone's hardware, it doesn't matter, charging is always a concern for Android users and even for iOS users as well.
If you're worrying about the same and need tips to extend your phone's battery life, below are 10 top proven tips to achieve it.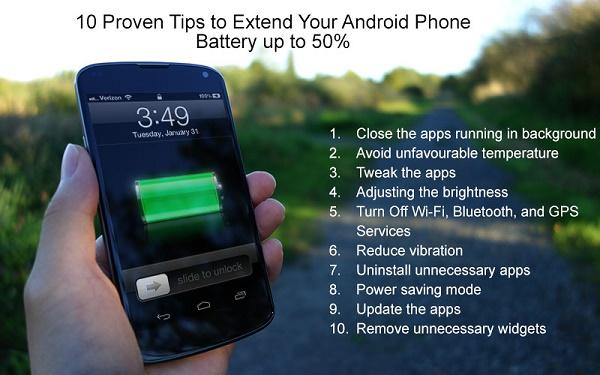 Close the apps running in background
Apps running in the background consume a battery for a certain extent. So whenever you are not using the apps or the phone is in idle mode, just close the apps that you don't require at the time.
Avoid unfavourable temperature
Most of the people are not aware of this. Battery works properly at a particular temperature, if it is too cold or too hot, then the internal resistance of the battery will go high which causes improper power supply. On the other hand, the surrounding hot temperature causes your battery to wear out quickly. So avoid phone from the direct sunlight or keeping it at windows side or close to AC force. There are some solution-oriented apps developed by mobile app development companies in USA to overcome these kind of issues.
There are some apps that always run on active mode and need access to your email list and contact list. Obviously they need sufficient energy to run, as a result they drain battery a lot. To avoid it, you should tweak them. To make it, you should go to Settings and there you can set a time interval to decide which app should access to email and contact lists for what extent.
You can also disable synchronization that apps like Evernote always do.
Unless until you're not taking photos or viewing photos under sunlight, you don't need to keep high brightness. Don't worry if you need to watch videos often: Android phone gets automatically brighten up when you need to watch videos.
Turn Off Wi-Fi, Bluetooth, and GPS Services
We all know browsing over Wi-Fi consumes more battery compared to browsing over mobile data. In this case, if you're not using Wi-Fi, just turn it off. And even Bluetooth and GPS Services consume same amount of battery, so when it is not required, just turn it off.
Keeping ringtone in high vibration is required for people who travel throughout the day by bus, train or bike. If you're not in that group, you mayn't need your phone to be in high vibration, why because it consumes a heavy battery.
Uninstall unnecessary apps
There are some apps like WhatsApp and Facebook, necessary for every one of us. But some apps like additional camera apps, additional chat apps and music apps which we use in a rare case are always burden to the device. In case if you need them, you can immediately download from the app store and that apps obviously requires storage space to be installed.
Nearly all phones have power saving mode, which you can enable it at Setting>Battery. So you can save battery for a certain extent, and when it is enabled, the system will automatically decrease display brightness and tackle other battery consuming issues.
Apps which are not up to date consume a heavy amount of battery. So always make sure all the apps are up to date. Don't rely on auto update and go to app store and make sure it manually.
Remove unnecessary widgets
In mobiles, widgets are apps which stay on your phone screen. Don't think they don't consume battery. It also affects your battery, so minimise the number of apps you need on screen for immediate case.
Conclusion:
Just use all these tips together and see the difference. If you have any suggestion from your side, just mention in the comment, and also after experiencing it, don't forget to comeback and share your experience.
About the guest author:
Sandeep Kumar is a well-versed content writer working in FuGenX Technologies, an emerging mobile app development company. He likes to write on technology, startups and latest technological innovations that people like to know and share with others.