Google has been recently developed a hand-free wearable smart device called Google Glass. Perhaps this is the Google's smart effort in presenting the next phase in mobile computing. And if you presume that this endeavor is an extension to Smartphone or tablet, you are absolutely wrong. Google Glass is really a new advance device that has the ability perform any mobile task even without moving your hands. It is not a computer at all; it's just a wearable device for user.
Currently, the first set of Google Glasses for developer has already been sending off. Without much commotion, let's discuss the outstanding features that Google Glass offered. The following things are what you need to know about Google Glass.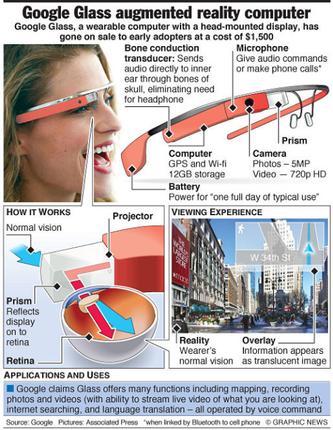 Watch Your Health with Google Glass
Google Glass is very beneficial for tracking your health where ever you are, anytime of days. This device has special medical feature that allow you to know your present body temperature, allergic symptoms, blood pressure and some other general health matters.
Bone Conduction Transducer in Google Glass
Usually, bone conduction generates the sound transmission through the bones in your skull going through the inner ears. Due to bone conduction transducer human voice sound unusual when it was recorded. It seems that is the coolest feature of Google Glass that able to eliminate the usage if regular headphones for communicating.
Technical Specifications of Google Glass
Google Glass is capable of taking 5MP shooter pictures together with autofocus feature. As well it has the ability to offer high resolution display of 25-inch HD screen even in a distance of 8 feet. It featured with 16GB flash memory and 12GB of this will be coordinated with the storage of Google Cloud.
Video Calling & Picture Clicking with Google Glass
You only need to speak loud the word "Google Glass" and it can record videos and capture pictures. There's no need of touching the device just to capture images. Simply amazing! The recorded videos and captured images will directly save to the 4GB flash memory. As well this device will allow the user to share photos and videos through email and social sharing sites.
Person Identification
This feature is fit for those who easily forgot the name of the person they've already meet. It seems that this gadget would be their best company. In time that you see people through Google Glass it automatically provides the details of the person. From name to relationship status, it tells you everything in just a couple ticks. Indeed this is one of the astonishing features of Google Glass.
Google Maps in Google Glass
If you are a kind of person that utilizes Google most of the time then this feature is right for you. By wearing Google Glass you can Google everything in an easy manner. By walking somewhere down the road you can get to the specified destination by simply accessing the map through Google Glass. Indeed the integration of Google Glass and Map allow the user to map its course of journey.
Appointments and Calendar Feature
These are common features to any devices. With these features, you can keep track all your important appointments. You can set the calendar to appear often on the lenses. In such case there's no need of checking most of the time to your Smartphone for schedules, indeed Google Glass allows you to virtually access your appointments and schedules.
Google Glass Responds to Voice Commands
The function of Google Glass is to provide almost everything that a human being wants. Regardless of you location, Google Glass will show your SMS the moment it was send to you. As well it notifies when there is email dropped at your inbox. And it's pretty amazing because you can reply the sender through voice command. Therefore, there's no need of typing for responding a long messages.
Translate Language in Google Glass
This feature is very handy and very useful most especially if you are traveling outside your country. If you get confused with the language just ask your Google Glass for the translation. Google Glass able to translate a word, sentences, and phrases, and speak loudly to you the translation so you can hear clearly.
Google Now Integration
Google Glass was also integrated with digital voice assistance of the search. The function of this is to keep record your daily habit. From the kind of food you eat to everything you do in the office. As well it provides you alternate routes to avoid traffic, and update you occasionally about the weather conditions.
Now that you already know the functionality and features of Google Glass, you can control easily all the benefits offered by this device.
About the Author:
Mackenzie Sulivan is a tech writer, guest poster and blogger. She is a permanent writer of the site: TipsOtricks. Mackenzie loves writing news, reviews, updates and articles about technology, social media and internet marketing through online exposures.