Even in the age of the internet we still deal with physical paper documents at the office. Information can pour in from all directions day by day. Data is one thing which piles up over time, for a small business or a startup, managing the documents, it can get messing if not organized early, the better organized file records means less worries to keep your office operations sun smoothly and ward of chaos and legal trouble.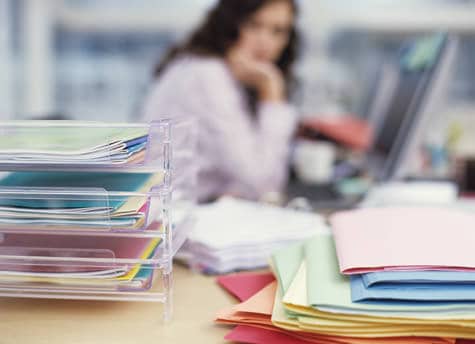 In this article, you'll find few time saving tips and document management techniques for business managers, HR professionals managing key documents in the office.
1. Organize document files like a pro.
Everybody likes speed, nobody is comfortable waiting in a queue or waiting for reports, and especially not your boss. Manage your office files in such a way like that you can spend less time hunting down the report whenever you need them.
2. Get inspired from Public Book libraries or your own Kitchen.
Getting the right thing at the right time keeps you at peace. If you regularly visit libraries or book stalls, you probably know what I mean.
3. Use broad headings:
Write big headings for all your office files so you can read them quickly whenever you are in hurry. Because when you are in hurry, or when you are in worry you can concentrate properly. Using broad and big headings should help you identify the files quickly during "file hunt" at your office.
4. Use color labels in files to categorize:
For example use Red folders for expense reports. Or use specific colors for a yearly report or any other way you are more convenient.
5. Don't let papers pile up on your desk:
Finish up small tasks quickly before it even gets on your todo list, by doing this you solve 50% of your work worry for the next day at the office.
6. Archive files that are not required regularly:
As your business grows, the number of paper documents multiply, clear out or relocate important files that are not accessed regularly, so you can save space and also keep things simple and safer. Many businesses recommend Iron Mountain for archive storage solutions to securely store your important business files for long term.
7. Assign toss out dates:
Storing unwanted data only creates more confusion managing files and also bring unnecessary cost for your company. If the files are no more important and not required anymore, you should get rid of them.
8. Go digital whenever you can:
Take notes digitally, because digital notes are easier to manage quickly between the team and to archive or share and distribute whenever necessary. I need not mention this if you already know the trouble of managing physical paper documents.
9. Use the power of the cloud.
Cloud storage is life saver for a small team with big transaction of data. Since cloud is something that I should explain in detail, I suggest that you read: What cloud can do for your business.
Hope these tips help you to manage files in your office. If you are a business manager, or HR you probably already know many more tips and tools to help manage and organize files. Do share your expert tips in the comments section below.