PubG – if you're an active smartphone user, chances are that you've definitely heard of this game. PubG has taken the mobile gaming market by storm since it has constantly topped gaming charts and is aggressively adding users to its list.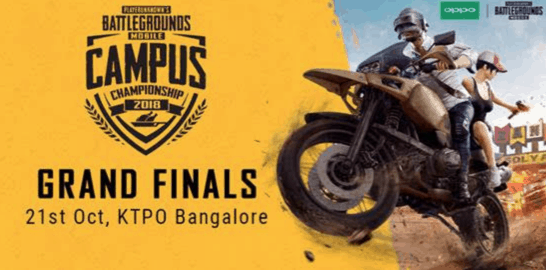 PUBG is developed by Tencent Games- a company that holds shares in Riot, Supercell & MiniClip. The game is based upon the 2017 phenomenon in PlayerUnknown's battlegrounds. The game is basically based on the idea of 100 players parachuting on an island and battling it out in the style of "fittest and the best" survives. There are weapons, vehicles & supplies to make the game realistic. You need to defeat fellow players to progress further – thus it's the ultimate game for the fans of arcade and action genre.
The fan frenzy for the game isn't looking to end anytime soon and adding to this is the PubG Mobile Campus Championship tournament in Bangalore. The event is sponsored by the hugely respected mobile brand in Oppo – F9 Pro.
This gaming tournament is specifically targeted at college students across India. The event has seen a whopping 2,50,000 registrations – with registrations coming from as wide as 30 different cities.
The competition will follow the pattern of teams. Each team will compromise of 4 participants. The in-game sequence will be based on the "Enrangel" map.
The first 10,000 teams to have checked in have been fighting hard in teams of 4 – all the action can be watched live on PUBG's official youtube page. In totality, the online knockouts featured 600 matches, 4 knockout rounds – lasting over 12 days.
Amongst all the participating teams, the final 20 will be called up for the finals to be held on the 21st of October in Bangalore. The venue for the same will be KTPO, Whitefield. At stake is the unbelievable prize money of Rs 50,00,000. The grand finale will host small events that will giveaway freebies, as well as the ultimate prize I.e. the Oppo F9 Pro.
You can catch the action live via buying passes through pubgmobile.in, or otherwise, you can follow the live streaming on PUBG's official youtube page.