Are you crazy about animations? Want to make your own animated movie in minutes? If your answer is 'YES' for all this quests then GoAnimate is the right place for you to dive into the cool world of animation and show your hidden talent to everyone absolutely for free.  Yes buddy!.. It doesn't require any professional skills and knowledge of Adobe Flash, Swish Max or any other animation software. all you need is story to make an eye catchy animation.
How to Learn Animation for free
GoAnimate is a free web service that lets you create animated movie with the various characters and vivid backgrounds. Getting started is extremely simple, just register for a new account provide your email address, a nickname, password and agree to the GoAnimate terms of use. Once you've logged into your GoAnimate account, you can start creating your own animated stories and share them you're your friends and also build a popular fan base.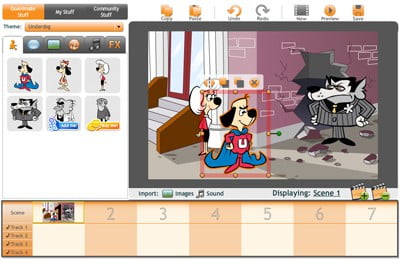 You can either choose a blank document or select from various available templates to work with. After choosing the environment you have to setup your characters, there are hundreds of characters available to choose in GoAnimate basket!.  Also set speech bubbles and add some music stuff for extra excitement. The coolest thing in this service is that you can upload the snaps of your friends or family and stick them to the character you animate. With the voice recording option you can record your own voice and attach the same to the character. The more scenes you add to your cartoon series, the more complex the story line becomes. With this cool service, you will definitely capture the interest of your friends and family members.
The simple interface of GoAnimate makes the entire cartoon making process a cinch. You don't have to be a professionally trained cartoonist to make others laugh. After creating your animations you can share that with your friends via youtube etc. a download option is there which lets you download the created animation to your hard disc easily. In GoAnimate possibilities are just endless. Give it a try once!..
Website: www.GoAnimate.com