Did you ever wished you could control your Android smartphone on your Laptop or PC? Well i guess you did since i always wished so. It has been pretty hectic for me when am working on my laptop and i want to send a text from my phone, i wished i could somehow wirelesslessly connect my phone to my laptop and do all the work on the laptop. Well AirDroid gives me that choice. AirDroid is a fast, free app that lets you wirelessly manage your Android from your favorite browser. I can are install new apps, read messages, transfer photos, files, and many more without even lifting my smartphone.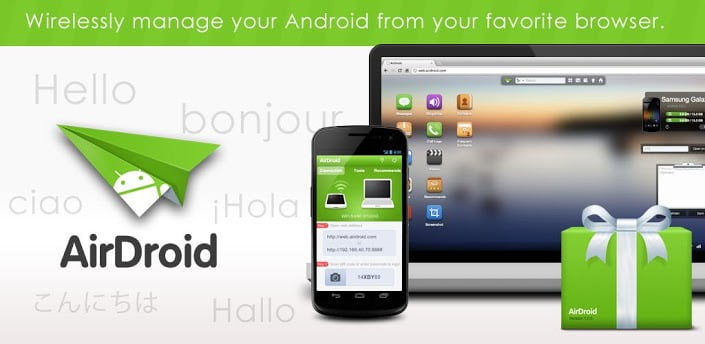 AirDroid replaces your USB cable with your web browser. You can transfer files back and forth, send text messages, play music, view your photos and manage applications — all without installing anything on your computer which is pretty darn impressive and brings great ease of use if you want to control your Android smartphone on your computer.
The best thing about AirDroid is that it is completely free, it doesn't even contain ads. It functions as a web server, allowing your Android device and your computer to communicate over the network.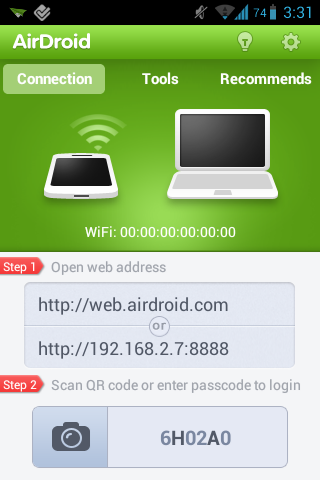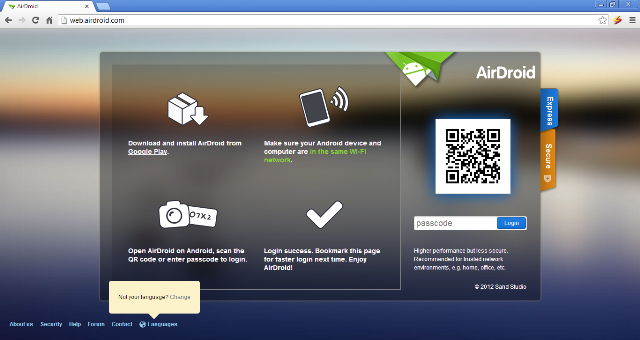 After installing AirDroid on your Android smartphone, you need to open the app and press start to start the AirDroid server and then you control your Android smartphone through your web browser by hitting the address http://web.airdroid.com or the ip code the server presents, the you need to scan the QR code through your smartphone or else enter the passcode you get in the app on your phone. Once you are done, it loads which takes seconds and then you'll see AirDroid's homescreen which contains links and statistics about your device. At the bottom right corner, you'll see the Wi-Fi connection strength, bars of cellular coverage and battery level of your Android device.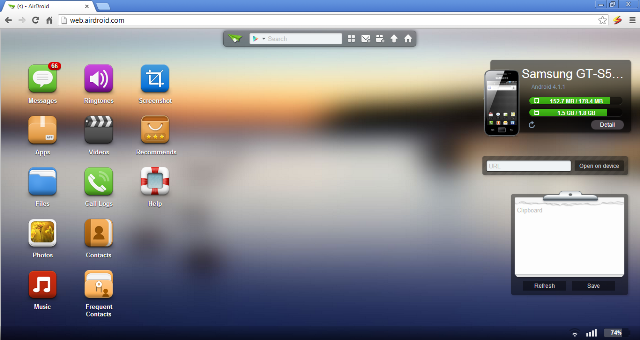 AirDroid Features
There are so many features that you can use after you installed it and you don't even need to remove your eye from your monitor just to see the status of your Android smartphone or if there's an unread SMS – you can now do that while your hands are busy on the keyboard.
You can then use you web browser to transfer files between Android devices and computers and there is also drag & drop support. You can even get basic options cut, copy, paste, search, rename or delete files on the SD card.
You can receive, send, forward or delete SMS messages.
Installing and uninstalling apps, backup, search apps and do batch processing can be done easily right through your web browser without even touching your smartphone.
The photos on your smartphone can be previewed, deleted, uploaded, downloaded and even set as wallpaper> you can also watch your photos slide show from desktop.
Share clipboard text between desktop and device.
Contact managing is also pretty easy with AirDroid, you can group, search, create contacts, check and delete call logs.
You can search, preview, upload, download, delete and customize ringtones for phone calls, notifications and alarms.
If you are an avid music listener like i am and you have you favourite tracks on you Android smartphone, you can play, search, upload, download, delete, or set as phone call, notification and alarm ringtones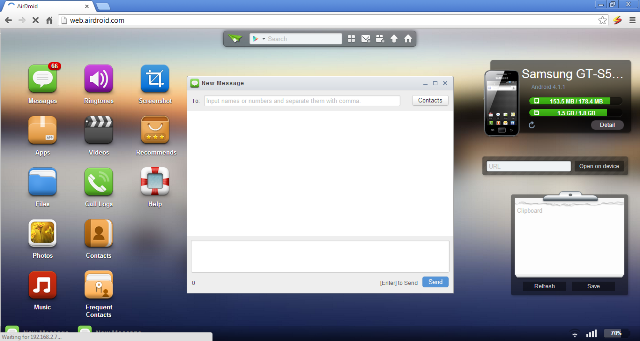 You can QR code login via web.airdroid.com if you are tired of the long IP address 192.168.xxx.xxx?  You can scan the QR code on web.airdroid.com and you are all set to go.
AirDroid uses Https connection which makes sure you stay safe even on a public Wi-Fi network.
If you wished to display your realtime Android screen, you can do so with AirDroid although as the developers mention it is an experimental feature and root permission required. This is truly great for geeks, you can view your Android's screen, take a screenshot, or even record a screencast.
With AirDroid you can now manage multiple virtual desktops as AirDroid is designed for multitasking, you can move apps between desktops to better organize your work.
We know mobile devices as with the ever increasing display sizes of smartphones are great for videos shooting, but the big screen computer may be better for viewing these clips, isn't it? So you can watch the videos you have on your Android smartphone but you need to have a QuickTime plugin to do that.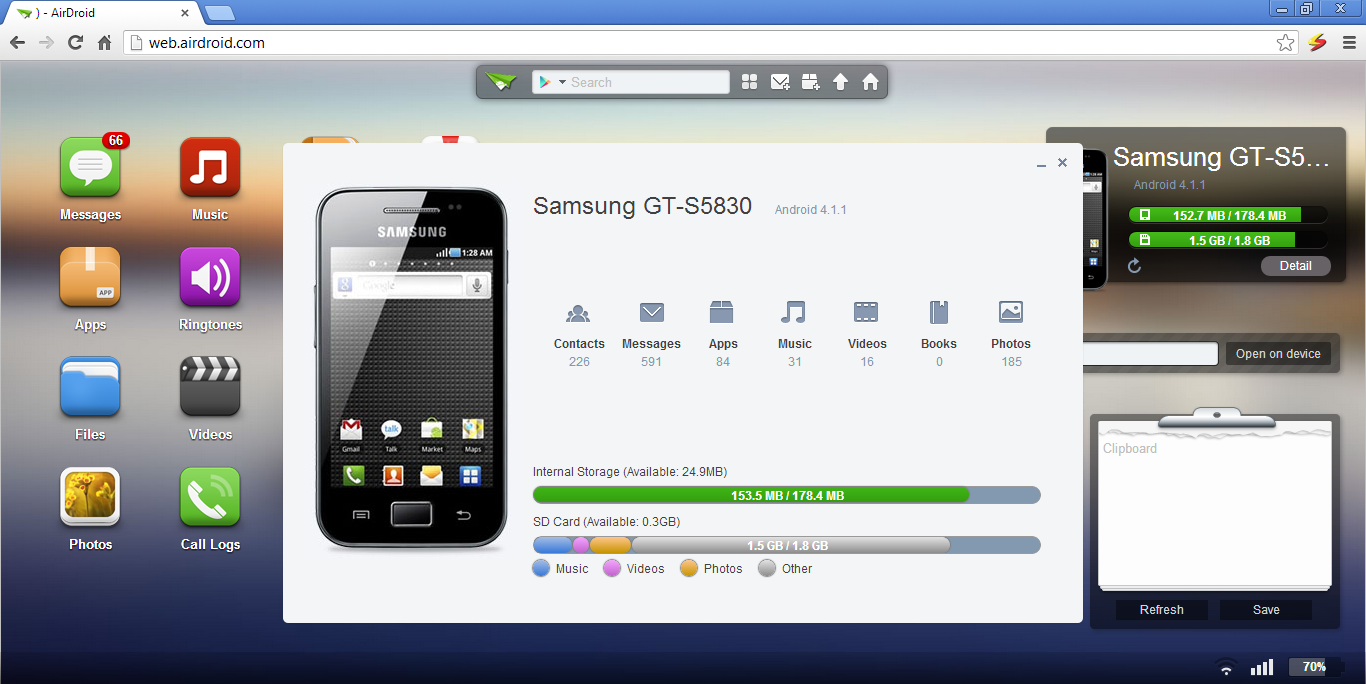 There are several other useful features with AirDroid such as device photo match for most devices, various widgets (calendar, weather, url transfer, clipboard, etc.), frequent contacts…
AirDroid is now available for various different languages such as English, ???, Español, Italiano, Français, Deutsch ,Português (Brasil), Português (Portugal), Magyar, Polski, ?esky, Türkçe, P?????? and ???.
Some inbuilt useful features for your phone are present on AirDroid such as:
Real-time ROM, SD Card, Battery, CPU and RAM status report & monitor with charts to demonstrate available/used/total resources, and one-tap memory boost.
Kill or uninstall running apps, batch operation supported.
Uninstall, share or check details of user and system apps.
Control Cut, copy, rename, send/share, delete, sort and create visible or hidden folders and files.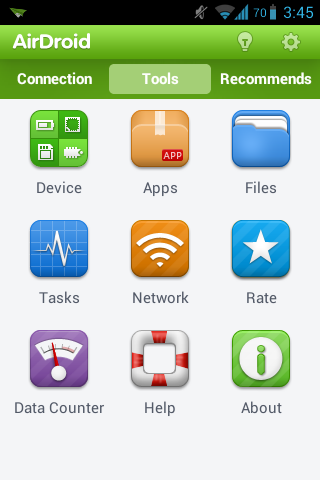 AirDroid is surely an amazing application if you want to manage your phone stuff from your computer. It works fast enough and is pretty easy to use thanks to the really clean interface. Although from a personal point of view, i would love to see a feature to get WhatsApp or other apps on the interface, that would be amazing to be able to use WhatsApp while on the computer.
AirDroid should be compatible with most Android devices running Android 2.1 or later. The Web Desktop should be compatible with most modern web browsers, including Chrome 12 or later, Firefox 3.6 or later, Safari 5.0 or later (Although the developers suggest that for best performance IE is not recommended).
And yeah to use AirDroid, your Android smartphone and the computer you are using should be on the same WIFi network. So you better go ahead and experience the amazing application by first getting it on your Android smartphone from the Google Play Store.