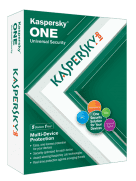 We use many devices regularly including laptop, desktop, smartphone or tablet to complete assigned tasks, communication or entertainment % we can't even imagine our life without them. But what about the security for these devices?.. Because evil minds spreads thousands of viruses, malwares, trojans & root-kits every day. Earlier it was only the question of PCs and laptops but now harmful viruses are rushing towards android smartphones/tablets, iPhone & Mac and stealing the valuable data such as mobile banking account information and other confidential account information.
You should also read my vipre antivirus review
Mac which was generally considered as a safer OS recently got infected with the nasty malware called Flashback..  These are just a few examples to depict how the threats are being stronger to hack the digital world.
Kaspersky ONE – Single Suite For Multiple Devices
The situation can't be neglected that the virus attacks to your mobile could also infect your PC or laptop when you transfer the data via Bluetooth or any other connectivity option. Therefore one must go for a universal antivirus product that protects multiple devices including Android tablet/smartphone, Notebook, PC and Macbook. Kaspersky-ONE Universal Security is such a product which promises to protect your digital world. Kaspersky is the award-winning suite that has come up with Kaspersky ONE Universal Security. In this security suite you get two options and those are you can either choose to install it in desktop, two laptops, & two smartphones or protect two tablets, two smartphones, and a Mac. Kaspersky One Universal Security supports Android, Blackberry, Symbian and Windows Mobile.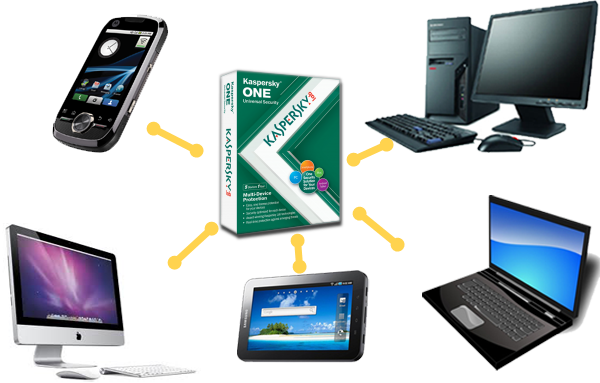 Kaspersky-ONE Universal Security comes up with single license which works smarter in PC, Mac, smart phone and tablets without slowing down the device. Kaspersky's advanced features including-
Proactive detection
Advanced identity theft
Phishing detection
Two-way firewall anti-spam protection
not only keeps your device safe from unknown viruses but also secures your online shopping and bank transactions. In my opinion Kaspersky-ONE Universal Security is a total security suite which works restlessly behind the scene to avoid viruses, malwares, trojans and any other threats and make your digital world secure. Kaspersky-ONE Universal Security is a single solution for multiple devices with single license which avoids installing multiple antivirus apps for each devices.Highly recommended Kaspersky-ONE Universal Security can be downloaded as a trial or purchased from Kaspersky website.
Share Your Opinion for the gift coupon of $400 from Kaspersky
Liked Kaspersky-ONE Universal Security? wanted to say something about it? Here is an opportunity which could help you grab the gift coupon of $400 from Kaspersky for sharing your opinion. Just write the comment in widget below provided by BlogFrog and test your luck to win a $400 Amazon gift card.
This post is sponsored by Kaspersky. All opinions are 100% mine.
If you're like me, you're addicted to your smartphone, tablet, maybe even your laptop. What is your best tip for keeping all of your devices protected? Comment below and you'll be entered to win a $400 Amazon gift card from Kaspersky Lab.
One way to protect all of your devices is with Kaspersky-ONE Universal Security. Download your FREE trial today.
This is a sponsored conversation written by me on behalf of KasperskyLab. The opinions and text are all mine. Official Sweepstakes Rules.