Tablet has made the geek's life even easier compared to laptop, it could be used for many tasks, you can work on your docs, sheets or prepare a presentation on the way and read e-books as well. If you are ready to pay bit extra then you can even kick out your boredom by playing games with rich graphics. Here are some gaming tablets.
Samsung Galaxy Note 10.1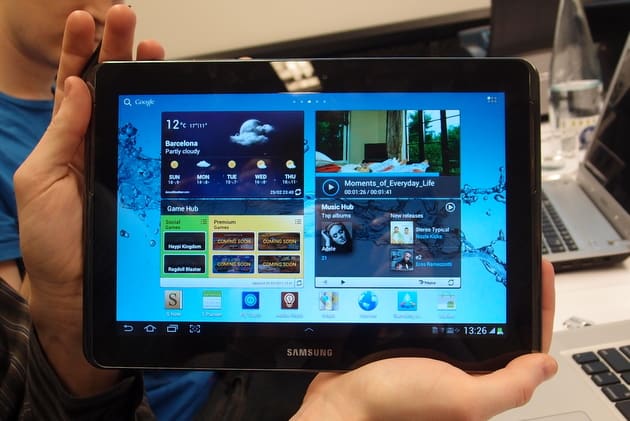 Samsung Galaxy Note 10.1 is an elegant tab which meets iPad in design, Samsung Galaxy Note 10.1 is powered by 1.4 GHz Exynos Quad-Core processor that is enough to handle recent rich graphics games. In fact you can download Need for Speed Hot Pursuit, Sonic the Hedgehog 4 and many other amazing games for free from Samsung website. The tab has 10.1 inches of WXGA screen to enhance gaming experience. Check out our post Samsung Unveils Galaxy Note 10.1 to know more. Samsung Galaxy Note 10.1 costs around Rs. 33500.
Eee Pad Transformer Prime
Eee Pad Transformer Prime is a high performance gaming tablet from ASUS with sleek design, Eee Pad is equipped with robust NVIDIA Tegra 3 Quad Core processor which brings full HD video recording with rich multimedia and gaming experience. Eee Pad has 10.1 inch LED backlit screen along with Super IPS 10 finger multi touch. ASUS Eee Pad Transformer Prime costs Rs.50,000. Read more about ASUS Eee Pad here.
Google Nexus 7
Google Nexus 7 is a budget gaming tablet which comes up with quad-core processor. It comes with magnificent NVIDIA Tegra 3 quad-core processor along with 7-inch display and decent battery life for smoother gameplay. Google Nexus 7 costs Rs. 17999.
Lenovo IdeaTab S2110A
Lenovo IdeaTab S2110A comes up with snapdragon S4 processor and optimistic 10.1 IPS screen with wide viewing angles for outstanding gaming experience. Lenovo IdeaTab S2110A supports Up to 32GB expandable memory so can install many of your favorite games. Lenovo IdeaTab S2110A costs Rs.22,000 approximately.
iPad  and iPad Mini
iPad Mini is a good choice if you need convenient gaming experience. iPad Mini is a handy tab with robust A5 processor and 7.9 inches with good battery life. It has sleek design which perfectly fits in hand so you can comfortably play downloaded app games or online games that require high specs. iPad Mini range starts from Rs 21,900.